Tips and Tricks for Boosting the Mobile Casino South Africa Performance on Android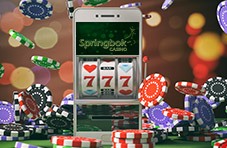 Mobile gaming is the new millennial equivalent of gambling online.  The ease, convenience and sophistication of the mobile platform means that more people are migrating to their smartphones for a touch of real money magic.
Now with a few tweaks here and there you can optimise your Android device so that Springbok Mobile Casino South Africa performs like a slick, sassy and souped-up entertainment zone.
That's not to say that the number one mobile casino in South Africa is not optimally designed to deliver intuitive gaming at its best.  It simply means you can boost the processing power of the already power-packed hardware that makes your phone an all-in-one gaming, communicating and researching tool!
Before we get into the mechanics of up sourcing your latest generation Android phone for a bigger, better and bolder performance, let's take a quick look at the core features of the best mobile casino South Africa.
Great RTG Mobile Casino Games
At Springbok Casino we offer two mobile clients - a browser-based mobile casino with all the trimmings and a native casino app for Android.  Notwithstanding which version you choose we can assure you there's no skimping on either quality or quantity when it comes to the RTG casino games.
Despite managing hardware technicalities like a smaller screen and limited memory, Springbok Mobile Casino South Africa is an exact replica of the instant play casino.  That means you have tap and swish access to hundreds of mobile slots and a fair selection of table games, video poker games and speciality games.
Open the casino on your browser, click on the 'progressives' tab and you'll find the treasure trove of ZAR gaming - and by that we mean the mobile casino games that are linked to progressive jackpot prizes.
A question that crops up quite regularly is; do I miss out on anything at all when I choose the mobile casino over the online casino?  The short answer is 'no'.
Seriaaas Security Features 
Along with the eclectic selection of mobile casino games, we've ramped up the security features on all our gaming platforms.  Now you can register an account and transfer funds directly on your Android phone without hassling about data security and privacy issues.
You know the drill - your personal and banking details are scrambled using latest generation encryption technology and stored on dedicated servers.  That means no-one can compromise the integrity of Springbok Mobile Casino South Africa or dip into the data that's entered on our site.
Mmm Mobile Casino Bonuses 
Whether you download the Android casino app or click to enter our million-dollar mobile casino South Africa one thing is for sure - there are loads of bonuses you can claim almost immediately at the cashier.
Besides the three-part welcome bonus, you are eligible for a free cash no deposit bonus, a cashback bonus, comp points and one or two deposit bonuses.  Now how's that for an incentive to sign up right away? 
Optimising Your Android Phone for the Best-Ever ZAR Mobile Gaming Sessions
Right, now down to the nuts and bolts of revving up your Android phone for a heightened gambling experience at our mobile casino and our Android casino app.
Check for Updates
Updating your phone with the latest firmware is an easy-peasy way of maximising performance.  Although all phones update automatically, the function may be turned off on your device or the settings may allow for too much time to elapse between updates.
Don't leave anything to chance.  Go to Settings, tap on About Device, Software Update and Check for Updates… and away you go to a sleeker and more agile gambling experience at Springbok Mobile Casino South Africa!
Uninstall or Disable Unused Apps
Resource intensive apps can gobble up your phone's battery.  Without a fully functioning battery, playing the best slots and table games at Springbok Mobile Casino South Africa is a distant dream. 
You can easily prevent that from happening by uninstalling or disabling the apps you don't use at least once or twice a week.  If you want to find the most power-hungry apps in your pack, go to Settings and Apps and tap on each app individually. 
That way you'll find all the information you need - from the amount of space the app is using to how much it's impacting your phone's battery life.  Then it's a small matter of tapping the Uninstall button and sending that particular app to the cyber-trash!
Manage the Sync Settings 
At any given time, there's something somewhere on your phone syncing to the cloud or a server located far away.  Whether it's your contacts, your emails or your latest selfies there's an indecipherable whirr in the background as the content syncs.
Syncing uses up a whole lot of resources that can be better used to hype up your gaming.  It also puts additional pressure on the hard working battery.  How can you stop unrestrained syncing?  By turning the auto-sync feature to 'off'.
You can find the relevant tab by going to Settings and Accounts.  Once you've turned off auto-sync we suggest you go through the list of accounts and remove the ones that don't need to sync.
Change the Animation Settings  
The animations on your Android phone may be cool but they slow everything down to a crawl.  To change the settings, go to Settings, About Phone and Build Number.  Tap the Build Number button multiple times until you activate the Developer Options.
Once you've done that, return to Settings, Developer Options and Drawing.  Click on the Drawing tab and you'll see three options - transition animation scale, window animation scale and animator duration scale.  You can either turn the lot off or adjust the setting to 0.5 x.
When you do that, you'll be able to rip around Springbok Mobile Casino South Africa and play the best RTG casino games at the speed of light.
You'll also be able to redeem coupon codes and deposit funds into your account in a flash.  With that sort of speed at your command you'll have more money to play with and more opportunities to win ZAR!