Online Casino Games: The Next Generation of Games Loved by Queens, Dictators and Presidents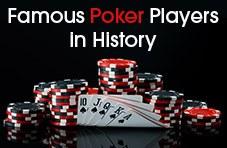 Online casino games are cash-rich gambling opportunities based on games that have been around for centuries.  From the games of chance played obsessively by Marie Antoinette to low stakes seven card stud favoured by Franklin D Roosevelt, casino games have made the great leap into cyberspace.
Now you can ante up on your PC, laptop, tablet or mobile phone and enjoy a dazzling array of online casino games that cover the all-time classics… and then some.  At top-ranked gambling destinations such as Springbok, you can literally tap into 250 or more games whenever you feel the urge to bet, play and win!
Online Casino Games: Classics Pimped-Up for a Contemporary Gambling Experience 
Click on the 'Games' tab at Springbok Casino and you'll find the same options that were played by prominent people throughout history.  The next generation of casino games have been pimped-up for a contemporary audience but the rules and paying combinations are essentially the same.
Stud and draw poker are now available as Caribbean Stud poker, Caribbean Hold'em poker, Tri Card poker and dozens of variations of video poker. 
Slots, scratch cards, bingo and keno are modern iterations of the chance-driven games - or 'jeux de hasard' - played in the clandestine Parisian gambling rooms and lavish salons of Versailles during the reign of Louis XVI.
Who are the politicians and blue bloods who enjoyed a good game of chance or poker now and again?  Let's take a brief look at some of the more legendary gamblers of their time:
Duke of Windsor: The Ace in the Hole
The Duke of Windsor was a former king of England who abdicated the throne to marry American divorcee Wallis Simpson.  He was also a bit of a rake who enjoyed the finer things in life.
Although apparently devoted to his wife, rumours abound of swinging parties, excessive drinking and high stakes poker games.  The man who was king for just 326 days wasn't much of a strategist and is said to have lost a small fortune at the tables. 
The Duke also antagonised a nation by sharing intelligence with one of the most reviled men in history, German Chancellor Adolf Hitler - who himself was an avid poker player and a pretty good one at that!
This unholy alliance between the German Fuhrer and a British royal had Himmler and Goebbels referring to the Duke as Hitler's 'ace in the hole' - a poker analogy if ever there was one!
Do you want to play poker like the discredited monarch and his despicable friend?  Visit the online casino games page at Springbok Casino and you'll find dozens of video poker variants that have their origins in five card draw!
Warren G Harding: The President Who Bet the White House China
Warren G Harding was the 29th President of the USA.  He was also rated as one of the worst.  The rural Ohio native embarrassed congress by having affairs with several married women, many of whom were hooked up to US senators. 
Not only was Harding a serial philanderer, he was implicated in corruption and gambled away some of the finest porcelain in the White House!
Warren G Harding was a dashing type who presided over the USA for a mercifully short time between 1921 to 1923.  Along with concerning himself with matters of state, he hosted regular poker sessions with members of his cabinet.
During one particular wild session over bootlegged whiskey and Cuban cigars, Harding bet an entire set of White House china on one poker hand… and lost.  The rest as they say is history!
With guys like Harding it's a case of casino games trumping morality and ethics.  At Springbok Casino we support responsible gambling… so be sure you never gamble away someone else's treasures or bet money you cannot afford to lose!
Marie Antoinette: The Queen her Lost her Head… to Gambling 
Destiny wasn't kind to the beautiful young Queen Consort to King Louis XVI of France.  Long before she lost her head at the guillotine, Marie Antoinette was enslaved to gambling. 
Her version of the online casino games of today?  Something akin to the Double or Nothing bonus game or the Suit Em Up bet in Suit Em Up Blackjack.  By that we mean games of pure chance.
According to historians the young Austrian born monarch had a gambling addiction problem.  She learnt to gamble at the age of eight and as queen, she ran up huge debts.  The Palace of Versailles was for all intents and purposes the centre of compulsive gambling in Europe.
In an effort to control his wife's excesses Louis XVI's forbade her to play any more games of chance.  She did persuade him to allow her one last flurry and the game went on for three days.  As you can imagine, the King was not amused!
Don't lose your head when it comes to playing online casino games in ZAR.  Be disciplined about how much time and money you spend at Springbok Casino and you won't end up a problem gambler like Marie Antoinette!
Franklin Delano Roosevelt: Strictly Low Stakes 
The 32nd President of the USA, Franklin D Roosevelt was an all-round good guy.  He pulled the country out of the Great Depression by implementing a sound economic plan in the New Deal.  He's also fondly remembered for unleashing the might of the American armed forces against the Axis of Evil in World War II.
As a president and a poker player Roosevelt was the antithesis of Harding.  He was completely incorruptible, always put his country first and like Harding played poker regularly but only at low stakes.
Where Harding wagered items nicked from the White House, Roosevelt wagered a few nickels.  If anyone suggested the stakes be raised FDR simply wouldn't budge.
Despite his penchant for playing low stakes poker Franklin D Roosevelt had an excellent poker mind.  He was without a doubt both the President and the Prince of Poker especially when it came to his favourite game - seven card stud with one-eyed jacks wild!
Sign Up at Springbok Casino: Play the Best RTG Online Casino Games NOW
At Springbok Casino you don't have to be royalty or a VIP to play the best online casino games.  All you have to do is sign up, redeem the appropriate bonus coupon and ante up… for free.  Along with hundreds of great games there are all sorts of player perks you can use to your advantage!