Be Afraid… Very Afraid: Play Dinosaur Themed Online Casino Games at Springbok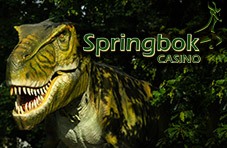 Do you love that rush of adrenalin that courses up your spine when you are really scared?  Are you ready to come face to face with the largest predators known to man?  If you are, you can get your fright on at Springbok Online Casino… and win plenty of loot at the same time.
Along with the placid card based online casino games like Blackjack, Tri-Card Poker and Caribbean Stud, you will find a deadly array of RTG slots right here and right now. 
Some are soft, beautiful and fluffy - like Enchanted Garden, Crystal Waters and Mermaid's Pearls slots.  Others are more appropriate for the combat type who like to weaponize by unsheathing their sabres, sharpening their swords and oiling their flintlock pistols for a bit of 'skiet, skop en donner'!
If it is primal fear you are after there are supernatural online casino games that can raise the hairs on the back of your neck.  When all is said and done, we seriously recommend you go big - real big - and turn up the terror with our dinosaur themed slots instead.
T-Rex Slot 
Around 68 million years ago a ginormous apex predator known as Tyrannosaurus Rex walked the earth.  It stood three metres high at the hips, was around 12 metres long and weighed more than two large African elephants standing trunk to trunk.
This guy was a monster and a fleet footed one at that.  If it caught a whiff of prey it would hunt on the hoof reaching top speeds of around 70 kph. 
Short stubby fore legs were fitted with long predatory claws but if that didn't do the damage, huge teeth measuring up to 30 cm in length could rip and tear into flesh with consummate ease.
T-Rex is the blood thirsty behemoth that stalks your nightmares.  It had a massive jaw that could literally swallow you, me and your BFF in one gory gulp. 
Add infectious saliva and a bite force 12 times that of a hyena and five times more than the biggest Great White shark to its arsenal… and T-Rex is the big daddy of boo in anyone's estimation!
Fortunately, you don't really have to avoid its awesome binocular vision or shrink away from the scaly, sparsely feathered skin - that's cold and clammy to the touch.  As the online casino games specialists, Springbok Online Casino - with a little help from our friends at RTG - has trapped T-Rex in a high variance slot instead.
Hit a Random Jackpot and Up to 10,000 x the Line Bet
Along with base game wins that tip the scales at 10,000 the wager T-Rex is one of those awesome RTG online casino games that have a random jackpot in play.  That means you can bank hard cash in ZAR simply by betting max and hitting the spin button - how cool is that?
Crack three or more scatters on the reels - you know that dinosaur egg with a beady little eye that follows your every move - and you will be transported at edifying speed to a pick me feature where up to 10 free games lie in wait.
In standard play T-Rex is wild and doubles all pays.  In the free games, the deliciously rewarding, though ravenously hungry carnivorous fella devours all the other dinosaurs on the gaming interface… and promptly replicates on the reels!
Megasaur Slot
Where Tyrannosaurus Rex is frankly terrifying, Megasaur is the equivalent of an over-sized animated pussy cat.  It is the robotic brainchild of some clever guy who decided to 'breathe' life into T-Rex by creating a hydraulically activated lookalike with a flame thrower in its head.
That does not mean Megasaur slot isn't packed with 'do not disturb' dinosaurs that really did exist all that time ago.  No way Jose – there is a veritable menagerie of long extinct leviathans that include Triceratops, Parasaurolophus and Ankylosaurus in this big paying version of dinosaur themed online casino games!
Say what?  Yup you will encounter the guy with the three horned face, large bony frill and toothless beak. Triceratops may be a harmless herbivore but it stood three metres high, weighed 12 tons and measured nine metres from tip to tail.
Then there is the armoured plated dinosaur with a huge club at the end of its tail.  Ankylosaurus was a slow moving browser with huge knobs and sheaths of bone known as scutes embedded in its skin.
It had four horns, weighed around eight tons and ate 60 kg of vegetation a day to keep its energy up.  Despite its vast size and friendly demeanour, Ankylosaurus was on the top of the T-Rex menu!
Along with the big burly fellas there is an impossibly large near crested lizard in play known as Parasaurolophus.  It is really easy to identify because of a rather obvious cranial crest.  This dinosaur dude foraged for food on four legs and ran like hell from T-Rex on two.
Last but not least, you can win plenty of coinage when you hit Parasaurolophus on the reels.  It was 9,5 metres long, had a 1,6 m long skull and weighed just over 2,5 tons. 
A battery of dental columns that amounted to hundreds of tightly packed teeth is a clue that this dino preferred plants over people… and anything else!
Progressive Jackpot, Random Jackpots and a Guaranteed Win 
Of all the RTG online casino games, Megasaur slot is a true blue money spinner.  It is a 25 fixed payline game that not only offers randomly activated Minor, Major and Mega jackpots but a network-linked progressive jackpot, too.
There are green and red Megasaur grouped wilds that appear on reels two and four respectively, the latter of which automatically doubles all wins.  There is also a wonderfully welcome win-win feature and up to 10 scatter activated free spins that have the potential to deliver seriously lekker real money returns.
Now that you know what's at stake when you face your deepest fears and play our dinosaur themed online casino games, isn't it about time you signed up at Springbok Online Casino too?