Play Supernatural Slots for Free: Claim Springbok Casino No Deposit Bonus Codes
Details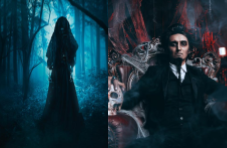 If you're into the mystique, enigma and hair-raising fear of the supernatural, why not get your 'share of the scare' right here and right now.  Along with RTG supernatural slots you'll find Springbok Casino no deposit bonus codes primed to unlock free gaming online.
With a little help from our coupon codes you can unleash petrifying phenomena like ghosts, vampires, and zombies on your PC or mobile device.  Besides plunging headfirst into horror - with a cool comedic twist - you can win wads of ZAR without having to bankroll the fun!
If that sounds like a great idea, you'll simply love the creepy, chilling and fantastically foreboding atmosphere of our best ever supernatural slots.
Are you brave enough to open the pandora's box of spectres, spooks and the blood thirsty brain-eating depraved of the undead?  If you are, you can click to claim one of our Springbok Casino no deposit bonus codes… and let destiny decide your fate!
Here's a sweet selection of RTG supernatural slots you can play at Springbok Casino for free, gratis and for nothing:
Ghost Ship Slot
Have you ever had the feeling there's an invisible presence watching your every move?  Or have you caught a fleeting glance of something ethereal and wraith like gliding through space?  If you have, you're probably one of thousands of South Africans who claim they've seen a ghost!
Hopefully your apparition is as benevolent as the ghostly gun touting pirate who takes centre stage in Ghost Ship slot.  He's a cool kind of guy with a chilling blue aura who pays out winnings frequently.
The Captain Jack Sparrow lookalike with the fly away beard is the generator of the top cash prize.  He's also an animated money spinner who announces his presence as an expanding wild on the reels with a couple of shots of his blunderbuss.
Along with scatter activated free games that have magic multipliers up to 10 x the line bet, this spine tingling 25 payline slot features RTG's world famous random jackpots. 
What better way to find out if you're in line for a real money jackpot than via the 'boo! ek se' Springbok Casino no deposit bonus codes!
Eternal Love Slot
The vampire legend is an integral part of virtually every country's folklore.  Thanks to Bram Stoker we now know vampires are pale, gaunt and wrapped in a pitch black cloak.  Their most prominent feature by far is a sharpened set of front fangs that are usually tinged with red!  
We also know vampires wander the streets at the dead of night, lurking in the shadows, searching for someone or something.  Their quest?  Blood - preferably buckets of fresh blood - sucked from the necks of their hapless victims!
If you see a shrouded figure hovering in the gloom be sure to pull out your crucifix and be prepared to drive a stake right through the heart!  Alternatively, you can activate one of our deadly Springbok Casino no deposit bonus codes and use the proceeds to play our oh so scary vampire themed Eternal Love slot!
This little beauty is a high variance gambling opportunity with 243 permanently active bet ways.  Besides a series of stacked wilds and free spins, there's a Life Force Metre that's capable of delivering jaw dropping wins. 
If you want to hit the major money in Eternal Love slot keep an eye out for the pulsating heart icon.  That's where multipliers up to 1,000 x the activating bet lie in wait.  Imagine banking that kind of cash for free compliments of our red-hot Springbok Casino no deposit bonus codes?
I, Zombie Slot
Thus far we've got up close and personal with ghosts and learned how to vanquish the vampires.  Now it's time to engage the fast decaying, partially composed, flesh eating zombies of the Far East.  
Fortunately, RTG's rendition of the reanimated corpse is not so much scary as hollow eyed, lantern jawed and faded to an indiscernible blue.  It's the kind of unintimidating undead you'd probably prefer prowling around in your nightmares.
Having said that I, Zombie is a 25 payline slot that has a frightening amount of money available on the reels.  Factor in the paying power of our Springbok Casino no deposit bonus codes and the 2,500 x top prize in the base game could be yours.  The best part is you won't have to spend a cent of your own to bank lots and lots of randelas!
Besides the standard payouts in the base game there are traditional scattered activated free spins.  Hit multiple mirrors anywhere on the gaming interface and you'll enjoy a few complimentary shots at the big time.
The free games in I, Zombie slot are packed with additional wilds and up to 3 x multipliers!  Now isn't that an easily exploited phenomenon that doesn't bite or demand human brains on toast!
How to Claim Springbok Casino No Deposit Bonus Codes 
We've given you a synopsis of the best supernatural slots so that you can wager on some really wicked stuff.  Now all that is left for you to do is register an account at Springbok Casino.
You can do that by hitting the green on gold 'Sign Up' button at the top of the page and following the prompts. As an existing member you automatically qualify for the first of an infinite selection of Springbok Casino no deposit bonus codes – the R250 Free Bonus.
To claim the bonus, visit the 'Redeem Coupon' area in the cashier and enter the corresponding coupon code.  It's as easy as that.  You'll then have R250 to blow on supernatural slots… and any other RTG slots for that matter!
Go on, sign up at Springbok Casino, and click to claim your bonus – and get lucky!