Play Endangered Animal Slots at the Conservation Conscious New Zealand Online Casino
Details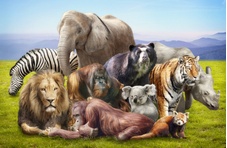 With a dainty African antelope as our logo, name and branding, Springbok Casino is obviously committed to wildlife conservation.  We have highlighted the plight of the black rhino by featuring it as the backdrop to our instant play New Zealand online casino.
We have also showcased the majestic wild species that make up the 'Big Five' animals in our informative section about South Africa.  We are for all intents and purposes a conservation-conscious gambling destination that cares.
Besides the images and interesting facts and figures about Africa's wildlife, our New Zealand online casino features endangered animal slots by the design creatives at Real Time Gaming (RTG). 
Along with generating the necessary hype around these vulnerable creatures, our animal-themed RTG slots offer a bonus enriched gambling experience defined by big wins, random jackpots and loads of free games.
If you want to do your bit to save animals in the wild here is your chance to pack in the payouts.  Once you have accumulated a nice wad of winnings playing endangered animal slots at Springbok New Zealand Online Casino, you can visit the World Wildlife Fund for Nature (WWF) website and click to donate!
Giant Panda: An Iconic Creature Classified 'Vulnerable'
The giant panda is a cuddly creature with distinctive black and white fur.  It is native to the southern parts of Asia and is at its most active at midnight, early in the morning and mid-afternoon.
The iconic bear may be one of the most recognised animals on earth but the sustained fragmentation of its natural habitat together with diminishing food supplies has seen the numbers of panda bears in the wild plummet over the years.
Once a common sight in the lowlands of South-East Asia the giant panda is now only found in the mountainous regions of three Chinese provinces.  Conservationists have estimated that there are just 1,864 giant pandas left in the wild.
Fortunately, there is a bit of good news when it comes to the distinctive black and white forest dweller. 
Due to the success of zoo-based breeding programs and a slight uptick in the number of wild giant pandas, the species has recently been downgraded from endangered to vulnerable.  Here's a big up to all involved!
Panda Gold: An 88 Fixed Line Slot with Three Free Games Bonuses 
If you want a closer look at the beautiful bear, the 5 reel and 88 fixed payline slot Panda Gold is a great starting point.  Besides the awesome graphics, you can spin to win a pretty penny playing the giant panda themed slot at the best New Zealand online casino.
Along with a top win of 888 coins, there are panda wilds that appear comparatively frequently on the reels.  There are also scatter activated free games galore.  Hit the Fortune, Wealth or Prosperity free games bonus and you'll benefit from eight free games where line wins are multiplied by up to 8 x. 
Best of all when you achieve three or four free game activating scatters anywhere onscreen, the reels automatically respin in an effort to improve your free games fortune. 
Panda Gold slot has an extremely high variance.  That means there is lots and lots of money to be made at Springbok New Zealand Online Casino… thanks to the vulnerable giant panda bear that is munching away on the reels!
Tiger: An Endangered Big Cat with Three Extinct Subspecies
The orange and black stripes of the tiger are both crucial to its survival and one of the main reasons it features prominently on the endangered animal list.
Since time immemorial humans have poached this gorgeous beast for its fur.  In turn the striped pelt provides camouflage for the big cat and apex predator as it hunts its prey.
Once widely dispersed across much of Asia, tigers are now concentrated in relatively small areas in India, China, Indonesia and parts of Russia.  Of the nine subspecies of tiger that once roamed this earth, three are already extinct.  They are the Caspian tiger, the Bali tiger and the Javan tiger.
Now the fight is on to save the Sumatran and South China tigers, species that have and continue to be decimated by poaching, the illegal wildlife trade and loss of habitat. 
If you can't get to Asia to see the world's most feared predator in its natural habitat, don't panic.  As the number one New Zealand online casino that has conservation at its heart, we've got you covered.
Tiger Treasures: A high Variance Slot with a Random Jackpot 
Tiger Treasures is a 20 payline RTG slot that features one of those trademark randomly activated progressive jackpots. That means you can bank a serious wedge of currency after any spin of the reels. 
What is so appealing about the random jackpots at Springbok New Zealand Online Casino is you don't have to line up matching symbols or hit multiple scatters or wilds to be eligible for the big win.  All you have to do is bet max and spin baby spin!
Besides the jackpot, there is a top prize of 4,500 coins in the base game and wilds multiply all payouts by 3 x.  You can also trigger up to 25 free games where the tiger wild appears on reel three to roar in a sustained stream of line wins.
Want More of the Fun Stuff?
Along with our conventional endangered slots we supply real money online casino games rendered in cartoon-style.  Lion's Lair is another RTG money spinner featuring the fast disappearing African lion.  It has a random jackpot, wilds that double all payouts and 12 free spins with bet multipliers up to 5 x.
Then there is Panda Magic, a beautifully put together 1024 high variance slot that pays all ways.  Aside from the top base game win of 1,000 coins, there are expanding wild reels that pop up frequently.
Last but not least, you can hit up to 30 free spins with 2 x multipliers to boost your betting account at Springbok New Zealand Online Casino!