Why Springbok Mobile Casino South Africa is Environmentally Friendly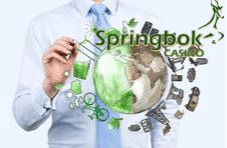 The earth is choking on greenhouse gas emission and plastic waste.  Everywhere you look there are mounds of PVC bottles, single use plastic bags and disposable nappies.
Look towards the horizon and you are sure to see the layers of smog pumped into the air by oil refineries, industries and thousands of vehicles.
The good news is that you too can become an eco-warrior - and you don't have to join the Extinction Rebellion to lighten your carbon footprint and brighten your mood.
All you have to do is make a conscious decision to play your favourite casino games at Springbok Mobile Casino South Africa.  Why? 
Well if you do not have to travel to the Grand West, Gold Reef City or the Sibaya Casino and Entertainment Kingdom to get your regular gambling fix, you will save time, money and fossil fuels… and cut your CO2 emissions by half.
Let's take a look at exactly why gambling at our mobile casino South Africa is the best choice for the environment:
No Physical Presence
Springbok Mobile Casino South Africa is a digital-only gaming platform.  That means it has no physical presence.  Unlike the brick and mortar casinos in Cape Town, Johannesburg and Durban there is no actual building hosting the players and housing the machines and tables. 
To understand the value of a virtual casino it is worth looking at the environmental cost of construction.  We know the construction sector is one of the largest consumers of raw materials and one of the most toxic… but by how much. 
According to a recent report, the construction industry in the USA accounts for almost 40 percent of all carbon emissions.  It also generates 30 percent of all solid waste and 20 percent of total water pollution!  South Africa cannot be too far off. 
Here is a statistic that really hits home - for every ton of cement that's manufactured, a ton of CO2 is released into the atmosphere.  Consider how many tons of cement are used to construct just one building and the damage to the environment is immeasurable.  Sadly, that is not the worst of it. 
Heavy duty machinery and equipment that generates a huge amount of carbon dioxide is used on the construction site.  Then there is the cost of transporting materials to the worksite, a process that accounts for up to eight percent of a project's greenhouse gas emissions!
By restricting our physical presence to computer servers in a data centre, Springbok Mobile Casino South Africa has left the lightest possible carbon footprint on the earth!
No Real Gaming Paraphernalia
As the best mobile casino South Africa, we operate on the renowned Real Time Gaming (RTG) software platform.  That means you have anytime access to hundreds of virtual slot machines, video poker games and table games.
Although the mobile gaming experience is absolutely authentic, the cards, dice, casino chips and roulette wheels are virtual - they do not exist in tangible terms.
At land-based casinos in Las Vegas and all over the world, huge amounts of plastic are used in the manufacture of gambling paraphernalia. 
Playing cards are made from sheets of PVC or acetate plastic to mitigate wear and tear.  Casino chips are either manufactured from plastic that is compression or injection moulded or from clay clad in thin sheets of plastic film.
When you consider that each chip weighs around 10 grams and casinos replace the cards every four hours or so, that is tons and tons of plastic that never has and never will be used at our mobile casino South Africa… or at any other remote gaming platform for that matter!
No Travelling Required
At Springbok Mobile Casino South Africa, you have the unremitting pleasure of playing the best RTG casino games where ever you are.  You do not have to make a dedicated journey to the other side of the city - or to the other end of the world - to win money playing blackjack, baccarat, craps or the slots.
When you think about it in terms of carbon emissions, the benefits to the environment are significant.  Here are a few facts that are sure to make you smile. 
For every air mile that's travelled more than 24 kg of carbon dioxide is produced and released into the atmosphere.  Every litre of petrol that is burnt generates 2.31 kg of CO2. 
Isn't it great to know that you won't be contributing to the problem when you enjoy your daily gambling session at Springbok Mobile Casino South Africa?  I for one am absolutely delighted!
No Bright Lights and Power-Guzzling Amenities
Besides the fact that nearly half of the carbon emissions expelled into the atmosphere is caused by the construction of buildings like casinos, the amenities in the buildings also do their fair share of harm by guzzling electricity.
In Las Vegas the casinos consume almost 20 percent of all the city's electricity.  Think about the flashing lights, the banks of slot machines, the air conditioners and the power that is used in the retail store and for the preparation of meals. 
It is little wonder that brick and mortar casinos, right here and all over the world, are one of the biggest culprits when it comes to environmental damage.  That is not taking into account the tons of waste and sewage that has to be disposed of… somewhere. 
The hard truth is that even after construction land-based casinos are systemically consuming vast quantities of electricity and producing massive amounts of carbon emissions for the rest of their 50 to 100 year life span!
What we can say for sure is exactly the opposite is true of Springbok Mobile Casino South Africa - our eco-friendly gambling platform that has the future of the planet firmly in mind!