Our Angola Online Casino and Other Unique Angolan Attractions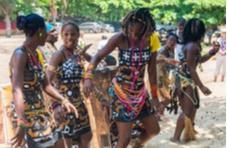 Angola is a vast and beautiful country rich in rituals, traditions, music and poetry.  It is an intoxicating blend of Ovimbundu, Bakongo and Ambundu cultures with a liberal smattering of Portuguese.  
Angola's cultural mix has created a hotchpotch of unique characteristics that, together with the toe tapping and hip slapping kuduro and semba music and the country's insatiable appetite for festivals, carnivals and celebrations, are one of a kind.
How is Springbok Angola Online Casino unique?  Apart from the seamless functionality of the games, the around the clock customer support services and the generous online casino bonuses, it is a remote gaming platform intentionally set up for players in Angola.
Before we get into the mechanics of Springbok Casino, let's take a look at why Angola is so unique.
Angola: The Land of Fiesta  
Angolans love a good party.  In fact, this remote corner of Central Africa hosts some of the most colourful carnivals, festivals and soirées on the continent.  What makes fiesta in Angola so special is that the festivities go on for days!
In November the streets of Luanda are a kaleidoscope of colour as the annual Festa da Illha gets underway.  It is a three day festival honouring the powerful sea goddess Kianda in the hopes she will keep the local fisherfolk safe and provide them with prodigious catches.
Besides the midnight rituals and song and dance, the event it marked by endless street processions.  It is a glittering ending to a glittering event where the different cultural groups dazzle with exotic costumes and customs that have endured the centuries.
If you think the Luanda Island Festival is a rip-roaring foot stamping multiday gathering, think again.  The Lubango Festival goes on for 30 consecutive days! 
It is an Angola showpiece featuring every event under the sun from cattle auctions and beauty pageants to fashion parades and music shows.  The festival is centred around the Feast of Our Lady on the Hill and culminates in a massive church mass attended by thousands of Catholic congregants.
We may not offer a multiday carnival at Springbok Angola Online Casino but our gambling experience is rich in entertainment.  You will find hundreds of RTG slots with colourful themes, awesome animations and cool tunes synched to the action.
The Springbok showstopper is not a street procession or a mass - it is the money you can win when you hit the Deal tab or Spin button at our inimitable casino in the sky!
 Unique Species Endemic to Angola
Besides the music and glamour that characterises carnival time in Angola, the country is home to 167 species that are found nowhere else. 
Some are rare and critically endangered like the giant sable antelope with its massive head gear or the diminutive little Angolan dwarf galago, a cute and cuddly bushbaby just 20 cm long!  Others are more prolific but extra special nonetheless.  
If you are an intrepid twitcher, Angola is the only place on earth where you can spot a flamboyant red crested turaco, a white bellied barbet, a Benguela long tailed starling and an Angola slaty flycatcher… together with dozens of other beautiful bird species.
It is where the Vernay's African climbing mouse does its thing, the Machado's butterfly bat hangs toe-to-wing and the Angola adder, Kaokoveld girdled lizard and baboon spider strike fear in the hearts of Angolans.
Yet another animal that is only found in the south western corner of Angola and the northern most areas of Namibia is the Angolan Springbok.  It is a sub species of the prancing buck you will find on the logo of our Angola online casino!  Now how is that for a bit of unique synergy?
Creative Angola: Poets and Musicians 
As a country, Angola is couched in creativity.  It has a thriving local music scene spearheaded by young artists like Aline Frazao, Gari Sinedima and Irina Vasconcelos. 
Outfits like Café Negro are a triumph of innovation and individuality as some of their most popular sounds are a melange of traditional kilapanga with western rock.
It is a land where acclaimed musicians like Duo Ouro Negro, David Ze and Elias die Kimuezo have set the bar high for the next generations.  By all accounts the emerging musicians in Angola are pioneering their own paths to greatness!
Besides the purveyors of song and dance, Angola is a place of poets.  Reams and reams of poetry have been written and published by legends like Viriato da Cruz and Manuel Rui Monteiro.
Now a coterie of emerging stars is continuing the tradition of creating mesmerising imagery in prose - Paula Tavares, Ana de Santana and Ondjaki are a few awesomely talented Angolans who are making waves on the world stage.
Angola Online Casino: How Gambling Platforms Should Be Run
Along with all the other attractions unique to this exotic land, Springbok Angola Online Casino is an exclusive tribute to how online gambling platforms should be run. 
We are fully committed to ethical business practices and have partnered with the CDS Corporation, an independent dispute resolution and mediation company mandated to resolve issues quickly and efficiently in the unlikely event they occur.
We pride ourselves on offering certified fair RTG online casino games optimised for the online and digital gaming platforms and our casino is licensed and regulated by the government of Curacao.
We respect the privacy of our players and as such your personal information is confidential at all times.
Our banking platform is secure and you will find a range of reputable payment processors to facilitate the transaction of funds in and out of your Springbok Angola Online Casino account.
Now for the Fun Stuff at Springbok Casino
Besides all the checks and balances that are in place to ensure you have a safe, secure and enjoyable experience at Springbok Casino, there is plenty of fun stuff too.
We believe in incentivising our Angolan players for visiting us on a frequent basis.  That means there is always a free bonus available on the promotions page. 
Whether it's a bit of free cash, cashback on losses, comp points or free spins on sizzling RTG slots, you will always find something unique and special to make your day at the number one Angola online casino!