The Gamification of Casino Games: How Far We Have Come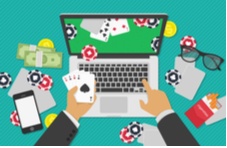 The gamification of online casino games like slots is adding another dimension of intensity and entertainment to the remote gambling experience.  Now you can play real money games a Springbok Casino that are more like video games than ever before. 
Casino games are no longer only about winning money.  They are immersive, interactive and packed with special features that are designed to get the adrenalin flowing and the heart racing.
The Gaming Industry's Response to Video Games
Gamification is the gambling industry's response to the soaring rise in popularity of video games.  It is an attempt to seduce a younger generation of players who have been raised on the likes of Minecraft, Grand Theft Auto, Resident Evil and World of Warcraft to the wonderful world of gambling online.
To this new generation of players theatrics is an essential ingredient in gaming.  Awesome graphics, beautiful constantly changing worlds and animations that perfectly replicate reality are common features in video games that are increasingly popping up in the very best casino games online.
Besides the high tech look and feel of video games, next gen slots are encompassing youth driven ideals like sharing, competing and the fulfilment of quests into game play.  Just how far have online casino games evolved?  When you take a quick look back into the mists of time, the answer is a hang of a lot!
The Rapid Evolution of Casino Slots
Not too long ago online slots, video poker variations and table games were pretty basic.  The focus was more on reproducing the game play and mechanics of traditional casino games but on the online – and later – digital platforms.
Now the best online casino games – slots in particular – are packed with mini games, bonus features, special symbols, different gaming levels and even quests or tasks that, when completed, have the potential to pay out lots of cash.
Multiplayer Games and Tournaments 
At Springbok Casino you can quite literally interact with a whole network of other players in real time via multiplayer video slots.  RTG's massively exciting multiplayer shooting game, Fish Catch slot is just one example that will keep you super sharp and in the money.
It is not only games that are providing a smattering of interactivity with a multiplayer challenge.  Leader board based tournaments are a dime a dozen online.  Right here at Springbok Casino we feature regular freeroll and buy-in slots tournaments in our download client. 
These tournaments are not to be missed as they not only satisfy player demands for a more competitive gaming experience, there are major money prize pools in the mix.  Reach the top spots on the leader board and you will be well rewarded in crisp hard cash - which in our case is the always iconic ZAR Randela.
Social and Interactive Elements for Next Gen Players
The idea behind our tournaments is to promote competition, player interaction and sharing as we often feature tournament winners in our blogs and on social media sites like Facebook.  You see – at Springbok Casino we really are right on top of what the movers and shakers in Generation X and Z really want!
Casino games have quickly adapted to the demand for more complexity, more excitement and more creativity, not only in terms of 3D imagery and amazing animations but in terms of game themes, story lines and virtual worlds that merge and change as the player progresses through the game.
What are the gamification features that are almost standard fare in the best reel-based gaming machines? Let's have a quick look and see.
Narrative Content to Maximise Player Buy-In
At Springbok Casino we have gone to great pains to supply slots casino games that feature immersive narrative content.  Take RTG's multi-layered Shark School slot and the awesomely innovative Cubee Time Travel Adventure slot as examples.
To the untrained eye these online games may resemble slots in all the most important ways.  That may be true but they also tell a story about heroes, victims and villains.  It is a story that you and I can really buy into - emotionally and in rands and cents!
By integrating narrative content into these online games RTG has effectively baited the money hook.  Who wouldn't want to save the cute little fishies from the razor-sharp teeth and snapping jaws of the shark or conquer the hairy one eyed ogre and win free spins and multipliers in ascending values at the same time?
Multiple Gaming Levels to Spark Player Engagement
Along with adding story lines into these casino games the developers have created unique gaming content that you can unlock the further you progress in the game.  This is the kind of gamification feature that keeps players locked in for long periods at a time.
Not only are the wins prodigious and frequent but you can travel into new and exciting environments with different game symbols, bonus features and in the case of Cubee an ever changing arsenal of weapons that help you level up to bigger and better paydays… and ensure Cubee defeats the bad guy too!
Player Quests and Bigger Rewards
Besides giving players a run for their money in terms of diverse in-game themes, interactive bonus features and mini-games the best RTG slots have a quest or two thrown in.  As with the unlockable content, achieving a quest is a sure fire element that will keep you fully engaged in the game or ensure you revisit the title again and again.
What are the best gamified slots at Springbok Casino?  If you are looking for an enriched gaming experience with a few gamified elements to maximise the x-factor, check out:
Double Ya Luck – a classic 3 reel slot with a board game based bonus game that triggers frequently
Shark School – a 50 payline game with an entertaining narrative and a choice of three quest-related second screen bonus features
Cubee The Time Travel Adventure – an out of the box 'slot' game with floating symbols and unique unlockable content  
Gamification is all about exploiting elements within casino games so as to grip your attention.  It is about entertainment with a capital E. 
The fact that you can win real money is a massive added bonus that the video games of today simply do not have… not yet in any event!  You too can experience the best-ever gamified slots right here at Springbok Online Casino.  Simply hit the Sign Up tab and follow the prompts!