All About the Springbok in the Logo of the Best Mobile Casino South Africa
Details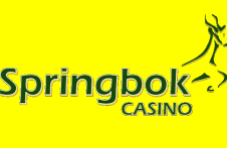 Springbok Mobile Casino South Africa features one of the country's most iconic images; a stylised version of the springbok.  This tough and adaptable, yet graceful antelope, has long been associated with excellence - in the trenches, on the sports field and now in the digital gaming ecosystem.
In the natural environment this distinctive animal with its beautiful colour coding, partially concealed back crest and lyre-shaped horns is unmatched in pace and agility.  With a top speed of around 97km p/h, the springbok is one of the fastest creatures on earth!
The Springbok - Quick, Agile and Unique
The brown, tan and white buck is also incredibly nimble and capable of carrying out complex manoeuvres and awesome side stepping when there is a predator on its tail.  A behavioural trait that characterises the 'spring' in springbok is its ability to jump with stiffened legs three metres into the air!
In addition to its swift sure-footedness and propensity to 'pronk' or leap off the ground, the springbok is unique among African antelope.  When it senses danger a bright white crest, that is usually folded away on its rear end, extends into the air as a warning to the other members of the herd!  Now how is that for the serious smarts?
Characteristics of the Springbok Define our Mobile Casino South Africa
As a mobile casino South Africa that has responsiveness, speed and agility at our very core, we thought it a fitting tribute to name our cross-gaming establishment after this alert and dextrous animal that is South African through and through!
How has the springbok become part of South Africa's psyche?  Well apart from being our national animal, it is an emblem that instantly evokes bravery, fearlessness and honour. 
The Springboks of Flanders, Ypres and the Western Front
The springbok has taken pride of place on the badges and emblems of South Africa's infantry regiments for hundreds of years.  During World War One the volunteer South African troops of the 1st and 3rd Infantry Regiments who fought and died in the trenches at Flanders and Ypres, were universally known as Springboks.
During the Second World War the 300,000 South Africans - men and women, black and white - who volunteered to serve in the Union Defence Force, wore springbok cap badges.  They also carried the Springbok moniker into the next - and equally deplorable - global conflict.
Today the springbok's head is the emblem of the fifth South African Infantry School and features prominently on the collar badge of the SADF infantry regiments.
Although we do not profess to be as brave as the men and women in the SADF, we are as patriotic.  That is why the bonuses, promotions, banking methods and support services at Springbok Mobile Casino South Africa are intentionally tailored for South Africans!
The Rugby Springboks  
Up until 1994 Springbok was the generic term for all the sportsmen and women who represented South Africa across all the sporting codes.  However, a sport that has been associated with the springbok for the longest time is rugby.  
Since 1903 the springbok has the been the emblem of South African rugby.  Although all other sporting codes replaced the leaping antelope with an array of national symbols at the beginning of the democratic era, the rugby springbok was famously retained by the late great Nelson Mandela.
Today the Springboks are one of global giants of rugby.  They are a diverse team of South Africans who are quick, tough and uncompromising on the field and great ambassadors off the field.
At the number one mobile casino South Africa we have embraced the excellence shown by our rugby heroes and carried it through in our business model. 
Why Springbok Mobile Casino South Africa is the Best
We are aware of the gravitas the springbok holds for all South Africans.  That is why we have developed a gambling platform that is couched in honesty, integrity and fair play.  We want our players to feel secure in every sense of the word.
Here are the key reasons why Springbok Casino South Africa is consistently rated the best:
RTG Developed Mobile Casino Games
Springbok Mobile Casino South Africa is built on the Real Time Gaming (RTG) software platform.  As one of the big five software suppliers in the remote gaming sector RTG is known for its flawless functionality and wide selection of cross-genre casino games.
All the games are independently certified fair by Technical Systems Testing (TST), a third-party testing agency based in the USA.  That means the gaming outcomes are random and no-one can adjust or tamper with the results.
Responsive Customer Support Services 
At Springbok Mobile Casino South Africa our focus is on you, the player.  As such we have put together a specialised team of consultants trained in customer relations. 
Our representatives are on standby - night and day - to take your calls, respond to your emails and chat to you in real-time via the chat facility embedded in our site.
If you need assistance registering an account, redeeming a bonus coupon or making a cash withdrawal, our customer support team is available to talk you through the process.  Our toll-free telephone line in South Africa is always open… so don't hesitate to give us a call.
Secure Banking Platform
We do not want our players to have any reservations about transacting on our site.  That is why we have invested in the latest encryption and firewall technology - to protect your personal information and banking data against any breaches in security.
We have also partnered with reputable and reliable payment processors to facilitate financial transactions, all of which are easily accessible in South Africa.  At Springbok Mobile Casino South Africa, we have made sure that that getting funds in and out of your casino account is quick, easy and super secure.
As you can see, we have gone to great lengths to provide a cross-platform gambling destination that is licensed, regulated and reliable.  We believe we are deserving of the Springbok name but if you feel we have missed a trick, please feel free to contact us… we are more than willing to listen to good advice.