How High Rollers Roll - and the Online Casino Games They Play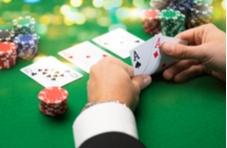 The life of the high roller is laid back and littered with riches.  It is a life of excesses where playing hard and winning big is the primary motivation.  How do you classify a high roller?  Well it is anybody who starts off betting a cool R150,000 or more!
High rollers are the guys and dolls who think nothing about dropping a few million here and there on blackjack, baccarat or roulette – the very same online casino games you can play right here at Springbok Casino!
It is not only the massive bets and equally massive wins that define a high roller.  It is the lavish gifts and extreme incentives casinos provide in order to seduce big spenders into visiting their establishments rather than that of their closest competitors!
In the eyes of the casinos, high rollers can do no wrong.  Legions of butlers, hosts, waiters and chefs are seconded to the men and women who like to go large.  Nothing – and we mean nothing – is too much in terms of bad behaviour, provided the players with deep pockets keep hitting the tables with large currency denomination chips.
It Is All About the 'High' Life in Vegas After Dark!
How do the high rollers roll in cities like Vegas and Atlantic City?  Well, sometimes the tales, rumours and stories aren't so pretty.  There are whispers of herds of hookers who huddle around waiting for the crook finger of the VVIP casino hosts.
There are also tales of snowstorms of cocaine figuratively floating between floors at the opulent hotels that comp the big spenders...  and frankly put, casino moguls delight in having a few big spending whales slightly hazy as they head for the solitude and exclusivity of the private gaming rooms.  As one host wryly put it; Vegas is a 'no judgement zone' but only for the very important people!
If you have ever tried to play online casino games with a couple of drinks under the belt, you will know how difficult it is to concentrate.  Try counting cards or implementing an optimal strategy and you will know exactly what we mean.
Exclusive Welcome Gifts and Lots of Free Liquor 
Having said that, there are loads of casinos all over the world that operate well within the law and according to accepted norms and standards.  That doesn't deter them from welcoming high rollers with 'small' gifts of appreciation.
It is not unheard of for authentic pieces of collectible art, designer clothing and diamond and gold jewellery to be wrapped, beribboned and left on the proverbial pillow.  Imagine getting a Pierneef, Irma Stern or Gerard Sekoto simply for showing up?
What is standard across all casinos are the bottles and bottles of free booze that stock the high-end penthouse suites.  We are not talking about hooch here.  We are talking about bottles of the finest imported wine that can cost $14,000 a pop or rare Japanese whiskey that retails for around $50k a bottle!
In one casino on the Strip they have even hired a chocolatier who creates personalised yummies for VIP's based on the content of their Facebook page and Instagram account!  One wonders how many icons of online casino games – playing cards, dice and casino chips – have been painstakingly moulded into one-of-a-kind chocolatey treats!
Million Dollar Lines of Credit with a Snap of the Fingertips 
Besides the gifts and copious amounts of free booze that are always doled out to VIP's, high rollers seldom bring cash to the casinos.  If they are well known they get a line of credit up to one or two million US with a snap of the fingers.  
If not, they are assigned a dedicated host who assesses the risk before making a recommendation as to how much money they will be given to wager with.  In high roller land there is no such thing as a handshake, let alone a loan agreement or contract – it's a freewheeling free for all.
Imagine if average players with a measly regular spend asked the casino for cash to play online casino games…  I am pretty sure they would be unceremoniously kicked out on their virtual butts!
Right back to the business at hand.  We know that high rollers get awesome welcome gifts, free grog and huge lines of credit.  We also know there is a small army of perfectly trained staff who cater to their every whim… and BTW have to sign confidentiality agreements.  What happens in Vegas stays in Vegas… or so the saying goes!
Get the Run of the Town… Literally  
What we haven't covered is the fact that high rollers don't only get the run of the casino, they get the run of the town.  They get invites to all the best celebrity parties, enjoy complimentary gourmet meals at Michelin Star restaurants and are transported around in chauffeur driven limousines.  The really big baccarat whales from the Far East even get flown in by private jet!  Talk about the high life!
Claim Springbok Casino Bonuses – Play Online Casino Games for Free
There is one aspect that applies as equally to online casino games as it does to the tables in the Salon Privé at land-based casinos in Paris, London and Las Vegas – and that's the bonuses!  At a virtual casino such as Springbok Casino, the bonuses and promotions are even more varied and exciting.
Besides the 25 percent cashback bonuses that are tied to any losses you make on our RTG online casino games, there are no deposit free cash bonuses, deposit match bonuses and free spins on slots - or a cool combination of two or more.
Exploit Freerolls and Comp Points – Become a VVIP! 
Register an account at Springbok Casino and you can exploit the freeroll tournaments in our download client.  You can also take full advantage of the comp points that are automatically accrued to you on every wager you make playing online casino games.
Comp points are redeemable for cash but more importantly they elevate you from ordinary player to VIP.  As a high roller at Springbok Casino you are entitled to exclusive gifts, bonuses, prizes and incentives – now how cool is that?