What Online Casino Games Have Paid Out the Biggest Winnings Ever?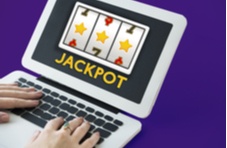 Online casino games have the potential to pay out huge sums of money.  Why?  Well unlike land-based casinos that have to rely on the people who walk into their establishments to juice the pots so to speak, online casinos have an infinite number of punters feeding the virtual machines.
No Geographical Boundaries or Time limits
There are no geographical barriers to limit who decides to gamble where.  There are also no time limits or operating hours to hinder the flow of cash wagers on hundreds and hundreds of online casino games.  In the wonderful world of the web it is a free for all… and you can be part of the action.
No Overheads to Cover
Besides the systematic and free flow of coinage that happens night and day at Springbok Casino, we do not have the massive operating costs that our B&M cousins in Sun City, Cape Town and Las Vegas have to cover - month in and month out.
More Money for Online Casino Games Jackpots 
Think overheads like rentals and staff salaries and you will understand why online gaming is a billion-dollar industry.  Zero overheads mean we can be extra generous when it comes to cool stuff like bonuses, promotions and comp points. 
It also means there is more than enough currency floating around to fill the jackpots to overflowing.  We all know what that means… more ZAR available for the likes of you and me.
Biggest Wins? Think Slots  
The question is; which online casino games are the major money generators?  Is it blackjack, video poker, roulette or craps?  Surprise, Surprise it is slots - you know those funky reel-based online casino games with amazing graphics, cool tunes and jaw dropping animations?
Sure, you can win plenty of money playing skill-based online casino games like Jacks or Better video poker and Suit Em Up Blackjack at Springbok Casino.  That is provided you have memorised an optimal strategy relating to whichever game you are playing at the time.
However, you will never ever win more than the payouts published on the paytables.  In skill-based games the combinations that pay out the most loot are extremely rare - like a royal flush or a two-card blackjack in an identical suit.
Find the Joker in the Pack - Progressive Jackpot Slots
With the compelling collection of online casino games that fit neatly into the slots' category, there is the equivalent of a joker in the collective pack - and that is the progressive jackpot slots. 
These are the games that offer seriously ginormous multi-million rand payouts and anyone with or without skills or experience has an equal chance of winning.  What can you do to maximise your chances of hitting the big paying symbol combination on the reels?  Absolutely nothing.  It's all luck, you see.
Where to Find Online Casino Games with the Biggest Payouts Ever
Well if progressive jackpot slots pay the biggest winnings ever, where can you find them at Springbok Casino?  By clicking on the 'progressives' tab in the lobby of course.  
How much can you win on the best ever progressive jackpot slots by Real Time Gaming?  A jaw dropping R22,27 million on Aztec's Millions, R11,8 million on Megasaur and R2,04 million on Spirit of the Inca - and the jackpot amounts are still ticking up and up!
How About the Biggest Cash Wins in History?
Well it is the very same online casino games that have set the biggest win records.  What is really extraordinary is that many of beneficiaries either won the million rand and more pot on a ridiculously low stake or was a first timer at that particular online casino.
Here is a snapshot of a few of the really big wins on progressive jackpot slots over the last few months.  We know it will whet your gaming appetite right here at Springbok Casino!
January 2018 - Mega Moolah paid out yet again in CAD and this time it was a $3,6 million (R39,8 million) bankroll booster
March 2018 - Megabucks slot lived up to its name with a $11,2 million (R163,6 million) jackpot prize
March 2019 - Mega Fortune Dreams paid out €4,3 million (R69,3 million) to a 65-year old women who bet just €4
May 2019 - Joker Millions slot paid some lucky punter €3,1 million (R49,9 million) on a €1,25 stake
May 2019 - Azrabah Wishes slot splashed out an epic $2,4 million (R35 million) in a single win
June 2019 - Empire Fortune slot delivered a wow payday of €2,2 million (35,4 million)
Listen up folks, these are real winnings by real people over the last 18 months.  There is no rhyme or reason why you won't be the next big beneficiary of a million rand and more take home prize. 
Sign Up at Springbok Casino and Give Yourself a Chance to Win B-I-G!
Right now there is hard cash to the value of R37 million sitting on the reels at Springbok Casino.  If you are not part of the action you will never win.  Seriously, it really is time to sign up and give the reels a good shake - who knows what will fall out of the money tree!