Best Online Casino Games for Beginners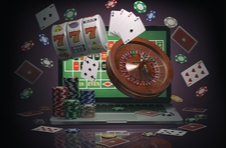 If you are a novice at gambling, you are probably a bit bemused and befuddled when it comes to choosing online casino games.  Take a quick at the games' menu at the Springbok download, instant play or mobile casino and you will find multiple categories featuring dozens of colourful thumbnails.
On the face of it the online casino games at Springbok Casino look equally enticing.  Unless you know your poker from your pontoon or your classic three reel slots from your All Ways Pays video slots the question is; how on earth do you settle on just one genre - let alone an individual game title?
At Springbok Casino we are here to help.  Our mission is to ensure you get the best possible experience in terms of the online casino games you play and the payouts you achieve.
That is why we have listed four online casino games categories that are easy to learn, fun to play and offer average return to players (RTPs) that are heavily skewed in your favour!  In other words, these are the games with only a slight advantage to the house… and that means more money is destined to come your way!
Roulette: The Simplest of Online Casino Games 
Roulette really is the simplest of the online casino games.  All you have to do is wager on where you think the ball will land on the spinning wheel.  The beauty with roulette is there literally dozens of bets you can make on each spin of the wheel.
You can bet on just one number or you can be on multiple numbers.  You can also bet on a row numbers or a column of numbers or you can go for the even money generic bets like odds or evens or red or black.  
Play roulette at Springbok Casino and there are literally no betting limitations.  You are free to place as many casino chips on as many positions on the layout as you wish.
Payouts directly correlate with probability.  That means you are paid out a lot more for correctly predicting a winning number than you are for predicting the ball landed on a red or black groove in the wheel!
At Springbok Casino you have the option of American Roulette or European Roulette.  The American version has a double zero wheel and a house edge of 5.26%.  The European version is played on a single zero wheel and has a much lower edge of just 2.78%.
Which type of roulette should you play at Springbok Casino?  The hint is in the house edge!
Blackjack: Multiple Online Casino Games with 21 as the Target
Blackjack is one of those online casino games that is easy to learn and quick to play.  Your objective is to beat the dealer by getting as close to 21 as you can without going bust.
At Springbok Casino you will find several variations of blackjack.  Some have optional side bets like Suit Em Up Blackjack and Blackjack with Perfect Pairs and others have extra payouts for unique card combinations.
Virtually all the Real Time Gaming (RTG) developed online casino games in the blackjack category have the same basic rules.  The dealer hits on soft 17, you can double on any of the initial two cards - and after a split - and you can split up to two hands.  However, the re-splitting of aces is not allowed.
When you follow a basic strategy, it is possible to build a nice fat bankroll playing blackjack and its myriad variations.  Why? 
Well the average RTP in Blackjack at the best online casino in South Africa is 99.46%.  That means R9.95 of evey R10 bet on Blackjack is eventually paid back to all players as winnings.
The RTPs in the blackjack variations at Springbok Casino are as appealing and include:
Super 21 - 98.94%
Match Play 21 - 99.27%
Face Up 21 - 99.25%
Blackjack and Perfect Pairs - 99.46%
Craps: Online Casino Games with Lots of Different Bets 
Craps may appear complex but it is actually as easy to play as roulette - or any of the other online casino games we have mentioned so far.  With craps it all boils down to predicting the roll of the dice.
If you avoid the proposition bets with their nice juicy pays and stick to the even money bets instead, you can accumulate a neat account balance in ZAR playing craps at Springbok Casino.
Which are the even money bets in craps?  You know, those bets with the lowest advantage to the house and the highest return to player? 
Well when you think exclusively about spending your money on Pass Line and Come bets and Don't Pass and Don't Come bets, you stand to benefit from average RTPs of 98.59% and 98.60% respectively.
In respect of the house edge, the Buy and Lay bets in craps are not too bad either but it is important to remember that you will pay 5% commission on the winnings!
Video Poker: Draw Poker with a Low house Edge
The last of the online casino games we recommend for gambling beginners is video poker.  It is five card draw poker against the machine.  Your aim is to get a paying poker hand according to the conventional poker hand rankings like a pair, two pair, three of kind and so on.
As with so many of the online casino games you will find at Springbok Casino, there are several types of video poker available in the single hand and multi hand modes. 
What makes this gaming category so popular is the fact that you can learn to play video poker optimally - and when do that you can lower the house edge to next to nothing. 
What are the video poker variants with the highest return to players?  Here is a list of recommended online casino games based on five card draw poker:
Aces and Eights - 99.78%
Double Jackpot Poker - 99.63%
All American Poker - 99.60%
Jacks or Better - 99.54%
Bonus Deuces Wild - 99.45%
Tap into the Money: Play the Best Online Casino Games Here and Now!
Now that you know which online casino games are the best in terms of win probability all you have to do is register a real money account at Springbok Casino. 
We have gifted you R250 to spend right here and right now - no deposit required.  If you like what you see and see what you like, you can transfer funds into your casino account via a range of convenient banking options. 
You can also redeem a welcome bonus coupon that will ensure you have even more money to spend on the best RTG online casino games.  With so many pros, you really have got nothing to lose.  Sign up at Springbok Casino now… and exploit the low house edge!