Are Progressive Slots the Best Casino Games to Play Online?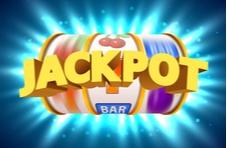 In the infinite expanses of the World Wide Web there are no limitations.  Online casinos are not walled in by brick and mortar like their land-based counterparts. 
Virtual tables, video poker machines and online slots are not confined to a few square metres of gaming hall.  That effectively means there is an endless selection of casino gamesavailable at your fingertips.
Besides the vast number of RTG games displayed right here at Springbok Casino, there are no physical limitations as to the volume of players that can bet real money on exactly the same casino game - and at the same time.
Your Choice of Online Casino Games is Key
That is obviously a major boon for online casinos.  Simultaneous multiple bets can translate into massive profits - but it is not only the gaming platforms that stand to benefit.  Players who choose their online casino games wisely can coin it big time!
What do we mean by choosing wisely?  Well a percentage of thousands - or even hundreds of thousands - of wagers on a progressive slot is diverted into the prize pot. 
It is worth mentioning that it is not only players at Springbok Casino who feed the jackpot - It is all players at all RTG powered online casinos who contribute to the big bucks bonanza! 
It's simply mind blowing just thinking about the cumulative amount of money that is diverted into these jackpots - day in and day out.  No wonder the top prizes in the best RTG progressive slots reach millions and millions of rand! 
Now with that sort of cash return, casino games with progressive jackpots have to be the games of choice.  Or are they? 
Let's take a look at how progressive slots work.  We'll also zoom in on what you have to do to maximise the probability of winning one of these ginormous ZAR money pots at Springbok Casino.
How Progressive Slots Work
Progressive slots are designed in exactly the same way as regular slots.  Your mission is to match symbols across a payline in order to win the bet multipliers posted in the paytable.
The one major exception in these popular online casino games is the top prize is not a fixed amount - it is a constantly accumulating jackpot juiced by a portion of all players' bets.
In some cases - as with the legendary Aztec Million's slot - the progressive jackpot can be triggered in the base game.  You usually have to place a maximum wager and hit matching symbols across all five reels to bank the million plus money prize in authentic bank notes. 
in other progressive slots, the big paying jackpot prize is only activated during a bonus game or free spins round.  That does make it more difficult to achieve.  Why?  Well you first have to line up three or more scatter symbols to trigger the bonus feature.  Then you have to hit the jackpot permutation.
Bet Max to Win Big
That sounds easy enough, so what is the catch?  There isn't really a catch per se.  What you do have to understand is to be eligible for the jackpot prize you almost always have to bet the maximum number of coins per spin.  To do that, you need a large bankroll.
There is one other point to consider before you rush across to the instant play platform and click on the 'progressives' tab in the casino games menu - and that has to do with 'variance'.  
What is variance and how does it affect the win rate of progressive slots?  Variance is a term that describes a game's frequency and value of wins.  The higher the variance, the larger the potential payouts.
Juicy Bankroll a Prerequisite to Playing Progressives
As a general rule high variance games pay out large amounts of money but on an infrequent basis.  In other words, there are long periods when you will not hit any paying combinations at all.
What has that got to do with progressive slots?  Well the games linked to nice fat juicy progressive jackpots have the highest variance of all.  That means you have to spend a lot to win a lot. 
You also need plenty of patience as you will usually have to wait a lot longer for the payout permutations to stack up on the reels!
Should you play progressive slots at Springbok online casino?  At the end of the day it boils down to your appetite for risk and how much money you can afford to lose playing online casino games.  
If you are a more cautious type of player then we recommend you choose low to medium variance slots.  They may pay out meagre amounts of money but they pay out often.  
Lower variance slots may not make you an overnight millionaire but they are equally enjoyable to play and there are always great bonus features integrated into the game to enhance the payout rate. 
However, if you love the adrenalin rush of winning - and losing - large amounts of money progressive slots have the potential to reward you beyond your wildest dreams.
Play the Best RTG Progressives at Springbok Casino NOW
What are the best casino games at Springbok casino in terms of jackpot pays?  Here are three RTG progressive slots that offer life changing wins:
Aztec's Millions

 is a 25 fixed payline progressive that boasts a current jackpot value of more than R22,5 million. You can bank the magical amount when you hit the Aztec Million's game logo simultaneously across all five reels. Bets are fixed at R40 per spin.

Megasaur

 is a cracker of a progressive. It offers a jackpot of R12 million and ticking that can be won by lining up five scatters anywhere on the gaming interface during free spins round. There's also a Feature Guarantee that automatically triggers the free spins round after 250 spins!

Spirit of the Inca

 has five progressive jackpots that are active on a maximum bet.  Adjust your bet size downwards and you can still win a constantly accumulating pot proportional to your bet size. What's the most you can win right now? More than R2 million in hard cash.
Do you have the appetite for a whale of a win?  Sign up at Springbok Casino right now.  Besides the best ever casino games - some with jaw dropping real money pays - there is an awesome selection of bonuses you are encouraged to exploit.
Go on, register a Springbok Casino account and give the progressive slots a spin - it may well be your time for a windfall in ZAR!