How Gambling at a Mobile Casino South Africa Enhances Happiness
Details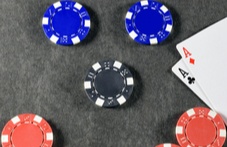 South Africa in 2019 is a challenge.  The new dawn has yet to colour the skies with a tinge of rosiness, the Proteas are plummeting in the ICC rankings and Caster Semenya isn't allowed to do what she loves doing best. 
The question is how do we find happiness in a world that has lost its collective mojo?  Well according to a few clever okes out there gambling at a mobile casino South Africa is just the thing.
Big Wins Release Feel Good Chemicals in the Brain 
Let's face it, there is nothing better than hitting a 'Big Win' on the small screen.  When those virtual coins start flooding the miniverse the feel good chemicals kick in - and that means we are happy - organically and deliriously happy.
What is even more extraordinary is it is not winning hard cash that opens the floodgates of joy, bliss and delight, it is the chance of winning that gets the endorphin and dopamine flowing.
Neuroscientists tell us that the brain automatically spurts happy chemicals when we do something it perceives is good for our survical.  What they have not told us is why the brain considers gambling at a mobile casino South Africa essential for our existence!
What is it that gets the brain in a twist?  Gambling, it appears, falls neatly into the hedonistic pleasure category and what wouldn't assess the derivation of pleasure as central to survival?
Hard Wired To Get a Kick Out of Gambling
The truth is we humans are hard wired to get a kick out of gambling.  It could have something to do with the fact that the thrill of the unknown is similar in potency to the thrill of the chase. 
Chasing a win in blackjack or poker could easily be classified on the same level as chasing prey.  First there is adrenalin and then there is euphoria… especially when the hunt has been long and arduous.
This kind of analogy isn't too farfetched when you apply it to the action at the best mobile casino South Africa.  We all know it is that much more satisfying to hit a big paying jackpot after enduring a protracted losing streak.
Sure, it is nice to fire up the game engines at Springbok Casino, open an All Ways Wins RTG slot and hit a mega money pay day on the first spin. 
The truth is even that feeling of happiness pales in significance to the elation that follows a major win after hours and hours of accomplishing absolutely nothing.  It is the kind of elation that provokes bellowing, fist pumping and a few leaps in the air!
Gambling in the Golden Years Enriches Quality of Life and Boosts Well-Being  
What is even more heartening is playing casino games can enrich the quality of life and well-being of the elderly.  Older folk who engage in gambling activities have much higher levels of happiness.
According to a study published in the Journal of Applied Behavioural Analysis, silver foxes who gambled frequently exhibited better overall health and lower rates of depression.  They also had a booming social life and were much more engaged on the cognitive level. 
The conclusion this study came to was that gambling in the golden years was more than enjoyable, it was therapeutic.  Apart from the entertainment factor playing casino games at a top ranked mobile casino South Africa involves problem solving, concentration and memory, attributes that usually weaken as we get older. 
The Twist in the Tale
OK we now know that gambling at the likes of Springbok mobile casino South Africa enhances happiness.  It also improves overall quality of life in senior citizens.  That is great to know but wait, there's a twist in the tale and that twist is happiness decreases as the intensity of gambling increases.
Say what?  Well according to data collected from more than 6,000 survey participants in the UK there was a noticeable drop in happiness when participants transitioned from social gamblers into habitual or problem gamblers.
That finding may seem fairly obvious but it is worth mentioning nonetheless.  Problem gamblers or people who are addicted to gambling usually have all sorts of other social problems related to their habit.
It can be a breakdown in their relationships, losing their job, getting into debt or even committing crime to fund their addiction.  When that happens happiness disappears and depression, helplessness and even suicidal thoughts set in.
Happiness is Only Possible When You Gamble Responsibly
What is the moral of the story?  You can only enhance your happiness if you gamble responsibly at our mobile casino South Africa. 
What does that really mean? 
Well, firstly, you must only gamble with money you can afford to lose - not the housekeeping money, the kids school fees or the portion of the monthly budget that has been set aside to pay for medical aid or motor vehicle insurance.
Secondly, it is a wise idea to set a loss limit or an amount of money you are happy to lose.  Remember it is easy to set a limit.  The difficult part is adhering to it.
If you can't manage your own spending you can always contact Springbok Casino and set up weekly or monthly deposit limits.  You can also choose to self-exclude from gambling at the best mobile casino South Africa for one month up to a year… or even indefinitely.
What is the definition of true happiness?  It is a sense of well-being, joy and contentment.  It is the feeling you get when you are successful, safe or lucky… or all three!  If you really want to pursue happiness, gambling at Springbok Mobile Casino South Africa should be one of a myriad of activities you enjoy!