Best Bankroll Management for the Kiwi Online Casino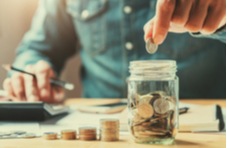 Playing real money games at a Kiwi online casino takes luck, endurance and proper bankroll management. Without a plan detailing how much you can spend without compromising your financial security and how long you can justifiably sit at the PC playing slots, video poker or blackjack without annoying your partner or neglecting your kids, there is always the chance you will lose the plot, drop the ball or cause a domestic incident.
Playing casino games is pretty much like eating peanuts - once you start it can be hard to stop.  At the number one Kiwi online casino in cyberspace we are aware of how easy it is to fudge the budget.  That is why we have compiled a better bankroll management guide for New Zealanders who simply can't say no, nyet, kāo… or as we say here at Springbok Casino, nee!
If you want to experience gambling as it should be experienced - with great enjoyment and restraint - here are a few simple tips to keep you on the straight and narrow in terms of dollars spent:
Determine a Loss Level
The easiest way to stay out of trouble is to identify an amount of money you can afford to lose.  Although we really do want our customers to win a few bucks here and there, the truth is there are no guarantees - thus the name of the sport....gambling. 
You could be having a mare of a day or maybe you are losing hands down simply because you are playing skill-based games - like Aces and Eights, Suit Em Up Blackjack and Caribbean Stud Poker - but without bothering to acquire the skills!
Getting back to the loss level.  When you identify exactly how much you can lose in a month - without losing your house, your wife and your credit worthiness - and you draw a line under that amount that you will not cross, you have just joined the ranks of the responsible gambler… well done!
Divvy Up the Deposits
Ok you have set your monthly loss limit and are ready to deposit, bet and play at our Kiwi online casino.  Before you fund your casino account with the full month's gambling spend, we strongly suggest you divvy up the bankroll into bite size chunks.
That means you can't blow your entire bankroll in one or two gambling sessions.  Ideally you want to extend your time at the tables or on the reels or the virtual video poker machines.  By dividing the bankroll into four equal parts and making a deposit once a week rather than once a month you will be one of the smart fellas at our Kiwi online casino with a sharpish Saffer twist!
Splash Out with Winnings and Ring Fence the Rest 
When you do win casharoo at Springbok Casino NZ a good plan is to separate the winnings from the deposit that generated the winnings.  If for instance you are playing through a bonus it may not be practically possible to cash out the deposit - but that does not stop you from ring fencing the amount in your head.
The beauty of playing with the casino's money is you can be a bit more adventurous in terms of the games you choose to play and the stakes you choose to play at.  It could be the perfect time to go for a progressive jackpot or bet a nice fat five coin maximum as you hunt for a bonus pay or royal flush in Deuces Wild or Double Double Jackpot Poker!
Cash Out When You Are On Top 
If you do happen to hit a hot winning streak playing slots, blackjack, roulette or poker at our Kiwi online casino do not get greedy.  In most cases luck plays the most significant part in whether you win or lose.  As we all know luck can change in an instant.
If your betting balance is in the black the sensible thing to do is cash out while you can.  When you tempt fate, you may just end up chasing your losses instead.  The best gamblers actually have a win limit along with a loss limit.  In other words, they set a target and when they reach that target, they cash out and skadoodle for the day!
Don't Panic When You Lose 
Last, but not least, do not panic when you lose money at the Kiwi online casino.  When you panic you do rash and stupid things like increasing the size of your wager or doubling down on a poor starting hand in blackjack or taking the Double or Nothing bet when you have achieved a high paying poker hand like a straight, four of a kind or a full house.
The last thing you want to do is chase your losses by increasing your risk.  It just does not work that way, my mate!  If you are in the middle of a losing streak it may also be the right time to cut and run.  There will always be another opportunity to fill your pockets… and hopefully good fortune will be on your side!
Sign Up at Springbok and Be Sensible 
The only way to refine your bankroll management is to do it in real time.  That means registering an account at Springbok Kiwi Online Casino and depositing the amount of money you can afford to lose in the first week.
If you follow our better bankroll management tips there is every chance you will still be flush with cash mid-month.  Even if you aren't you won't have to face the repercussions of the irresponsible gambler - repercussions that range from marriage counselling to debt rescue!