How to Turbocharge Your PC for the Best Online Casino Games Experience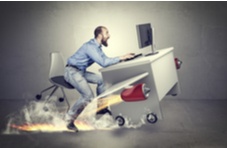 The rapid development and deployment of sophisticated gaming technology means that online casino games are slicker than ever before.  These days the virtual gaming experience provided by the likes of Springbok Casino is on a par with the real-life action at Sun City or Grand West. 
Quality Software and Hardware
However, in order to get the most out of the real money casino games featured right here at Springbok Casino you require hardware that is turbocharged to meet the demands of the modern gambler. 
To do that you need to tweak your desktop or laptop and doctor the OS - which for most of us is Windows 10.  Your end game?  To deliver a performance that is quicker and more agile than ever before.
Quick Loading Games and Seamless Performance  
In this age of immediate gratification, we all want online casino games that load quickly and efficiently.  We also want a seamless gaming performance that is not interrupted by lags, drags, freezes and other avoidable system's issues.
If you want to ignite the game engines of your favourite RTG online casino games without a splutter or a thunk, here are a few easy ways to turbocharge your PC for peak output:
Rev Up the RAM
Unless you are the serious video gaming type who likes to blow up enemies in Call of Duty: Modern Warfare, the majority of PCs have around 2GBs of RAM.  Under normal work-related circumstances that will usually suffice.
However, if you want a quicker and more responsive gambling tool to match our sleek and seamless online casino games, a RAM upgrade has to be right at the top of your to-do list.
By levelling up to 4GB of RAM you will instantly benefit from noticeable performance gains.  RAM or random-access memory is used to store the data and machine code on your PC.  The faster the RAM, the faster the processing speed.
With a faster RAM you beef up the speed at which the memory transfers information to other components - and when you do that your entire PC operates at optimal efficiency.
A RAM upgrade is a quick, easy and affordable way of adding a bit of juice to the online casino games experience.  It simply involves swopping out one small piece of hardware with another… job done.
Change Your Power Settings
We all like to save power - whether it is limited battery power to fuel a laptop or that increasingly rare commodity generated by ESKOM. 
The problem is when the power settings reflect the feel-good Power Saver mode, it slows down the PC and reduces the performance of the online casino games featured right here at Springbok Casino.
Fortunately, you can easily remedy the situation by changing the setting to Balanced - which balances power usage with performance - or High Performance – which provides maximised functionality at the cost of power savings.
To change the settings simply click the Start tab, hit the Settings icon and select the System option.  Scroll down to Power & Sleep, click on Additional Power Settings and select the Balanced or High Performance option.
Say No to Windows Notifications
Windows has this nasty habit of interrupting whatever you are doing and offering redundant tips on how to use the OS.  The pop-up notifications are not only irritating and an invasion of privacy, they slow the system down.
You can speed up your gaming pleasure at Springbok Casino by shutting down the Windows notifications. Again, it is a matter of hitting Start, Settings, System and Notifications and Actions.  Once there, you can turn off the Get Notifications button.
Thereafter you will find the online casino games are quicker to deploy and we all know what that means – more time to achieve a winning hand in blackjack, baccarat or video poker or a payout combination on the reels!
Clean Up the Startup Process
When you power up your computer to gamble you obviously want instant access to Springbok Casino and our myriad of online casino games.  The problem is that the startup process can be a bit sluggish at best.
There is a good reason for this.  It is due to the fact that there are just too many superfluous programs running in the background.  These programs are set to launch at startup, processes that obviously add to the time it takes for the system to boot.
What can you do to tackle the problem?  You can disable the programs that automatically run on startup.  How do you do that?  By pressing the Ctrl-Shift-Esc keys to activate the Task Manager which automatically appears in a separate window on screen. 
When you click on the More Details link at the bottom of the screen and select the Startup option a list of programs and services that launch on startup is displayed.
By right clicking on the program and selecting the Disable option you don't disable the program altogether, you simply stop it from launching every time the PC starts up. 
You can easily open the application whenever it is required by clicking on the corresponding icon on the task bar or desktop.
Migrate from Hard Drive to SSD
Arguably one of the most efficient ways of boosting the speed and performance of your PC is to upgrade the storage from a hard drive (HDD) to a solid state drive or SSD.
The difference between the two is the technology that is used to store and retrieve data.  In the case of a hard drive the process is mechanical and comparatively slow, while an SSD uses flash memory to deliver noticeable performance gains.
With SSD everything - from system boots to program loads - is almost instantaneous.  Faster data access speeds mean faster online casino games load times.
By upgrading from a hard drive to SSD you will spend a lot more time playing slots, video poker and table games and less time waiting for things to happen!
How do you upgrade from HDD to SSD?  You can have it done by the pros or you can select an easy to install DIY kit with real-time support and do it yourself.  No computer skills are necessary or required.
Right, now you know exactly how to speed up your hardware so that it functions optimally with our gaming software.  All that's left for you to do is register a Springbok Casino account, select the online casino games that blow your hair back and play, play and play!