Three of the Best Santa Slots at the #1 Kiwi Online Casino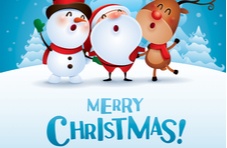 It's jingle bells time again… and some might feel like covering their ears when going Christmas shopping with all the jolly tunes blaring loudly.  If you are one of those that find the festive season all a bit droll, why not make for the Kiwi online casino instead?  You can get in on the festive action and you won't have to give the holidays a total miss! 
At Springbok Casino, you don't have to be the grinch who stole Christmas, as we have ensured that there is a secret selection of Santa slots to help you get into the mood.  Whether you feel like being merry or not though, from our side, we are far more intent on rewarding you for signing up and settling in for the long haul!
Either way, if you need to lift your flagging spirits as the year moves rapidly to a close, here are the best-ever Santa slots that you can enjoy at Springbok Casino, the best Kiwi online casino!
Naughty or Nice?
What we really love about this little gem is that it is kind of festive – but with a bit of a juicy and perhaps unconventional side woven into the festive theme...  Two of the main protagonists in this Xmas story are rather scantily clad lady elves dished out in respective green and blue. 
One is a buxom blonde, and the other an eyelash-flapping brunette – and both are wild women, who can pay up to 2,500 x the bet.  They also stand in for all the other happy-clappy symbols, with the exception of the Naughty or Nice game logo.
Hit the lovely ladies on one or more of the 50 fixed paylines and you will be knee deep in the cash.  Now how is that for a great way to ease right into things when the Christmas carols start excavating a deep hole in your head?
At Springbok Kiwi Online Casino our mission is to thrill.  Along with the wild times two, the scatter is imbued with big money powers.  It is pre-programmed to unlock 10 free spins where are wins are doubled. 
Hit a wild during the free game time and you will get one extra free spin or a cash prize of 20 x your bet!  That is all fab and all but there is another little surprise scripted in.
If you are good and really lucky, Santa may just deliver the biggest gift of all… and that is a randomly activated progressive jackpot!  Say what?  Oh yes, your Xmas could just become fabulously festive thanks to the best Kiwi Online Casino in cyberspace!
Rudolph's Revenge 
At Springbok Casino, we love animal-themed games.  Hence our propensity for featuring Rudolph themed slots, one of which is this 50 payline money-spinner that has a network progressive jackpot in-play.
In this Santa slot, Rudolph is a decidedly sozzled red-nosed reindeer that has revenge on his mind.  He has been overworked and under paid for far too long now.  When he is whizzing across the night sky, he's got a horrible wheeze in his chest… but will Santa and his little helpers lighten the load and give him a break?  
Hit Rudolph simultaneously across all five reels and you will bank the big paying bonanza.  Even if he only pops up occasionally, he completes payout permutations and promptly doubles all payouts.  In other words, Rudolph is wild, real wild!
The ticking timebomb is the scatter that pays up to 20 x the total bet.  Hit three of more anywhere on the gaming area and you are instantly tipped into gratis game time comprising seven free spins.  Here's the Xmas kicker!  When there are four activating scatters involved in-play, the scatter bomb becomes an extra wild.  Level up to five scatter triggers and both the bomb and Santa can complete line wins and double the money!
Now that is seriously oh-so-cool and chilly… even for a Kiwi online casino that celebrates Xmas slap bang in the middle of summer!
Swindle All the Way
At Springbok Casino we like to spice things up a bit and that is why many of our Santa slots, are perhaps not that Santa-y at all.  We know Kiwis have a bit of an adventurous side and so we reflect that in our game selection.
Naughty or Nice is the X-rated adult version of Xmas and Rudolph's Revenge is all about vengeance and retaliation which aren't really sentiments associated with Christmas at all.  Well, our third Santa slot is also a bit of a festive season anomaly as it features nefarious masked robbers who we will call Stan and Dan.
Stan and Dan may be making off with all the Xmas goodies, but if you hit them on the reels, you will get up to 2,500 x the wager.  They also moonlight as jokers – aka wilds – in their spare time.
The game logo is a scatter that pays every which way and triggers the free game feature.  Make it this far in the stealing, nicking and pilfering themed slot and you will have to find as many thieving duos as you can on a 'pick me' second screen.
The number of free games you are awarded depends on how many robbers you find and how many activating scatters are involved.  With up to 60 free spins and 33 multipliers up for grabs and a random progressive jackpot waiting in the wings, this Santa slot at our Kiwi online casino is… a steal!
If you need to get through Christmas with a serious smile on your dial, why not sign up at Springbok Casino and unleash Santa and his odd collection of helpers on your PC or phone?  
At our Kiwi online casino, you will find lots of little pressies in the form of promos, comp points and bonuses too!  Go on; register a real money account and bet, play and smile!