5 Weird and Remote Places to Play Mobile Casino Games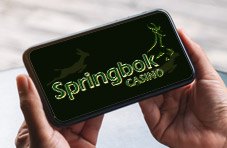 Smart tech means that Wi-Fi and internet connectivity are virtually everywhere.  It also means that smartphones are more durable than ever before.  Put the two together and what have you got?  The perfect platform for playing real money games at the number one mobile casino South Africa.
Not too long ago, getting your wagers away on blackjack, baccarat, roulette or craps was exclusively PC-driven.  You had to be plugged in to ADSL or fibre to enjoy the best that online casino ZAR gambling has to offer. 
There was no flexibility in terms of mobility or geography.  You could choose to sit 'vas' and bank the big bucks, or you could saunter off and find something else to do with your time and money.  For virtual gamblers there was no middle way!
Now you can visit Springbok Mobile Casino South Africa anywhere and play slots and table games until you drop.  Provided you can get hold of a data package and have a cellular connection - or the ability to sneak onto someone else's Wi-Fi – you can literally tap and swish your way to a progressive jackpot… wherever you are.
In that sense, the mobile casino South Africa really has become ubiquitous.  You can enter at your own risk when you are in the sauna, a few meters underwater – or in a walk-in chill room with bottles of award-winning wine packed from ceiling to floor.
You can go to one of the lowest elevation locations on earth and bob around as you bet on a royal flush in Jacks or Better mobile poker.  You can even plunge into the great Amazon River – taking care not to attract those nasty flesh-eating fish called piranha – and fire up the game engines of Aztec's Millions mobile slot.
If that doesn't quite satisfy the urge for adventure you can hike to the Everest base camp in Nepal.  Once safely ensconced under mounds of yak skin, you can immerse yourself in our mobile casino South Africa – thinking all the while of the Sherpas trudging 40 feet deep in snow to the unforgiving North Col!
Where are the weirdest places on Earth when it comes to playing casino games at the best mobile casino South Africa?  Here are our picks of the some of the most ridiculous:
Say What? Slots in the Sauna?
If you simply can't stop playing slots at Springbok Mobile Casino South Africa… don't sweat it.  In this case however, it is probably best that you do.  Huh?
Well, new generation smartphones function optimally in temperatures ranging from -20 degrees Celsius to 45 degrees Celsius.  We all know what that means – it really is safe to play the best ever RTG slots in the sauna!
The only problem is your fellow sweatsters may not be that keen on a point, click and flash device floating around in a traditionally nude environment.  Even if you do manage to convince them that you are more interested in playing Paydirt, Penguin Power and Popinata slots, rather than taking inappropriate pics, exposing your phone to high temperatures does have a habit of shortening its life span.
We now know that Springbok Mobile Casino South Africa is perfectly functional in both the sauna and the chill room.  The steam room however is out of bounds.  Why?  Well, humidity is a big no-no when it comes to iOS and Android phones. 
Ooh Wow! Aces and Eights Underwater 
The best devices are those that can be submerged in a few meters of water and still operate like a well-oiled machine.  From a technical point of view, you must have a phone with an IP rating of at least 67 or 68 if you want to play Aces and Eights underwater!
In the real world, the IP or International Protection rating measures a phone's ability to keep water from getting into the works.  When that happens, our mobile casino South Africa ceases all operations… leaving you damp and dejected.
When you invest in a device with a 67 IP rating you can play video poker at depths of up to one metre but for no longer than half an hour.  Upgrade to a 68 and you can go beyond the one metre mark and play the best mobile casino games according to the manufacturer's specs!
That means diving with manta rays off the coast of Hawaii, snorkelling along the Great Barrier Reef or taking a dip in the Orange, Nile or Limpopo River is a distinct possibility in between racking up bonus pays playing video poker at Springbok!
This new-found flexibility means that gambling at our mobile casino South Africa is no longer a pipe dream in some of the most remote destinations on earth.   Let's take a look at where you can bank ZAR on your device… anytime!
Base Camp Everest: Massive Mobile Casino Operating Costs 
A smart Sherpa moonlighting as a tech entrepreneur has recently set up Wi-Fi at one of the most extreme high-altitude destinations on the planet.
When you visit Everest for a saunter up the hill, you now have a choice of four Wi-Fi packages ranging from around R650 to R25k a pop.  The problem is winning big at Springbok mobile casino South Africa is a prerequisite for covering the operational costs!
The Amazon Rainforest: Hot Air Equals Broadband 
Step into the ever-dwindling South American rainforest and you will be able to get your fill of Face Up 21, Tri Card Poker, European Roulette and Loose Deuces at the best-ever mobile casino South Africa… that's while dodging anaconda and a jaguar or two.
Alphabet together with a Peruvian internet service provider is taking an innovative approach to internet access.  Instead of rigging up miles and miles of cables they are launching a squadron of giant hot air balloons.
These providers-in-the-sky are fitted with solar panels and all the required gizmos and gadgets to transmit broadband from a localised ground site across the balloon network.  Signals are beamed to mobile devices located within the direct vicinity!
Dead Sea: Mobile Data for a Bob-And-Bet Gambling Experience  
The Dead Sea is located at one of the lowest elevations on earth.  It is also a hyper salty water body that's not really a sea at all.  Fuel your mobile phone with data and you can float hip-deep in the water and wager on your favourite casino games.
As the Dead Sea is a major tourist attraction in Israel, there is free Wi-Fi everywhere.  That means you can dry off, desalinate all the body's little crevices and extend your bob-and-bet gambling sessions while channelling hummus and Maccabi beer into your cake hole!