Best Esports Platforms in South Africa in 2020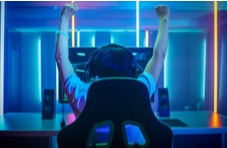 Esports in South Africa is hot… sizzling hot.  Along with internationally acclaimed expos, leagues and tournaments like Comic Con, League of Legends, EVO and the World Esports Games, Mzansi has an uber-active local scene where gaming is king.
As with the best ever casino games that you can play right here at Springbok Casino, Esports offers you the opportunity to win a bit of cash.  Hit the big leagues where the pros hang out – and that little bit of cash can become a nice steady income stream!
History of Esports
First, a little history about Esports and how it has become a seriously lucrative standalone leisure activity with a structure that emulates that of the NBA, the PGA and the ATP.
If you are new to the world of Esports, you'd be forgiven for thinking that it is a brand-new trend.  The truth is that folk have been gathering and gaming since the seventies – you know, that era when détente was popularised, fuel-efficient cars hit the scene and bands like The Grateful Dead, Black Sabbath and Led Zeppelin introduced the world to hard-edged heavy metal?
Computing Capabilities Leads to First Tournament 
The seventies are also recognised for giving us modern computing.  It was the decade in which the world's first commercially available microprocessor rolled off the production lines and popular arcade-style casino games like video poker and slots took centre-stage at land-based casinos.
Basic computing capabilities meant that the first-ever 'Esports' tournament could take place.  It was an intergalactic hoedown featuring students at Stanford University and a game called Spacewar.
By the 1990's video games – and casino games – were comparatively slick and sophisticated, championships were well-attended global events and prizes had grown from free tickets to a few thousand in USD.
Esports Goes Mainstream
Multiplayer gaming opportunities were soon introduced – and Nintendo was the mover and shaker when it came to sponsoring major events in the form of the World Championships.  In the same decade, Esports went mainstream, appearing in TV shows in the UK, USA, Canada and Australia!
By the noughties, Esports was an established and increasingly popular activity destined for prodigious growth. Gaming companies, investors and commercial brands were quickly cottoning on to the huge economic potential of organised video gaming.
Billion Dollar Global Industry 
Today, Esports rivals the online casino games sector in terms of revenue.  It is a billion-dollar industry billed by dozens of professional leagues, online gaming platforms – and big paying tournaments that are live streamed on Twitch and YouTube.  You'll also find these events readily featured on dedicated television channels across the world.
Esports has come of age.  Colleges in the USA now offer accomplished players athletic scholarships and major tourney prize pools are not that far off those of the grand slams of tennis and golf… and there is even talk of including Esports as an Olympic event!
Esports South Africa 2020 
How does South Africa shape up in terms of gaming?  Well, if it is real money casino games you are after, the myriad delights of Springbok Casino are just one click away.  
If it is the sponsored leagues and events of electronic sports that blow your hair back, here is a brief overview of where to get your MOBA, FPS or RTS gaming fix in ZA in 2020:
Mettlestate
Mettlestate is where the big boys and girls in South Africa go to play.  It is a JHB-based online platform that features a busy tournament schedule linked to major global leagues.
Aside from hosting online tourneys and live events at Rush each year, the popular Esports brand hosts qualifiers for international tournaments like the mega-million World Electronic Sports Games (WSEG).
You can also win heaps of cash by testing your gaming skills in some of the best-known leagues on the planet – Overwatch, Hearthstone, Fortnite, Dota Underlords, Call of Duty: Modern Warfare and more, much more!
All you have to do is sign-up at Mettlestate, create a team and register for the action… and you could be in line for a few thousand Rand in crisp bank notes.
Alternatively, you can click on the 'Instant Play', 'App' or 'Mobile' tabs right here at Springbok Casino and sample the best RTG developed online casino games… where winning lots of loot is always a distinct possibility!
VS Gaming 
As a subsidiary of Telkom, VS Gaming is one of the really prominent protagonists in the local Esports scene.  In its previous iteration it was known as the Telkom Digital Gaming League – but in 2017 it effectively cut ties with the mothership to become a standalone gaming platform with attitude.
It too offers online qualifiers for the likes of Dota 2 and each season there is something a little different on the online league schedule.  The VS Gaming Masters and Championships are the annual showpieces that have been hosted by Rush and Comic Con Africa over the years.
Are you a lethal single shooter who is always deadly accurate?  Or are you more suited to the serene environment of the online gaming room where casino games like blackjack, craps, baccarat and roulette provide the entertainment?
If you answered in the affirmative to the second question, simply sign up at Springbok Casino and unleash the best of Real Time Gaming on your PC or mobile phone!
Bravado Gaming 
Bravado Gaming was established in 2006 and has since become the stomping ground of the best gamers in Mzansi.  It calls itself a multi-gaming platform and features world-class tournaments and events.  The idea behind Bravado Gaming is to support and promote the concept of Esports in South Africa.
If you are into the wonderful world of gaming and want to make a good living doing what you love doing best, Bravado Gaming may just be your home away from home.
Play the Best RTG Casino Games at Springbok Casino South Africa 
Exactly the same sentiment applies to Springbok Casino where a vast selection of real money casino games is the central attraction. 
We invite you to check out our gaming software, promotions, banking methods, customer support services and terms and conditions before registering an account!  We are the best South Africa-facing online casino… by far!