Understanding Bonus T&Cs at a Kiwi Online Casino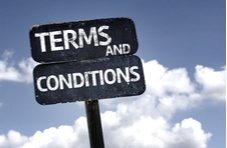 Casino bonuses are designed to get you and your mates to sign up and deposit money at a Kiwi online casino. They are the equivalent of the free dinners, complementary rooms and show tickets land-based casinos dish out to players as perks.
Compared to their B&M brethren, online casinos have comparatively low operating costs.  That means they can afford to be more generous when it comes to rewarding players.
Online Bonuses are Exceedingly Generous 
In the wonderful world of gambling online, bonuses are not just a few dollars here and there.  A top ranked Kiwi online casino like ours typically offers free cash, free spins and free bets that are high in value and volume.
At Springbok Kiwi Online Casino, for instance, new players can take advantage of a welcome bonus valued at up to R11,500.  There is also a free R250 bet to check out the software and the games. 
Once you are a signed up member of the casino, there is an array of deposit bonuses to sweeten the deal - all of which are entirely optional and easily redeemable.
Before you jump up and down with excitement at the prospect of cashing in for free, it is important to note that all bonuses at all online casinos have terms and conditions of use. 
These rules of engagement itemise exactly what you can and cannot do with the free cash, free spins or free bets. 
Fulfil the T&Cs to Get the Benefit of the Bonus 
If you do not fulfil your side of the bargain, the casino is legally entitled to void the bonus and any winnings accrued via the free cash, free spins or free bet.
The truth is if you can't be bothered to read - and understand - the T&Cs at a Kiwi online casino, you can end up in a bit of a pickle when it comes to withdrawing your winnings or redeeming a second bonus coupon.
What are the key points you should be looking for in the bonus T&Cs?  
Elements like the playthrough requirements, qualifying casino games, maximum cashout and maximum bet are vital components that determine whether it is worth claiming a casino bonus… or not. 
Playthrough Requirements 
Online casinos are not banks.  They can't afford to hand out free cash to all and sundry.  To mitigate the risk, players are expected to playthrough the bonus - or in some cases the bonus and deposit - a specified number of times.
It's like getting a voucher from a retail store offering 50% off the next purchase - you are expected to use it to buy goods at that store.  In other words, you have to spend money to get the benefit of the discount.  The same sentiment applies to a casino bonus.
Once you have satisfied the playthrough requirements you are entitled to cashout any winnings you have accumulated.  You usually have 30 days to meet the playthrough stated in the bonus T&Cs.
What does the playthrough rule look like?  It is usually denoted something like this - 45 x the bonus or 45 x the bonus and deposit.  What that means is you have to playthrough the bonus or the bonus and deposit 45 x.
If, for example, a Kiwi online casino offers a 100% deposit match bonus up to R100 and the playthrough is 45 x the bonus, the playthrough requirement is R4,500 - R100 bonus x 45. 
However, if the playthrough is 45 x the bonus and deposit you would have to spend R9,000 at the casino - R100 deposit + R100 bonus = R200 x 45 = R9,000.
If the playthrough on a bonus is really high and basically unachievable, it is best to walk right on by.
Qualifying Casino Games 
Not all online casino games contribute towards the playthrough and some games - like slots, bingo and keno - contribute more than others. 
When you do not know what the qualifying games are, there's a good chance you will be wasting your time and money by gambling money on the 'wrong' games - those that do not count towards the playthrough!
Where do you find the games that effectively fund the playthrough? 
In the terms and conditions of course.  As we have already mentioned games like slots usually contribute 100%.  That means R10 of every R10 you bet on slots goes towards the playthrough requirement.
How does Springbok Casino stack up in terms of qualifying games?
Well along with wagers on all slots, bets on scratch cards, Keno, bingo and 7 Stud, Pai Gow and European Slot poker count 100% toward achieving your end goal… and that is clearing the playthrough so that you can get your hands on your winnings!
Maximum Cashout 
Some casinos put a cashout limit on bonuses.  In other words, they specify how much you can withdraw when you use a bonus, free spins or free bet - and the associated winnings - to fund your gambling sessions.
The point here is the value of the cashout.  If it is just a few rand you have to ask yourself whether it is worth claiming the bonus in the first place. 
At Springbok Casino the only cashout limit is imposed on free spins and no deposit bonuses… you know those no strings attached freebies that are worth their weight in gold. 
What is more, the cashout limit is not a fixed amount like R10 or R15 - it is 5 x the value of the bonus.  In other words, if the bonus is worth R25 you can withdraw winnings up to R125.
Maximum Bet 
Besides limiting the cashout value associated with bonuses casinos often cap the bet amount.  In other words, you may not be permitted to wager more than a specified amount when clearing the playthrough.
If the maximum bet is a really low amount like R10 or R20 it will take you an inordinate amount of time to satisfy the playthrough requirements - if at all.
At Springbok Kiwi Online Casino there is a maximum bet rule but it is an entirely reasonable one, as the bonus bet amount is capped at R100.
Recap of the Bonus T&Cs at Springbok Kiwi Online Casino  
Now that you know how crucial the bonus T&Cs can be, let's have a quick recap of how Springbok Kiwi Online Casino regulates the use of the bonuses:
The playthrough requirement for deposit bonuses is 30 x the deposit and the bonus
The playthrough for free spins and no deposit bonuses is 60 x the bonus
Games contributing to the playthrough are all slots, scratchcards, bingo and keno games and Pai Gow poker, European Slot poker and 7 Stud poker
The maximum cashout on free spins and no deposit bonuses is 5 x the value of the bonus
The maximum bet on all bonuses is R100
Springbok Kiwi Online Casino has eminently fair bonus T&Cs.  We also have a wide selection of games, around the clock customer support and secure and convenient banking methods. 
Register an account now and enjoy great Kiwi-oriented gambling with an African twist!