Can Small Bets Win Big on Casino Games?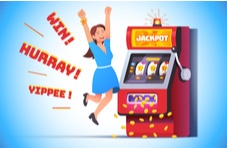 Casino games are synonymous with big bets and 'wow' wins.  Who hasn't heard stories of high stakes cash games where poker is played at $25,000 a hand?  How about the baccarat whales who wager hundreds of thousands of dollars at a time?
These are the tales of high rollers like former NBA basketball star Michael Jordan and Aussie media mogul and sports impresario Kerry Packer. 
$1 Million Betting Limits and Multi-Million Dollar Losses 
Even the guys who aren't that well known as high rolling gamblers know how to splash the cash on casino games.  Tiger Woods - the most awesome golfer the world has ever seen - has a betting limit of $1 million at the MGM for heaven's sake. 
These are the big kahunas of gambling who have dropped $30 million to R50 million at the casino without so much as batting an eye.  Can you imagine how much money they have scooped up in winnings with that kind of betting range?
The truth is only a handful of players can gamble with unfettered freedom.  The rest of us have to make do with limited bankrolls that severely curtail the weight and volume of our wagers.  
The question is; can you still win big playing casino games at Springbok online casino?  The easy answer is… you betcha!
Why Low Rollers Can Also Win Big
The payouts in popular casino games like slots and video poker are quoted as bet multipliers.  That means when you win the highest paying prize your bet value determines the size of the payout. 
Play the best RTG slots at Springbok Casino, line up five of the highest paying symbols on an active payline and you can win anything up to 30,000 x your wager.  
Video poker games like Jacks or Better and Aces and Eights pay 4,000 x for a royal flush on a five coin bet.  The straight flush and four of a kind pay 250 x and 125 x respectively on a maximum wager. 
What that tells us is the more you bet on casino games like slots and video poker, the more the actual paypouts will be.  It also tells us your losses directly correlate with your bet size.
How Payouts on Casino Games Match the Bet Size 
Let's take a look at a few real life examples like the 5 reel and 25 payline slot Paydirt.  In this RTG video slot the top payout in the base game is 30,000 x the bet. 
On a minimum wager of R0.01 cents per line - or R0,25 per spin - you would win R7,500 for hitting five of the top paying symbols in the game.  Increase the stake to just R0,05 per line or R1,25 per spin, hit the same symbol configuration and the payout would escalate to R37,500. 
How about Jacks or Better video poker?  At Springbok Casino the available coin denominations are R0,05 to R5,00.  If you want a chance of bagging the mega 4,000 x pay for a royal flush you have to bet the five coin maximum. 
On the lowest bet that equates to R0,25 per hand.  Hit the royal flush and you will bank R1,000.  Up the stake to R1,25 per hand and the prize for a royal flush is R5,000!
Even the pays on a more common hand like a four of a kind generate tidy winnings on a five coin bet.  On the lowest possible wager, you would win R31,25 for an outlay of R0,25.  Level up to R1,25 per hand and the same card combination would deliver R156,25!
Does the Bet Size Influence the Payout Rate in Casino Games?
We have seen how the bet size affects the amount of money you can win.  What is important to clarify is the value of the wager has no bearing whatsoever on whether you win or lose.
In other words, the odds, house edge, probability or return to player - or whatever else you want to call it - is determined by a mathematical algorithm that does not take bet size into account.
How About RTG's Random Jackpots?
That is the story behind the standard payouts in casino games.  The good news doesn't stop there.  RTG powered casinos - like Springbok Casino - are renowned for their random jackpot slots.
Games like Ronin, Green Light, Coyote Cash and Enchanted Garden multiline slots have locally funded jackpots that can be randomly activated after each spin of the reels.  Some casino games even have two or more pots - a minor, major and/or mega - that are doled out at whim.
These jackpots are not meagre amounts of money; the larger pots can easily reach R2,000 or R3,000.  What is gratifying is any player can win a random jackpot, notwithstanding the size of the wager at the time. 
That means if you are in the luck you can win 1,000 x your bet - plus - for doing nothing more than playing your favourite casino games at Springbok!
Big Paying Progressive Jackpots 
Besides the random jackpot slots RTG has designed several casino games that have a network funded progressive jackpot as the main prize.  Here we are talking about megabucks in winnings.
If you want to bank seven or eight figure sums you have to bet max.  That does not necessarily mean you have to bust the bank so to speak but you do have to wager the maximum number of coins to activate all available paylines. 
Be warned however; there are progressives that have fixed bets that most of us cannot afford so ensure you check out the game mechanics before you hit the spin or deal button.
Sign Up and Shake the Reels
Now that you have the full story about how the payouts and randomly activated and progressive jackpots work at Springbok Casino, it is time to see how much you can win playing the best casino games online. 
Why not sign up at Springbok right now?  Who knows what destiny has in store for you?
At Springbok Casino we strongly advocate responsible gambling… that means only gambling with money you can afford to lose.  Good luck everyone!