10 of the Best Phones of 2019 for the Mobile Casino South Africa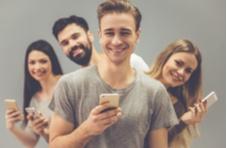 Mobile gaming now generates more than 50% of total video game and online casino revenue. 62% of smartphone owners download a casino or a specific game within one week of buying a new phone and smartphone users spend 43% of their mobile app time playing mobile games.
South African mobile users are finding that there are specific mobile phones that are suited best to the mobile casino South Africa. 2019 models that feature powerful hardware that can run the most popular games with ease, offer a good balance of performance, have good battery life and include the elements that allow for live dealer casinos and other special features include: 
iPhone 11 Pro Max
With a 6.5-inch screen size and a resolution of 2688×1242, Apple's newest phone, the iPhone 11 Pro Max, is definitely at the top of the list for serious players.  This is bigger and better than iPhone's  standard.  For one thing, the 6.5-inch screen on the 11 Pro Max is bigger than the previous 5.8-inch model and, even more importantly, it has a larger battery so it stays online longer than the standard iPhone 11 Pro. 
The feather in this model's cap is the A13 Bionic processor which loads up the games in seconds – crucial for online players.
Be prepared – the iPhone 11 is Apple's most expensive smartphone so if your reason for making the purchase is so that you can enjoy a more intensive gaming event, you should be prepared to engage in some serious casino play.
Galaxy S10 Plus
The Galaxy S10 Plus gives a good picture at  6.4-inch with a 1440 x 3040 resolution and up to 1.5TB storage with a card.  There's excellent screen-to-body ratio and a powerful chipset that makes gaming on this device a pleasure.
One of the top features of the phone is its Super AMOLED display that supports high dynamic
ranges so you get excellent visuals in both games and movies. If you're looking for some VR entertainment you'll get a lot of mileage out of the VR headset that delivers an immersive gaming adventure. 
OnePlus 7 Pro
The OnPlus 7 Pro is the top Android gaming phone. It offers a versatile and affordable machine for a satisfying gameplay experience.  OnePlus 7 Pro is a strong gaming phone that features 6/8/12 RAM and a 4,000mAh battery.  The 90Hz refresh display rate makes both every day and gaming use that much smoother.
The OnePlus 7 Pros is an Android 9 that's cheaper than most high-level iPhones and Samsungs  but delivers a powerful gaming experience via the Snapdragon 855 chipset. Games load quickly and run smoothly via a QHD display for crisp graphics through the high quality pixel density. There's a sharp 6.67 inch screen to improve the gameplay.
Asus ROG Phone 2
The Asus ROG Phone 2 was built specifically with gamers in mind. It's a 6.59 inch screen size, one of the biggest, and offers a high density 1080 x 2340 resolution plus storage of 512GB/1TB. This device has won rave reviews from dedicated gamers thanks to its excellent battery life of 6,000mAh and fantastic 120Hz AMOLED screen.
Since the Asus ROG Phone 2 was designed specifically for gamers, it also has features that aren't standard on other phones. They include a clip-on fan and a gamepad plus built-in software for a more tailored gaming event.
The Razer Phone 2
The Razer Phone 2 is another gaming phone whose gaming-specific features outshine its everyday ones. It has a 5.72 inch screen size, a 4000mAh battery and 2560 x 1440 resolution for impressive display and top-line specs.
Some of the non-gaming features, such as the camera, aren't as good as other devices in this price range but for serious mobile gaming aficionados, this is a solid choice. There's a 845 Snapdragon hip and Qi wireless charging plus great speakers and a  120hz refresh rate screen.  
LG G8 ThinQ
LG's latest, the LG G8 ThinQ, operates on the Android Pie OS via the Snapdragon 855 CPU.  The battery on this one, 3,500mAh, is smaller than most other 2019 models but the device compensates
with a base storage of 128GB of RAM, there's plenty of room to store games alongside all other files and apps. 
Huawei P30 Pro
The P30 Pro is generally regarded as the best Huawei phone and is the preferred device for a growing number of dedicated players who want a quality gaming device that's versatile for their other mobile needs.  The P30 Pro has a screen size of 6.47 inch and operates on the Android OS. It features the Kirin 980 CPU and 128/256/512GB storage.  The cameras are a highlight of this device – rear camera is  40MP + 20MP + 8MP + ToF and a 5X zoom plus a dark mode.  
Huawei products are often overlooked by mobile gamers but they would be well served to pay attention. Huawei's P30 Pro has a chipset that's powerful enough to run all  of the latest games as well as 8GB of RAM keeps everything running smooth even when you switch back
and forth to and from other activities. The 4,200mAh battery is one of the most powerful around.
Black Shark 2
If you are a gaming enthusiast but you're on a budget you'll like the Black Shark 2. Black Shark 2 runs on the Android OS 9.0 Pie so you have access to all the best mobile games on the 6.39 inch screen at 1080 x 2340 resolution.  Similar to the top machines, the Black Shark 2 operates on the Snapdragon 855 CPU and offers a 4,000mAh battery. 
This is a second generation gaming phone from Chinese firm Xiaomi. The highlights are the camera and the good internals. Players with a big budget might not be prepared to put up with the device's instabilities and quirks but for most, it delivers a satisfactory gaming option. 
iPhone XR
Most devices listed here are Android OS phones but if you prefer an Apple, yet are looking for a budget option, you might take a look at the iPhone XR.  The XR has a 2.942mAh battery and a 6.1 inch screen with 1792x828 resolution.
The XR lacks some of the features from the iPhone XS and XS Max  and the camera is simpler but the internals are just as good as any other device.  The XR features the same A12
Bionic chipset that is found in the more expensive models.  iOS 12  and  iOS 13 runs just as well on the XR as they do on any of the other models so it runs all the same games just as smoothly as the other phones.
The highlight of the XR, and the reason that even people who can afford a more expensive variation buy this simpler version, is that the battery is so good. 
iPhone 8 Plus
The Apple iPhone 8 Plus is another lower priced iOS device that gives you everything that you need for less than the cost of the newest iPhone 11 Pro. This is a smaller phone with a 5.5 inch screen and 1080 x 1920 resolution. But the CPU is A11 bionic and at 3GB there's adequate RAM storage for all your gaming and other storage needs. 
The iPhone 8 Plus runs on the latest version of iOS. It has wireless charging and a long battery life so you have plenty of access to all your mobile games and the power and battery life to play them all day and all night.