The Unique Jargon of Online Casino Games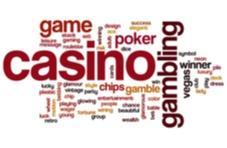 Online casino games are the web-based derivatives of the brick and mortar casino classics.  They have made the great leap from reality to virtual verbosity without so much as missing a beat.
You may choose to gamble wads of ZAR at the B&M gambling palaces at Sun City, Monté Casino or Grand West.  Or you may favour the high-tech hype, convenience and accessibility of a Springbok Casino-infused PC or mobile phone.
Whatever method of gaming you choose, one thing is assured – you will be able to enjoy the full bouquet of betting opportunities ranging from baccarat and blackjack to bonus slots.
Before you dip into the razzmatazz of the high hit-rate online casino games featured right here, we suggest you get to grips with the terminology that follows the main protagonists around like a long-lost friend. 
Online Casino Games Terminology From A to Z
Here is a snapshot of the A to Z lexicon reserved for online casino games and their various categories, from slots to video poker and table games:
All ways pays (AWP) - a type of betting structure that you will find in Real Time Gaming (RTG) developed online slots.  It is similar to games that offer multiple Ways to Win.  AWP slots pay out winnings when matching symbols line up on either the left or right side of the reels!
Ante bet - the initial wager traditionally made in poker-style online casino games like Caribbean Hold'em or Caribbean Stud Poker.  The ante bet is always before the raise bet and is followed by a player either raising or folding based on the cards they are dealt.
Bankroll - an amount of money budgeted to spend on online casino games at Springbok Casino.  It is your personal gambling fund deposited into your casino account!
Betting limits - the amount of coins or credits you are entitled to spend on one bet, as defined by the casino. 
Bonus pays - additional payout opportunities typically found on the paytables of RTG video poker variants like Aces and Eights, Bonus Poker and Jackpot Poker, to name but a few.  Bonus pays are over and above the winnings generated by the traditional poker hands and can be extremely lucrative to lucky punters.
Bonus rounds - special game rounds that are activated without an accompanying wager.  Free spins or free games in the online casino games that fall into the video slots categories are the most prominent example of bonus rounds.
Bonus symbols - the game symbols in slots that are imbued with special powers, like wilds, scatters and multipliers.
Cascading reels - a game feature that kicks in after a line win has been generated in slots.  You are paid out for the initial symbol combination before all the icons disappear and new ones fall into their place to potentially grant you a second bite of the payout cherry.
Coins - together with credits and chips, coins are examples of in-game currencies that you will find in online casino games right here at Springbok Casino.
Double down - a move in blackjack where you double the original stake based on the strength of your cards.  It is a decision you make when you believe you have hand that can beat the dealer.
Draw - an action in video poker where you hold certain cards in a five-card hand and draw replacement cards in order to achieve a paying poker hand like a pair of jacks or better, two pair, three of a kind and so on.
Fixed paylines - permanently enabled paylines in slots that cannot be influenced by the number of coins wagered per spin.  They are the opposite of variable paylines and take one component of betting-oriented decision-making out of the equation.
Free spins - a bonus round in slots where the scatter symbol triggers a number of free game rounds as specified in the rules.
Guaranteed win feature - a unique player perk found in RTG online casino games like Triple Twister, Loch Ness Loot and Lucky 8 slots.  It is a freebie that is automatically credited to your game account when you win 10 x the activating bet or less in the free spins round.  It is also known as a win-win feature.
Hit - a decision in blackjack that is effectively a request for the dealer to deal another card to your hand.
Line bet - aka payline bet - the value of coins or credits placed on one or more variable paylines in slots.  It is different to the total stake or the value of the entire bet wagered on the spin of the reels.
Multiplier - a bonus symbol in slots that multiplies the winnings by an amount specified in the game rules.  It is often used in conjunction with the wild symbol.
Network jackpots - the major money progressive jackpots funded by all the bets placed by all the players gambling at all the RTG-powered online casinos in cyberspace - Springbok Casino is of course one such gambling destination! 
Paytable - a representation of all the possible payouts in a game.  Paytables are either posted on the gaming interface - as with video poker, roulette and many other table games - or as part of the rules available under the in-game 'help' tab or information icon.
Progressive jackpot - a key payout in slots that is usually awarded for hitting five wilds on a maximum wager. Progressive jackpots can either be locally funded by punters at a particular online casino or network funded as per the network jackpots above.
Re-spin feature - a bonus feature in slots where one symbol - usually a wild - is held in place for one bonus spin of the reels.
Scatter - one of the bonus symbols in slots that pays out when two or more land anywhere on the gaming interface.  Payouts are usually quoted as bet multipliers.  More significantly, the scatter is also the traditional activating symbol for the free spins bonus round.
Split - a move that splits two matching cards in blackjack into separate hands that are played individually.  It is one of several decisions you can make in blackjack in pursuit of 21.
Stand - another move in blackjack online casino games where you stay put with the cards you are dealt.  In other words, you do not activate the hit tab to draw more cards.
Wild - a bonus symbol that can substitute for all the other standard slots symbols with the exception of the scatter.  It is the equivalent of a joker in a pack of playing cards and can complete payout permutations.  Wilds are often complemented by multipliers that automatically multiply the posted payouts by a defined amount.  They come in all sorts of guises that include stacked, expanding, cascading and jumping wilds.
Volatility - a term that refers to online casino games' propensity to pay out winnings, together with its associated risk.  The term 'volatility' is interchangeable with 'variance'.  A game with high volatility is one that pays out sporadically but when it does, it pays out impressive amounts. A low volatility game on the other hand pays out frequently but only in dribs and drabs.
There you have it, folks!  An easy-to-understand guide to the online gambling lexicon that you'll find right here at Springbok Online Casino!