Match-Fixing Scandals that Rocked the World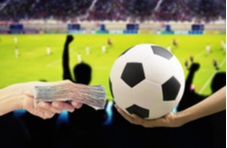 Most of us love sports.  Whether we are watching it, managing it, or participating in it – sports is entertaining, invigorating and a healthy outdoorsy kind of thing to do.  It is like playing casino games, but without the benefit of Springbok Casino no deposit bonus codes!  Although that is true for most us, for a minority of folk, sport provides the opportunity to cheat… and to cheat for personal gain.
Cheating in the professional arena almost always involves crooked betting syndicates.  These powerful collectives pay huge amounts of money to sportsmen and women who are prepared to throw matches, bouts or races.
These bribes eclipse the value of Springbok Casino no deposit bonus codes by hundreds of thousands of rand… but that is chicken feed when you consider the payouts from the bookies, especially on winning bets with seriously long odds!
We may not want to acknowledge that match-fixing and spot-fixing is more widespread than we are led to believe, but almost all sports at virtually every level have been plagued by what is euphemistically called a 'dishonest relationship' between bettors and players.
Here are a few of the more jaw-dropping spot, race and match-fixing scandals to rock the world of professional sports:
The Opening Bat with a Penchant to Cheat 
In 2012 Lou Vincent was riding the crest of the wave.  As the opening batsman for the Black Caps – New Zealand's national cricket team – Vincent was a sporting celebratory. 
Over a career that spanned 15 years Vincent played for seven clubs in three countries.  Despite his accomplished performances on the cricket pitch, the affable Kiwi had a deep dark secret – he'd been fixing local and international cricket matches for years.
During his tenure with country cricket clubs Lancashire, Northamptonshire and Sussex he had conspired with other players to influence the outcome of matches – and he was richly rewarded for his efforts and underhandedness. 
Vincent may have continued to bamboozle the bookies had a not been for an inauspicious attempt to fix a few matches in the T20 Champions League in South Africa.  Reports emerged of 'dodgy stuff' happening in the games between the Auckland Aces and Hampshire and Kolkata Knight Riders, respectively.
When Vincent was questioned about his role in the incidents, he confessed to dozens of match-fixing crimes in multiple countries!  The man who played 232 tests and 102 ODIs for his country began his statement with the words; "My name is Lou Vincent and I am a cheat".  
Vincent, who was slapped with a lifetime ban, evaded jail time by striking a deal with the ICC where he revealed the names of all involved.  We guess snitches don't get stiches.
If you want to boost your bank account, match-fixing is not the way to go.  By using our Springbok Casino no deposit bonus codes however you'll give yourself ample opportunity to win ZAR for free… and there is no crime in that!   
Formula One's 'Crashgate' 
One would think that a sport as rich as Formula One wouldn't fall prey to race-fixing, but sadly an incident called 'crashgate' placed serious doubt to any thoughts of it being a squeaky-clean motor sport.  What makes this incident so newsworthy is that it wasn't the driver who arranged the fixing, it was the F1 team manager himself!  Now, picture the scene...
It is the 2008 Singapore Grand Prix and a car driven for the Renault team by Nelson Piquet junior slams at high speed into a concrete wall.  The exact position of the crash makes it impossible to quickly remove the wreckage off the track, so the safety car is deployed.
This gave Fernando Alonso a clear advantage and he ended up winning the race.  So why the fuss?  Well, the night before the race, Piquet was instructed by team manager Flavio Briatore to 'sacrifice' the car for the benefit of his Renault teammate Alonso!
How did the FIA get wind of the deed?  In a fit of remorse Piquet reported the incident to the authorities and the rest, as they say, is history! 
At Springbok Casino you don't have to turn to criminal activities to get your just rewards.  Simply enter the Springbok Casino no deposit bonus codes on the registration form online and you are good to go, go, GO!
Davydenko and the Betting Syndicates 
At one point in his professional career Nikolay Davydenko was ranked the 3rd best tennis player in the world.  In one of his matches against Argentine, Martin Vassallo Arguello, it was however noted that millions of dollars emanating from Russian bank accounts were placed on a win by Arguello.
Davydenko, who was ranked 4th in the world at the time, played way below his potential.  Feigning injury, he eventually walked off the court and conceded the match.  The end result?  A grand total of £3,4 million pounds was paid out by bookies on the match – a figure ten times above the amount that was usually paid out on a match at that level. 
What happened to Davydenko?  Well, an investigation exonerated him from wrongdoing, and he ended his career having accumulated more $16 million in prize money.  In this case it wasn't so much that the Russian was innocent, it was rather that the investigators were unable to come up with indisputable, beyond reasonable doubt proof. 
Years later, a second investigation involving possible cases of corruption in tennis revealed that Davydenko had in fact sent and received text messages from the head of a notorious Italian sports betting syndicate over the days preceding the match… go figure!
Springbok Casino No Deposit Bonus Codes - No Fixing Required
With shadowy figures making the outcome of sports erratic and unpredictable, you're much better off playing online casino games for real money winnings instead.  At Springbok Casino we have got the full gamut of games, from slots and video poker to craps and blackjack.
What's even more inviting is our Springbok Casino no deposit bonus codes are designed to enable test runs of the software and games for free!
That means you can sign up, redeem one our fabulous cash incentives in the form of Springbok Casino no deposit bonus codes and use the complimentary cash to fund the fun and games… how cool is that?