9 Songs about Gambling – Perfect when Playing Online Casino Games!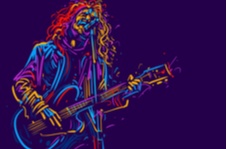 Gambling and online casino games has featured in many movies, novels and television series' of late and historically – and it has even been the centre theme of many well-known songs.  Most of the song titles fall in the 'classic rock' genre, so you might not necessarily find the lyrics revolving around online casino games…  That said, casinos and gambling in general have featured countless times in music over the years.
Some of the more famous creations include;
AC/DC – 'The Jack'
The Clash – 'The Card Cheat'
Elvis Presley – 'Viva Las Vegas'
Iron Maiden – 'The Angel and the Gambler'
The Rolling Stones – 'Casino Boogie'
Kenny Rodgers – 'The Gambler'
The Eagles – 'Desperado'
Below we look at two other songs that are the perfect accompaniment to your online casino games sessions – and also ones that stand out and have stood the test of time (with an interesting history)!
Deep Purple – Smoke on The Water
Deep Purple formed in 1968 and many consider them to be among the forerunners of heavy metal and modern hard rock.  The English band formed in Hertford, Hertfordshire, and although they initially produced psychedelic and progressive rock music, their sound took on a heavier tone with the release of their album Deep Purple in Rock in 1970.
Now, whether you're an old school rocker or a young and budding guitarist, Smoke on the Water – first released on their 1972 album Machine Head – will either be in your vinyl collection or guitar tabs stash.  The legendary and unmistakable four note blues scale riff (harmonised in parallel fourths) developed by guitarist Ritchie Blackmore is instantly identifiable.  How does this song relate to online casino games – or casinos in general?  Well, that is an interesting (and true) story that dates back to the early '70s.
On the eve of a planned Deep Purple recording session, which was scheduled for 4 December 1971, Frank Zappa and The Mothers of Invention held a concert at the Montreux Casino in Switzerland.  Online casino games were not yet a thing back then and brick and mortar casinos not only offered gambling opportunities, but also served as entertainment venues where live bands could perform. 
It was to be the final gig prior to the casinos' closing for annual winter renovations – which would then allow Deep Purple to use the venue to record their album using the Rolling Stones Mobile Studio (yes, belonging to the Rolling Stones).
As per the lyrics from Smoke on the Water, 'some stupid with a flare fun' fired a flared gun towards the entertainment venue of the casinos' ceiling, which was covered in rattan.  This was right at the start of the Don Preston's synthesizer solo of the Frank Zappa's song "King Kong".  The venue caught fire and although no one was seriously injured, it destroyed the entire venue, along with the casino and all the equipment belonging to The Mothers of Invention.
The Deep Purple bassist, Roger Glover, went on to have a dream about the event a few days later wherein the title for the now legendary track came to him.  It refers to the fire spreading over Lake Geneva as the Deep Purple band members watched the casino engulfed in flames from their hotel room.  A Czechoslovak refugee was a suspect in the arson but later fled the country…
Now that you know a little bit of history behind the song, the lyrics will probably make a whole lot more sense!  Why not fire up the legendary song and enjoy that simplistic riff (which Blackmore also claimed was inspired Symphony No. 5 by Ludwig van Beethoven) of Smoke on the Water while playing online casino games!  You can also go research the subject matter a bit more if we've piqued your interest.
Motörhead – Ace of Spades
If you don't know the band, you'll know the song…  Motörhead were an English rock band founded in June 1975.  During their career spanning around 4 decades, they released 22 studio albums, 12 compilation albums, 10 live recordings and 5 EPs.  Ian "Lemmy" Kilmister was both the founder, frontman, bass guitarist and songwriter.  He was also the only constant member throughout the 40 years of their existence.
Sadly, Lemmy passed away aged 70 on 28 December 2015 from cardiac arrhythmia and congestive heart failure, after a prostate cancer diagnoses.  The following day, Mikkey Dee (drummer) and Phil Campell (guitarist) announced the disbandment of Motörhead.  Over the next three years, the remaining three members of the classic line-up, which included Lemmy, Phil "Philthy Animal" Taylor and "Fast" Eddie Clarke had passed away too.
Back to the song that is synonymous with the band – Ace of Spades.  Although the history behind the song is not nearly as interesting as that of Smoke on the Water, Motörhead's lyrics typically related to war, 'good vs evil', abuse of power, substance abuse and of course, gambling.  Ace of Spades, which was the title track of their 1980 album of the same name, just happened to be one of these songs with a good riff and catchy lyrics – and it worked.
As much success as the song Ace of Spaces achieved, it also became the bane of Lemmy's existence.  In his 2002 autobiography, White Line Fever, he writes about the tune where he is quoted saying "I used gambling metaphors, mostly cards and dice – when it comes to that sort of thing, I'm more into the slot machines actually, but you can't really sing about spinning fruit, and the wheels coming down."
He continues to say, "Most of the song's just poker, really.  To be honest, although Ace of Spades is a good song, I'm sick to death of it now.  Two decades on, when people think of Motörhead, they think 'Ace of Spades'.  We didn't become fossilised after that record, you know.  We've had quite a few good releases since then.  But the fans want to hear it so we still play it every night.  For myself, I've had enough of that song…"
Although online casino games were still a way off in 1980, Ace of Spades remains a legendary track that will supercharge your online casino sessions with its energy today.  Lemmy might have had enough of it, but we sure have no problem lining it up to fuel us when playing online casino games at Springbok Casino!
Whether you use YouTube Music, Spotify, iTunes or any of the many online music streaming services, consider creating a playlist and drop these tracks in there…  The next time you log in to Springbok Casino to play online casino games – start up your playlist and enjoy some good old gambling-themed rock 'n roll whilst you're at it!