What Smart Tech Gadgets and Gizmos are Trending in 2020?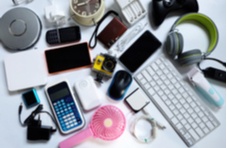 If there is one thing that 2020 has gifted tech developers with, it is plenty of time to brainstorm brilliant new concepts!  In fact, when it comes to innovation, creativity and sheer smarts this year could prove to be a bumper year.  If you are wondering what clever concepts have translated into runaway retail successes, here are a few gadgets, gizmos and examples of smart wearable tech that are raking it in - and the online casino games at Springbok Casino are not far behind!
Five High-Tech High Flyers in 2020
Dyson Light Cycle Morph
Snoo Smart Sleeper
Tag Heuer Connected Modular 45 Golf Edition
Pegasi Dream Glasses
Springbok Online Casino Games
Dyson Light Cycle Morph - Smart Age-Related LED Lighting 
Dyson has come up with an agile LED lamp that has an average lifespan of around 60 years.  Pair it with a proprietary iOS or Android app and you have got an intelligent lighting solution that illuminates an area taking key variables into account – your age, the amount of daylight in the room and the current atmospheric conditions outside the room!
The lamp uses a sophisticated algorithm to auto-track daylight and slowly increases the intensity of the light as the conditions change.  There is a range of settings in-app that vary from 'precision' to 'relax' so you can opt for a bright task-related light perfect for studying, drawing or writing or you can chill out in a warm ambient glow with a few friends and glass of the finest red wine close at hand.  What is more, as the infrared sensors built-in to the hardware automatically detect your approach and turn the lamp on or off accordingly, you can stumble on up to bed at the end of the night without a care in the world.
The Dyson Life Cycle Morph is modern, minimalistic and available as a desk or standing lamp.  For all intents and purposes, it is the future of lighting.  With a design centred on maximised agility, you can position the LED lights every which way.  That is yet another great feature for folk who like staying up late at night to play online casino games in their pjs and slippers!
Snoo Smart Sleeper - The Baby's Bassinet for Sleep Deprived Mums 
What do all new mums and dads suffer from?  Sleep deprivation, of course!  Now there is an answer for the baby blues – and it is in the form of a robotic crib.  Say what?  Yup, the developers of the Snoo Smart Sleeper have come up with a bassinet that soothes and calms baby by emitting white noise from in-built speakers.  It also gently rocks to and fro based on the level of noise the baby is making – loud wails increase the intensity of the motorised movement that persists until baby is fast asleep.  How awesome is that?
Along with the sensor-enabled rocking and white noise-infused lullaby, the Snoo supports baby's safety.  For the functionality to kick in, you have to pop the little one into a custom-made swaddle known as the Snoo Sack. The sack is then clipped onto the bassinet, forcing baby to sleep on his or her back - and by all accounts that is the best possible position to mitigate safety concerns. 
Mums and dads who have invested in the Snoo Smart Sleeper have all enthused about its effectiveness in keeping baby calm and relaxed the whole night through.  Just think how much more time you will have at your disposal to do the things you love to do – like winning ZAR every time you load Springbok Online Casino games onto your PC or phone!
Tag Heuer Connected Smartwatch Golf Edition - Data for Duffers 
The latest addition to the Tag Heuer connected Smartwatch range is tailor made for golfers.  It is large, chunky and imposing in design but instead of a conventional watch dial, there is an intuitive AMOLED touch screen linked to an app.  Switch on the paired app and watch and the GPS enabled software automatically detects the golf courses located within range.
Tap on a particular course and you will be presented with all the data you will ever need about the course, the individual holes and their respective hazards.  You will even get 3D displays of each hole detailing all the physical attributes.  What is more, the bezel features numbers 1 to 18 to denote the 18 holes and displays onscreen data of your hole-to-hole performance.
Thanks to Tag Heuer, users have access to current data relating to 39,000 golf courses located around the world.  What can you expect to pay for the latest edition from the luxury watch maker?  Well, if you have got a spare R32,000 rattling around, that should do the trick.  Imagine how many online casino games you could play with that kind of bankroll?
Pegasi Dream Glasses - Wearable Light Treatment Therapy for Sweet Dreams 
Anxiety, stress and the increasing use of devices play havoc with our natural sleep cycles.  Falling asleep is difficult and getting a full night's sleep is especially challenging.  Many of us are generally fatigued and battle to get through the day.  If that is the story of your life, help is at hand and – would you believe it – it is in the form of a pair of smart glasses that you only wear for half an hour each day!
According to the developers of Pegasi Dream Glasses, just 30 minutes of physical light treatment therapy at the start of the day can re-set your internal clock, help you get a great night's sleep and boost your energy levels.  The science behind the concept is the green light emitted by the glasses effectively suppresses the secretion of melatonin during the day, thereby increasing the production of the sleep-inducing hormone at night.
The green light is a kind of counterbalance to the blue light we all absorb through the excessive use of computers and digital devices.  When our circadian rhythm or sleep cycle is out of synch, there is very little hope of achieving healthy sleeping patterns.  What is notable about the glasses is you can essentially get on with your day as you get the requisite sleep therapy.  They are foldable, rechargeable and automatically switch off once the 30 minutes is up.  
There is also an app that you can link to the specs and use to adjust the light's brightness and turn the glasses on and off.  Let's face it, a good night's sleep improves the mood, boosts the grey matter and allows all of us to focus more intently on the tasks at hand – be it writing a report for the office or deciding which moves to make in the RTG online casino games featured right here.
Springbok Online Casino Games - Cash Winnings Available Around the Clock 
At Springbok Casino we may not specialise in wearable tech, rock-a-by-baby bassinets or watches that tell you how to play golf.  We do however specialise in supplying the best online casino games to South Africans.  All you have to do to access our online or mobile gambling platform is register an account, grab a free bonus and play RTG online casino games for real money rewards.  What are you waiting for?  Sign up at Springbok Casino and enjoy a high-tech gambling experience, available on-demand!