What are future Casino Games Going to Look Like?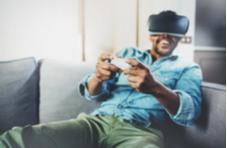 Casino games have already evolved into slick, high performance gambling opportunities that offer a lot more than banking a few bob here and there.  The collision between high tech hardware, innovative software and animated graphics means that games – especially the titles arranged under the slots tab - are immersive, cinematic and undeniably entertaining. 
With the remote gambling industry tipped to be worth around $125 billion by 2025 and cutting-edge technologies popping up all the time, the burning question is – what are the future casino games going to look like in five to ten years time?
We have already seen a massive explosion in the conceptual design and development of jaw dropping gambling titles.  All you have to do is click on the 'new games' tab at Springbok Casino and you will see exactly what we mean.  
Although technologies like live streaming, high definition 3D animations and fabulously beautiful pixelated imagery is already passé in our fast-moving world, a few decades ago this kind of tech had not yet been integrated into the cash games at the casino.  Slots – whether online or land-based – were pretty much limited to the conventional rather than the extraordinary.
Real Money Games for the Digitally Astute 
It may still be early days to make any firm predictions around the shape and scope of next generation casino games but one thing is for sure – developers have to keep a firm eye on the demographics.  In this context, we are obviously referring to the sharing, community driven folk who belong to generation Y and Z.  
These are the future players of games at online and mobile casinos; the people who have grown up with digital tech.  For most of these prospective gamblers the smartphone, with its myriad apps, is so ubiquitous and familiar, it is almost like an extra limb - and an extra special one at that!
Future Trends in Casino Game Development?
A larger and more dominant social aspect to gambling
The ability to bet on casino games 

and

 the ranked players who play the games  
Branded slots will continue to sparkle
Deepfake, machine learning and big data to provide an individualised gambling UX  
The Social Component is Key 
What are the key features that appeal to millennials?  Well, first and foremost, social connectivity is huge.  People want to share experiences… as the rise of the selfie, mass raves and video-sharing apps like TikTok attest.  The casino games of the future will have to include social networking and interaction into game play on a massive scale.  Features that could take precedence in casino game development in the not too distant future include:
Embedded video chat features where players can engage with each other in real-time
Multi-player action involving head-to-head competitions to unlock in-game bonus features  
Knock out rounds where only the best players level up to play for systematically richer rewards
Bet on Ranked Players as You Would on Sports 
We already know millennials are betting on video games – whether it is skin betting or on the esports platform.  Betting on the actual players who are playing the games could easily be an added component to online gambling and one that provides a second source of revenue for the operators.  
In real terms, that means you can visit the Springbok Casino of the future and play the casino games as you normally would.  Or you can take your pick from a pool of ranked players and wager on the probability of them winning a slots, blackjack, roulette or craps tournament, exactly as you would do on sports.
Branded Slots Will Continue to Boom
Millennials are more brand conscious than ever before.  They are particularly attracted to brands that engage them on multiple media, be it social media, print media or broadcast media.  That of course means branded games will be more eye catching and appealing to the new set of gamblers – and game developers and casinos will have to rise to the challenge. 
This is not a new phenomenon.  Casino games associated with movies, TV shows, board games and well-known celebrities – past and present – are already first choice for a growing number of players.  Slots like the Big Bopper, Richie Valens La Bamba and The Three Stooges have a significant following right here at Springbok Casino simply because of their trademarks, branding and link to famous musicians and fictional comedians.  Will future casino games feature the likes of Sonic the Hedgehog, Cyberpunk, the Glass Hotel and Ariana Grande?  You betcha!
The Impact of New Technologies 
How about the impact of new technologies on the gaming genres you can play right now at Springbok casino?  Virtual Reality and wearable tech are already transforming the remote and land-based gambling experience and cryptocurrencies are a fairly common payment processing method at the leading casinos online.  
What we can expect is for blockchain technology to play a larger role in automating the dissemination of winnings.  In other words, there will be no tedious waiting while a human verifies your wins and then processes the withdrawal.  Payouts will happen transparently and in real-time… and that is a good thing!
Deepfake Could Be the Game Changer
A technology that may just prove to be a game changer is Deepfake technology.  You have seen the tech in action in the Zao face swopping app, now just imagine the fun you can have transforming the aminated characters in slots into lifelike representations of yourself… or your friends or, better still, your frenemies.  It will be like creating your own avatar in your or your BFFS precise likeness – and that, my friends, is what you would call personalised casino games.
The Era of Individualised Casino Games 
On that note, machine learning and big data is already collaborating to create an individualised gambling experience online.  Casinos are collecting data on all their players, analysing it and then offering a tailored UX that takes your individual game preferences, time spent at the casino and your bet size into account. Extrapolate that into the future and it won't be too long before game developers will have sufficient data to support the development of custom casino games for loyal customers.
Springbok Casino is the springboard into the future.  Sign up, grab a free bonus and enjoy the games – they are seamlessly functional and full of great features!