Why Sports Stock Markets Are Shaking Up the Betting Sector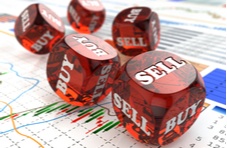 These days trading is not exclusively about buying and selling shares on the NASDAQ, DAX or Hang Seng.  Oh no, savvy investors are plying cash into 'blue chip' commodities ranging from individual sports players to teams in the NBA, NFL, the EPL and the Bundesliga.  Online and mobile platforms revolutionised how we play casino games.  Now sports indexes and stock markets are shaking up the bookies and it is paying dividends… literally!
How Sports Stock Markets Work 
The latest entrant into the speculation scene is basically a new and exciting way of gambling.  You buy shares - aka place bets - on the future performance of a player or a team. 
As with financial trading, you focus on buying a share in the 'commodity' you think has the best chance of performing well, on match-day and over the entire season.  Share prices are based on investor demand and demand is determined by performance.  
More Ways to Make Money 
One way of making money is to sell shares at a profit, as you would on the Johannesburg Stock Exchange (JSE). The other way to cash in on your shares is a bit like the bonus features in casino games.  When your player performs well on match day and accomplishes a defined achievement - like scoring a goal or keeping a clean sheet in football - you are paid an in-game bonus.  
In the world of trading, the bonus is in the form of dividends based on the number of shares you hold in that particular player!
Dividends are Like the Bonuses in Casino Games 
Some sports indexes even offer dividends on the player's performance off the pitch.  Say for example your guy is prominent in the media leading up to the match.  Or is tipped by one of the pundits as the player most likely to influence the results.  When that happens, you are paid dividends according to his ranking.  The trick of course is to know when to sell your shares.  
If you hold onto them for too long, player or team performance may dip and the selling price will obviously follow the downward trend.  A similar sentiment applies to playing casino games right here at Springbok Casino.  With all forms of gambling, timing is crucial.  We all know the most successful gamblers are the ones who know when to quit… and quit when they are ahead!
What Determines Player Performance - On and Off the Field?  
When it comes to investing in a listed company, tracking performance is relatively simple.  All you have to do is study the annual financial statements and do a few calculations.  Companies distribute corporate profits to shareholders as dividends based on the number of shares held in the company.  
Determining match day performance, so as to disburse in-play dividends, is also straightforward.  Shareholders are effectively paid out when their player or team completes one or more specified actions in a match. 
The Proprietary Algorithm - A Matter of Trust 
How about media dividends?  Who or what ranks the players according to media visibility?  Well as you have probably guessed it is a software algorithm that basically tracks which player or team is trending.  The software analyses big data from a number of local and international news resources.  It then ranks players accordingly.  Shareholders are paid dividends according to that ranking. 
In reality, you have to trust that the proprietary algorithm will do the job it is intended to do - and without any undue influence from the operators of the trading platform.  It is the same kind of trust that is required for the random number generator in casino games.  In both instances, there is no real way to identify media performance or determine whether game results are fair… unless of course you are a mathematician, statistician or IT geek.
What are the Top Indexes for Share Trading in Sports? 
The best sports trading indexes support the buying and selling of shares pre-match and in-play.  They are also the platforms that provide all the data you will ever need to make informed trading decisions.  Here are the top 4 sports stock markets in alphabetical order:
ASM (All Sports Market) - a share trading platform for teams in the NHL, NBA and NFL
Ball Street Trading - where you can buy and sell shares in a wide range of sports events in real-time, from boxing to golf
Football Index - 

the 

topflight

 

football trading platform focussing on 3,500 players in the top five football leagues in Europe, the Champions and Europa Leagues and the World Cup and European Championship competitions
Sport Stack - an exchange for buying, selling and trading shares in professional footballers
Can South Africans Trade in Sports Shares?
At this point of time it looks as though South Africans are being denied the opportunity to own shares in Harry Kane, Paul Pogba, Lionel Messi or Bruno Fernandes.  Many of the platforms offer exclusive access to traders in the country of origin.  Others request prospective traders to contact them direct… and that may just be the loophole you need to get your sports trading off to a winning start.  
If you fancy speculating on the likes of Eden Hazard, Jadon Sancho, Cristiano Ronaldo - or our very own Leo Mothiba or Bongani Zungu, who play for Strasbourg and Amiens respectively - there is always a chance a quick email will do the trick and open the virtual doors!
Sign Up at Springbok and Play Sizzling Hot Casino Games Instead!
Having said that, there are equally enjoyable ways of making a few rand here and there, one of which is playing real money casino games at Springbok Casino.  We may not have top ranked football, basketball or baseball players on our gambling platform.  We do however have an endless selection of online and mobile casino games developed by a top ranked game development brand - and that is Real Time Gaming (RTG) of course. 
Why not shake off the disappoint of being denied your cut of the sports stock market by playing a few high hit rate casino games right here.  You can register an account in just a few minutes by clicking on the 'Sign Up' tab at the top of the page. 
You can also unlock the first of three super-duper deposit bonuses purpose-designed to welcome you to the Springbok Casino network.  Remember to redeem the bonus coupon at the same time as you fund your account or you will miss out on a free cash bonanza!