Can You Cheat Playing Online Casino Games? 5 Reasons Why You Won't Get Away with It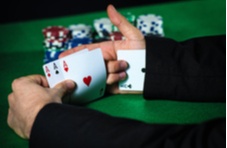 Sadly, trying to beat the system, whatever system that may be, seems to be an inherent trait in most human beings…  It goes without saying that this fundamental flaw many people's makeup will have them try their luck at cheating when playing online casino games.  If you think you're going to get away with it, think again though…  At Springbok Casino – and all online casinos for that matter – there are systems in place that will render all your efforts worthless.
How do Players Try Cheat at Springbok Casino?
The most common way in which players try to cheat playing online casino games is with what is termed 'bonus abuse'.  What players essentially aim to do is to utilize free casino money, win with it, and cash out without ever wagering a cent of their own money.  There are many different types of bonuses and some make it more probable to commit bonus abuse, whilst others do not.  An example, a match deposit bonuses requires you to deposit some of your own money before you get your share of the free loot.  Your deposit will be matched by the casino, by a certain percentage, up to a specified amount.
The most ideal bonus to use when committing bonus abuse is a no deposit bonus.  Online casinos have long since cottoned on to this however and many have opted to shy away from these types of bonuses, offering match deposit bonuses instead.  Below we list why, even with totally free bonuses, such as no deposit bonuses or free spins on online casino games, cheating playing online casino games – and actually getting away with it – is highly unlikely;
Withdrawal limits – If you were hoping to hit a progressive jackpot and cash out millions before sailing off into the sunset, think again.  To quote the Terms & Conditions of Springbok Casino, "The maximum withdrawal per customer per week is R25,000.  Springbok Casino reserves the right to pay out higher winnings over a period of several weeks.  Springbok Casino reserves the right to withhold play and/or payment from any party that Springbok Casino deems as fraudulent."


Identity verification – All payouts at are subject to Terms and Conditions.  Whether you use a credit card or an alternative payment processor such as an e-wallet or Bitcoin to play online casino games, each withdrawal method will have a swift and convenient, yet strict verification procedure.  As an example, if you used a credit card, you would need to complete the credit card authorization form and submit a copy of the front and back of the credit card you're using.  This is in addition to other documents to confirm your identity.


Large payouts trigger investigations – If you won a large sum of cash, particularly on online casino games such as progressive jackpots, and you attempt to withdraw your winnings, know that any casino will do their due diligence to protect their own interests.  The bigger the withdrawal request, the more attention it will generate.  With a team of ninja's managing the banking at Springbok Casino, chances are fraudulent activity will be spotted before you even get to hit that confirmation button.


Wagering requirements – Even if your bonus is entirely free, such as a no deposit bonus or free spins, it doesn't mean that you get to withdraw your winnings immediately.  Wagering requirements are there to ensure that players get a decent head start when playing online casino games, but also to protect the casino from bonus abuse.  You'll have to bet an amount equalling between 35x and 65x the original bonus amount before you even get to head to the cashier for payday.


Multiple accounts – You might fool people with multiple social media accounts but rest assured, trying to beat the system by having multiple online casino accounts will get you nowhere.  Why?  Well, for our top two reasons mentioned here.  Even if you play and win when playing online casino games with fake accounts, you still have to go through all the processes to get your hands on the winnings – and that compares to having high hopes and very short legs.
You're More Likely to Get Away with Cheating at B&M Casinos... Maybe
Cheating at regular brick and mortar casinos isn't all that impossible.  If you for instance play blackjack and you use the card counting strategy (with a poker face), which is illegal at most establishments, you might just, and we say might, get away with it…  That said, if you are caught counting cards, you'll be out on your backside and probably have a lifetime ban from the casino. 
Now, we all know that age old saying 'having an ace up your sleeve'.  Trying to win a few extra bucks with a sly slide of hand will get you in just as much hot water.  The thing is, however, you need to get caught – and that generally happens either when the croupier spots the dirty tricks, or when the misdemeanour is spotted on CCTV. 
Now to burst your bubble, know this – there are tons of cameras everywhere and your every move is watched when playing at a land-based casino, so if this gave you any sort of hope that you might get away with it, we're here to crush your dreams.  You might get away with it once, if you're lucky, but at some point, the casino – and karma – will catch up with you, particularly when high stakes wagers and big winning pots are involved.
Other More Fraudulent Attempts to Cheat
Ok, so trying to cheat by using a bonus or multiple accounts isn't going to get you far… and although it is unethical and wrong to start off with, there are even worse ways that devious players try to dupe online casinos.  This involves committing more serious fraudulent offences, which are deemed punishable by law.  The most prevalent of these attempts involve using faking identities. 
To pull this off, a fraudster needs to go to extreme lengths to create a fake I.D., falsified proof of residence – and convincingly fake all other documents that a casino would require to process a withdrawal of winnings.  Financial and identity fraud is a highly punishable offence and once caught, you won't just get banned from the online casino, you'll get a slap on the wrist – with a pair of handcuffs.
Keep it Clean and Win Honestly Playing at Springbok Casino!
As you can see, it is simply not worth it to try and cheat your way to financial wealth when playing online casino games – or even at a B&M casino for that matter.  The consequences could be severe and you might end up losing way more than you bargained on winning when you started out.  We therefore suggest that you come and play online casino games and enjoy the experience for what it is at Springbok Casino.  Chances are you will inevitably win legitimately and get to cash out your prize – minus the jailtime!