Africanis - Mongrel, Brak or King of the Canines?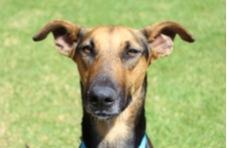 As an online casino South Africa, Springbok Casino is passionate about everything African.  That is why we thought we would honour the Africanis - the rare, loyal and perfectly adapted dog of Africa.  
They are sleek, slenderly built and the very essence of natural selection. They are also intelligent, easy to train and immune to ailments and diseases.  As pets, they are the kings of the canines… and by a long shot!
One of the Last Remaining Primitive Canine Land Races 
Travel through the rural areas of southern Africa and indigenous dogs are part of the landscape.  These are the representatives of one of the last remaining primitive canine races on earth.  
Erroneously labelled mongrels, braks, half breeds and township specials, the Africanis has genetic coding that can be traced from the southern tip of Africa, through the Sahel, to the Sahara Desert.  
That is pretty much the region covered by the remote gambling services of Springbok Online Casino South Africa!
Interbreeding is Diluting Genetic Purity 
The mass migration of people to urban areas in search of work is having an impact on the very existence of the Africanis 'race'.   African dogs are essentially sociable animals that have lived with humans for thousands of years.   As a result, they have followed their human pack leaders in their quest for a better life.  
In doing so, they have organically increased their traditional rural range to encompass the fringes of cities like Cape Town, Johannesburg and Durban.  Although that means city dwellers, previously denied the companionship of these very special animals, are now adopting them as pets, rapid urbanisation is having a detrimental effect on their genetic purity. 
Interbreeding with European breeds is diluting the very characteristics and attributes that make the Africanis such a distinctly African dog. 
What are the Key Characteristics of the Africanis? 
Genetic testing has proved that Africa's indigenous dogs all belong to the same land race.  They are typically medium sized, slender in build and have a distinctive cone-shaped head.  They are well-muscled, agile and fast. In peak condition, their ribs are scarcely noticeable under a supple skin and short, shiny coat.  
An inky black snout, golden or brown eyes ringed in black, a ridge along the spine and animated facial expressions are a few characteristics commonly associated with the Africanis.  We are delighted to say that speed, adaptability and agility are attributes that Springbok Online Casino South Africa shares with our iconic indigenous dogs!
Evolved According to Environment 
What is interesting is the Africanis has evolved into several sub-species that have adapted to their environmental conditions.  The indigenous dogs in the arid regions of Botswana and Namibia for instance are taller and predominantly lighter in colour.  The dogs found along the coast of Zululand and Pondoland are smaller, have slightly longer hair and vary in colour from roan to black. 
With the Africanis there are no set rules as to colour, markings or the set of the ears but despite all these variables they are always instantly recognisable as the true dogs of Africa.  Similarly, they are known by different names according to the role they play and the areas in which they live.  Nguni cattle dog, Pondoland hunting dog, katali or Umbwa wa ki-shenzi which is Swahili for 'traditional dog' are all common names for the ubiquitous Africanis.
Play Dog Themed Slots at the #1 Online Casino South Africa 
We may not feature the Africanis in any of our casino games at Springbok Online Casino South Africa but we do have a few dog-themed slots.  What is interesting is that in both instances the dog is empowered to pay out more than most of the other game symbols.  If you are feeling the urge to interact with a pooch, we can heartily recommend you play Fu Chi or Purrfect Pets slots... or both!  
Fu Chi Slot - Where the Dog is Wild  
In the Chinese zodiac themed Fu Chi slot, the dog symbol is wild.  It pays out up to 10,000 x the payline bet in standard play.  When the wild dog completes payout permutations as a symbol substitute it automatically doubles all winnings. 
That is not the only reason to get excited about playing Fu Chi slot at the best online casino South Africa.  In fact, it is really only the beginning as the scatter is the symbol embossed in gold.  Why? Well there are up to 30 free games with 3 x multipliers up for grabs. 
Guess what?  The free games are instantly doubled when the wild dog is not part of the triggering combination.  Yup, that means you can win up to 60 free games in total - and remember, all payouts are trebled!  Now that is deserving of a collective 'woof'!
Purrfect Pets Slot - Pups are the Pets You Want! 
Shift across to Purrfect Pets and there is a double doggy bonus written into the gaming script.  The pup with patches and a few green stars is the scatter.  It pays up to 200 x the stake and activates the Doggy Dollars bonus feature.  Hit multiple scatters anywhere on the gaming interface and you will get 10 free games. 
During the complimentary game play the scatter is transformed into a second wild and there is a 2 x multiplier to weave the winning magic.  What is more, the patchy pup with a cute blue bow is wild and pays out up to 2,000 x the line bet!  Who wouldn't want a dog as a best friend, especially when playing RTG slots at the top ranked online casino for South Africa?
Sign Up at Springbok Online Casino South Africa Now! 
You don't have a Springbok Casino account?  No worries!  It only takes a few minutes to sign up online.  Once we have verified your information, you can log in to your account and make a cash deposit via one of our user-friendly payment options.  Then of course you are more than welcome to redeem the casino bonus coupon that best suits your gambling requirements at the cashier.  Then it really is all systems go!