Most Expensive Collectible Cars Sold at Auction in 2020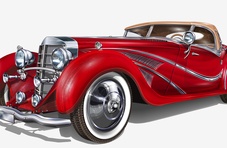 When you think about value, Springbok Casino no deposit bonus codes obviously spring to mind.  That is in the context of gambling online.  How about assets like classic cars?  What do the likes of a Bugatti Roadster, Ferrari GTI or Shelby racing prototype fetch at auction?  Well let's say the prices belie the fact that 2020 wasn't 'normal' like any other year!
Rarity, Condition and Provenance    
What are the kinds of assets that appreciate in value over time?  When you are talking in terms of motor vehicles, they have to be rare, collectible, authentic and in great condition.  Throw in a provenance that includes motor racing celebrities, aristocracy and other distinguished people and you have got the raw materials to spark bidding fireworks.  As a year in which a global pandemic has held sway, you would think people would be more cautious about spending money… but that clearly has not been the case in either Europe or the USA.
If you are an auto fan with tens of millions of rand to throw around, you essentially have two options.  You can redeem our Springbok Casino no deposit bonus codes and play Dream Run slot for free.  That of course means you can keep your money and spend it on a rainy day.  Or you can invest in a rare and beautiful motor car that has got a long and fascinating history - just like one of these thoroughbred racers:
1932 Bugatti Type 55 Super Sport Roadster - R118.6m 
With the fluid beauty and rounded body architecture synonymous with the early Bugatti roadsters, the 1932 Type 55 is one of only 38 ever produced.  It is also one of only 14 surviving vehicles to be kitted out in Jean Bugatti's iconic body work.  This particular car was initially purchased by Victor, the 3rd Baron Rothschild during his student days at Trinity College at Cambridge.  Rothschild, who was later an advisor to the Heath and Thatcher governments, worked for the M15 during the war and was awarded the George Medal for his efforts. He was also erroneously linked to the notorious Cambridge spy ring consisting of Kim Philby and Anthony Blunt!
Besides the historic provenance of the vehicle, it is the matching engine, drivetrain, chassis and body work that makes it incredibly sought after by classic car collectors.  As one of the few Bugatti to feature rounded fenders and cut-away sides and the only road-going model to boast a 2.3L supercharged engine, the 1932 Type 55 Super Sport is arguably worth the $7.1m plus dollars it realised at auction earlier this year.  That my friends is an obscene amount of money that converts to over R118.6m at current conversion rates!  
Not all of us are born to great wealth, so feel free to sign up at Springbok Casino in a quest for your own fortunes.  Once you are a registered player, you can use our Springbok Casino no deposit bonus codes as your complimentary ticket to great gambling online!  We know it isn't the equivalent of a Bugatti but it is a freebie nonetheless - and one that is designed to put a smile on your face!
1931 Bugatti Type 55 - R83.5m 
The cream and black 1931 Bugatti Type 55 was originally a factory car built for racing.  It was ordered by French racing driver Count Guy Bouriat-Qunitart and debuted at the 1932 24 Hour Le Mans.  The co-driver in the race was the great Louis Chiron, the legendary Monegasque Grand Prix and Le Mans racing car driver.  At 55 years of age, Chiron became the oldest driver ever to finish a Formula One race, a record that still stands today.  He is without a doubt one of the racing greats and one who is more than deserving of having a Bugatti named in his honour.
Immediately after the race, the car was sold to a Parisian magazine publisher who had it fitted with unique two-seat coachwork by Giuseppe Figoni of Paris.  It was later acquired by Geoffrey St John and went under the hammer at Bonhams earlier this year for more than $5m!  How does that compare to the largest ever jackpot win at an online casino?  Well, according to reports, a Finnish player won the equivalent of $24m in Euro playing a progressive jackpot slot. That is almost three times the auction price for the Bugatti!  If that does not inspire you to sign up and claim one or more of our Springbok Casino no deposit bonus codes, then nothing will!
2001 Ferrari 550 GTI Prodrive - R71.7m 
The 2001 Ferrari 550 GTI Prodrive is one of 12 Ferrari racing cars manufactured by the UK-based Prodrive outfit.  It was purpose-built to race in the USA and Europe.  As a result, it features all sorts of modifications to the engine and body work.  The stance is lower, the body wider and the engine upscaled to a 60-L V12 capable of pumping out 600hp.
Over its racing career, the 550 GTI amassed 14 titles including the2004 Spa 24 Hours.  A racing provenance coupled with its rarity ensured the second of 12 Ferrari 550 GTIs ever built by Prodrive reached over $4.298m at auction… that is R71.1m in our currency!   Just think how much fun you could have playing casino games at Springbok Casino with that kind of money?   
1965 Shelby GTR350R Mustang - R64.3m 
The fourth most expensive car sold in 2020 so far is a 1965 Shelby prototype.  It is the first of 36 competition GTR350Rs to roll off the production lines.  As a prototype it is obviously built to unique specifications.  But what makes this Shelby Mustang so rare is the fact that the parts are only found in this particular car.  It is for all intents and purposes a one-off and an incredibly valuable one at that.
The souped-up version of the Mustang was the first-ever Shelby to enter a sanctioned competitive race and the first Shelby to win a race. The famous British sports car racing driver, Ken Miles guided it to victory at the Green Valley Raceway in Texas in 1965.  Since then it has changed hands several times and even enjoyed a spell at the Shelby American Museum in Colorado.  After being lovingly restored to mint condition, the car was auctioned off for a cool $3,8m in Indianapolis.  It currently holds the record for the most expensive Mustang ever sold!
Leverage Springbok Casino No Deposit Bonus Codes – Play for Free! 
If your finances are not nearly sufficient to cover the cost of collectible cars, how about taking up another activity?  One that can generate winnings in rands and cents?  Our Springbok Casino no deposit bonus codes are designed to allow you to see what all the fuss is about.  What that means is you can use a free bonus to check out the games, software and support services before depositing money into your Springbok Casino account!