Casino Games at Online Casinos vs Land Based Casinos – We Reveal the Winner Here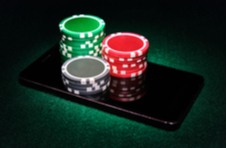 Almost every decision in life comes with a set of pros and cons, and the same applies when it comes to playing casino games at an online casino versus a land-based casino, aka, a brick and mortar (B&M) casino.  If we truly weigh them up though, who will ultimately surface as the real winner? 
Keep reading as we delve deeper by comparing what we know we can offer you at Springbok Casino with what you could potentially gain from playing at land-based casino instead!
Benefits of Playing Casino Games at Online Casinos 
We'll start with online casinos, as we're, well, an online casino!  We know you want to get down to betting, rather than reading long lists of pros and cons, so we'll jump right in.  Below we take a look at what you will get from your experience when you play at an online casino such as Springbok Casino;
RTP's and the House Edge – Although all casino games have predetermined sets of rules, the RTP (return to player) – also known as the payback percentage – along with the house edge is one area where casinos make their money from. 

Firstly, games at online casinos often stipulate what the payout percentage is for each game whereas land-based casinos will hardly ever divulge this info.  Online venues also don't have the massive overheads to cover, so you typically get more bang for your buck.  On that note, with smaller minimum bets online compared to land-based venues, this means your money will go much further and you'll get to play for longer!


Location, location, location – The convenience of being able to fire up your favourite casino games from literally anywhere is a bonus in itself.  You can choose when and where you want to play, whether you're still in your PJ's in bed, having a lunch break at work, or catching some rays in a park. 

With your mobile device or laptop – you're not restricted to a specific location.  As long as you have access to the internet, you have access to the best casino games at Springbok Casino from anywhere.


No travel expenses – With online casinos you don't have to spend money on expensive fuel to travel to a venue to play casino games.  In fact, you don't have to move an inch!  Since you can play from anywhere, you don't have to travel to a specific destination, which saves you money on travel expenses.


24-Hour casino games on tap – Online casinos are always open!  Yes, 24/7 gambling on tap is available at Springbok Casino.  Whether it's Christmas Eve or New Year's Day (or any of the 100 public holidays in South Africa) – Springbok Casino is open for business!


Enjoy a drink and no need to drive – South Africa is taking a zero-tolerance approach on drinking and driving.  In fact, although the current legal blood alcohol limit for driving is less than 0.05g per 100ml of blood and less than 0.24mg in 1000 ml of breath – these figures will be zero by December!  The days of having a glass of wine, brewski or a single tot of the hard stuff and driving home are soon to be over.  Even with the slightest detectable levels of alcohol in your breath or blood will be illegal.


Endless player perks – As much as they try to compete, the player perks offered at land-based casinos simply pale in comparison to those offered at online casinos.  The rewards at online casinos are endless, starting with your welcome bonus. 

Although land-based casinos do offer incentives, they are fairly generalised whereas online casinos often offer customised perks, such as cash-back's on wagers, free spins on slots, and special birthday bonuses – in addition to multi-tier loyalty rewards.


A bigger game menu – Land-based casinos offer a lot of casino games indeed but at the end of the day they can only offer a certain amount, as they're limited by the floor space.  This can never be an issue at online casinos as the software platforms can host hundreds of games, with new games being added almost every month!  With unlimited space, you get unlimited action! 
Benefits of Playing Casino Games at Land Based Casinos 
Brick and mortar casinos might have a few things that online casinos don't offer, but is it enough to sway us in favour of these land-based establishments?  Let's have a look at what they have to offer;
Restaurants – Yes, land-based casinos might have restaurants but they generally come will meals and drinks at inflated prices.  The solution when playing at an online casino?  Mr Delivery or Uber Eats, of course! 

Playing casino games at home doesn't mean you can get a meal from any restaurant delivered straight to your home in no time at all.  In fact, most of these food delivery apps have frequent promotions – saving you bucks while feeding the hunger…  So, it's a win win!


Social interaction – Some people enjoy the hustle and bustle that comes with playing at a B&M casino, along with the element of social interaction, whilst others don't.  This is a personal choice.  On the flipside, just because you play casino games online, doesn't mean you can't still add a social element to it. 

If you want to play alongside friends, invite them over and have fun together!  Alternatively, WhatsApp, Skype, Discord or any one of the easy 'face time' apps offer a way to enjoy a chinwag and see your friends while playing at Springbok Casino.


Hotel accommodation – Onsite accommodation might be handy if you had a drink when playing at a land-based casino, especially when December comes and the 0-limit alcohol law is implemented.  Why pay exorbitant prices for accommodation though when you can sleep in your own bed, with your favourite pillow, all expenses paid!


Player perks – Some land-based casinos do offer player perks in the form of free meals, tickets to shows and free accommodation, but this is a rarity and you generally have to be a high-roller or a VIP to get your hands on these complementary goodies.  At Springbok Casino, everyone benefits from player perks, irrespective of how much you spend. 


Security personnel – Land based casinos have security guards and 24/7 CCTV monitoring both player action, and all activities.  This is to keep a grip on fraudulent activities and on thieves targeting players.  Although this is good to know, why take the risk of needing security guards to protect you in the first place? 

At online casinos, you can play casino games without having to worry about these types of risks.  In terms of security, all you need to rely on is the high-end encryption technology that will keep your personal information safe – and we've got that covered at Springbok Casino!
And the Winner is… Online Casinos! 
As you can see, everything that land-based casinos offer can be matched, and even outdone, by online casinos.  Opting to play at Springbok Casino will give you freedom to choose your location, the choice to play whenever you want, endless games and player perks, and so much more.  As much as we tried weighing the pros and cons of both land-based and online casinos objectively, the winner is this round is clear – online casinos!  So, go on, sign up at Springbok Casino and enjoy the convenience and perks of playing casino games, wherever you are!