6 Top Reasons to Play Online Slots at Springbok Casino
Details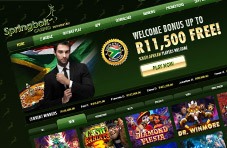 When you join an online casino powered by RealTime Gaming software, you'll have an expansive game menu that includes online slots, table games, specialty games and much more to choose from.  If you're dead-set on playing poker or blackjack, they've got you covered – but if you don't really have a particular game of choice, then you might want to mosey on over to the online slots menu where diversity is preeminent. 
Below we look at some of the reasons why playing slots is a great choice at Springbok Casino!
A Huge Variety of Online Slots with Entertaining Themes
If you're playing poker, roulette, or blackjack, there isn't much leeway for creativity in the sense of redesigning the games to offer an entirely unique experience.  The rules are what they are, the hand rankings are fixed and the table layout is what it is – or it will be a different game altogether.  With online slots, what can be achieved is only limited by the imaginations of the game developers – and let's face it, RTG are creative geniuses, so you're in for a treat!
Whether you enjoy fairy-tales, mythology, sports, Asian culture, royal life, the African bush, fashion, Arctic exploration, dinosaurs, or straight-up Vegas style slots, there is literally something to tickle everyone's tastebuds.  What's more is that there are so many games to choose from that you'll never get bored. 
The themes are alluring and engaging with many of the games following interactive storylines that provide a totally immersive experience.  Expect smooth gameplay and high-quality graphics that are on par with some of the biggest animated silver screen blockbusters!
A Wide Range of Betting Options
Online slots are extremely flexible when it comes to betting options and you can choose slots where you can place bets for as little as R0.01.  Activate all paylines and bet max, and you can also go big with bets of R125 and higher.  Although there are a few slots that have fixed bets, they are few and far between. 
So, generally speaking, the beauty of playing online slots is that you get to determine how long you stay in the game by adjusting the value of your bet to suit your pocket. 
Most games allow you to choose how many reels and paylines you want to activate, along with changing the coin denomination.  Considering that RTG has 3 reel, 5 reel and 6 reel slots, with everything from just 1 payline – up to 3125 'paylines', or AWP (All-Ways-Pays) – that's ample flexibility in terms of betting. 
That said, for a better chance of winning, enable all the paylines and rather choose a lower coin value.  You'll still benefit from extended play but you'll also have a better chance of landing a win.
Frequent New Game Releases
Visit Springbok Casino and head over to the slots menu and you'll be able to view all the latest releases, along with upcoming releases.  RealTime Gaming is forever cooking up something new and enticing for your enjoyment.  You can pretty much bank on a new online slots game being added to menu every month! 
So even if you manage to play your way through the extensive existing range of slots, something new to dabble in is always right around the corner.  Keep an eye out for new releases as there is often is juicy free bonus attached to them!
Free Spins Bonuses
On the note of juicy free bonuses, free spins bonuses form part and parcel of the player perks awarded at Springbok Casino.  You will often find daily, weekly or monthly free spins bonuses, or as mentioned, a few free spins to try out a brand-new game.  Some free spins bonuses are exclusively tied to specific games, whilst others can be used on any game of your choice. 
Keep an eye on your inbox and on the promotions tab so you don't miss out on some complimentary gaming on online slots, with the chance to win real money, on the house!
Online Slots with Progressive Jackpots
If you don't know what a progressive jackpot is, we'll give a quick explanation.  Along with the standard payouts of online slots, those with progressive jackpots have linked prize pools as the ultimate cherry on top. 
Now, these can either be network-linked, meaning that all players betting on that particular game at any RealTime Gaming casino contribute to the pot, or it could be limited to bets placed at a specific casino, or casino group.  Either way, the progressive jackpot will continue to increase, with a tiny portion of each wager placed by players contributing to the size of the total pot.
Once the progressive jackpot is triggered – which will only happen when a very specific symbol combination lines up on your screen – the jackpot will reset to its base amount and the pot will start growing again.  It is important to note that there are often certain betting criteria that you need to fulfil to qualify for the progressive jackpot. 
You might have to bet max or place an additional side bet.  If you're aiming for the big pot, make sure you bet right!
Download Springbok Casino & Participate in Slots Tourneys
Another perk of playing online slots is that you get to participate in tournaments at Springbok Casino.  Slots tournaments are exclusively available via our download casino, and they are so much fun that it is worth a quick download and installation of our software!  Slots tourneys take the experience to a whole new level as you get to compete against other players for your spot in the hall of fame.  Of course, there are fantastic prizes up for grabs too!
You don't need any special skills to join in a slots tournament and players of all skill levels are welcome.  Simply keep an eye on the tournament schedule for current and upcoming events so that you don't miss out on the action.  You can furthermore opt for tourneys that have buy-ins, meaning you need to pay an entry fee to join, or you can play freeroll slots tournaments that don't cost a cent.  The prizes vary from a couple of bucks to a few hundred Rands – with some tourneys having 6-figure prize pots.
So, if you're on the fence and don't know which game genre to go for, why not give online slots at Springbok Casino a go?  You're guaranteed variety, flexibility, entertainment and intrigue, and, of course, loads of fun… and who knows, perhaps even the chance to win millions in just one lucky spin!