What Rocked South Africa Besides Online Gambling in 2020?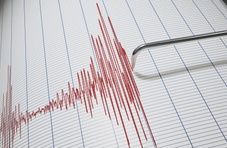 2020 has been a historical year in every sense…  Even though the world practically stood still for a while there, online gambling continued as usual and it even offered a new form of entertainment to many who were confined due to nationwide lockdown.  Yet just when we thought 2020 was winding down and that the remainder of the year would be uneventful though, something else recently rocked our world…
Let's Talk About the Weather…
Come rain or shine, you can bank on your online gambling sessions remaining largely uninterrupted as South Africa is known for its predicable weather.  If you're in Gauteng, you'll be used to the chilly dry winters and the hot summer days with afternoon thundershowers.  If you're in the Western Cape, you'll be accustomed to the wet winters, the windy months and the dry summers.  KwaZulu Natal offers lovely tepid winters and blistering hot and humid summers complemented by rainfall. 
Although the country does see occasional flooding and gale force winds, compared to some other countries, our weather is fairly timid.  We don't get tsunamis or hurricanes – and earthquakes are unheard of… or are they?  Well, apparently not!
6.2 Magnitude Earthquake off the Coast of Cape Town
On Saturday evening, 26 September 2020, residents in various Cape Town suburbs reported feeling light to strong 'shaking' starting around 20:41h.  This was after a 6.2 magnitude earthquake rocked the southwestern Indian Ocean 19:10h at a depth of 10kms. 
Although the epicentre was approximately 1922km southeast of Cape Town, the tremors of the seismic activity were felt inland to varying degrees.  The tremors were reported to last a few seconds… and Cape Townians went to sleep thinking it was over.  Again, apparently not!
Another Unrelated Seismic Event in Kraaifontein
The following morning, Western Cape locals yet again reported feelings tremors, and it was initially thought to be aftershocks from the Saturday quake.  It turned out that the second round of tremors were due to a separate seismic event!  At 9:12 am a minor magnitude 2.7 earthquake was recorded 8kms northeast of Kraaifontein on Sunday, 27 September 2020. 
Now, although the quake wasn't strong enough to interrupt internet services, and you might have gone about your online gambling without even noticing, some reported that it was stronger than the tremors felt the night before.  Here are a few comments on the event:
Sunningdale, Cape Town (28.7 km W of epicenter)

 - Light shaking (MMI IV) lasting 10-15s: "I heard a rumble first like we lived next door to a railway station and a freight train was approaching. Then the ground started to shake and it was so scarey [sic] as I didn't know if the shaking would get worse and when it would stop."

Durbanville (10.6 km WSW of epicenter)

 - Light shaking (MMI IV) / rattling, vibrating lasting 2-5s: "Preseded [sic] by an explosive sound and tremor followed shaking [the] house."

Boston, Bellville (16.3 km SW of epicenter)

 - Light shaking (MMI IV) / rattling, vibrating lasting 5-10s: "Sound[ed] like a jet engine aeroplane approaching. Powerful sharp vibration passed under foundations of house in NW to SE direction. Lasted for about 10 seconds. Windows and light fittings rattled. A second similar but slightly less powerful event occurred within the hour."
A few residents, approximately 22.3 km WSW of the epicenter, reported "strong shaking" (MMI VI) but left no comments of their exact experience – and many reported more 'shaking' about an hour later.  Perhaps aftershocks from the initial event…
Residents Urged Not to Panic
Neither the quake from Saturday night or Sunday morning resulted in a tsunami warning and no damage or injury was reported.  Residents were urged to remain calm…  yet it is human nature to panic when told not to panic…  Our advice?  This is probably a good time to fire up Springbok Casino and let some online gambling take your mind off things.
Why the concern though?  It just so happens that the only nuclear power plant on the African continent is located 30 km north of Cape Town, near Melkbosstrand, on the west coast of South Africa – and yep, tremors were felt in this very location. 
Does this Mean Earthquakes are now a 'Thing' in South Africa?
Although there have been earthquakes in South Africa in the past, they've been sparse and the list is short.  South Africa's most devastating earthquake in history was the 1969 Tulbagh earthquake which occurred on 29 September at approximately 22:03h.  With a 6.3 magnitude on the Richter scale and a VIII (severe) ranking on the Modified Mercalli intensity scale, it led to twelve deaths and widespread destruction in the towns of Ceres, Tulbagh and Wolseley.
According to an article published on Business Insider dated 2 October 2020, and expert said, "Cape Town is due for another earthquake – and it will be a big, expensive one".  Say what?  The article furthermore stated, "That likely quake would cost Cape Town about R10 billion in property damage, of which a big portion could be at the Greenpoint stadium." 
As the Afrikaans saying goes, "moet nie die bobbejaan agter die bult gaan haal" - effectively meaning we shouldn't worry about something that hasn't happened yet…  That said, it does appear that we need to brace ourselves for more of these events.  The scary part is that should this super quake hit us, we may very well be left without electricity and communication for a while, which will also mean no online gambling! 
South African Coast Safe from Tsunamis, Apparently…
In a 2005 article published on News24, David Phelp - a coastal engineer at the CSIR - said that, "should a tsunami ever hit the Mother City from the south, the harbour would be protected because of its geography, but should it come from the northwest, the Cape coast could see extremely high waves." 
He furthermore stated that Robben Island might "serve as a buffer, or else it might concentrate waves on a specific area depending on various circumstances and the direction of the wave".
Prof Andrzei Kijko, a seismologist at the Council for Geoscience added further reassurance staying that "the chances of a tsunami ever hitting the South African coast were zero."  He plainly said that "people can relax – it just cannot happen here" – and since he specialises in risk analysis, that is pretty reassuring. 
What isn't though is that he also added that there is a "possibility of an earthquake between Ceres and Tulbagh" and that "Indications are that a big quake could take place."  You read right… and this was in 2005!  
So, without 'fetching baboons from behind the mountain' (yep, that saying simply doesn't work in English), we should probably keep the possibility of a mother quake hitting the Mother City somewhere in the back of our subconscious.  Since we don't know when or what magnitude it would be, why worry, right? 
Focus on the Present - Sign Up & Enjoy Online Gambling at Springbok Casino!
Let's focus on the now - and right now you can enjoy online gambling at its finest at Springbok Casino!  With a bit of luck, you'll bank big bags of cash… and who knows, perhaps even enough to build your own personal bunker with satellite internet to keep your online gambling sessions powered - and yourself safe from any future seismic events!