From the Golden Age of Arcade Video Games to Online Slots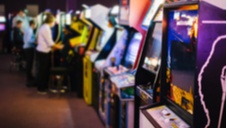 If you were a youngling during the late 70s and early 80s, we bet you were part of gaming history, which is now known as 'The Golden Age of Arcade Video Games'.  Arcade video games took the world by storm long before the dawn of online slots - and long after the invention of the first one-armed bandit.  Read more about the history of arcade games – and the cross-over to online slots available at Springbok Casino.
The First Machine-Based Games 
We need to track back in history to pay homage to the original trendsetters first.  We'll start in 1891, when Sittman and Pitt developed a poker-based slot that held 50 cards in 5 drums.  Although the game originated in Brooklyn, New York, it took off like a wildfire and soon every bar in the city had at least one. 
Some would say that this was the true precursor to online slots – and slots found on land-based casino floors – as it worked on the same premise; insert a coin (which was a nicked back then), pull the lever, and hope for a good poker hand that will grant you a prize.  Now, with no actual way to pay out real money, the establishments that housed these gambling machines would offer things such as free cigars and drinks – dependant on the winning hand.
Move forward to the 1930s – and the Pinball machine came into play.  In 1931, the first coin-operated pinball game named Baffle Ball was invented by David Gotllieb.  For just a penny, the machine would dispense up to 7 balls.  The machine was there for pure entertainment as it didn't deliver cash wins like the online slots of today, yet it was seen as gambling as it "robbed school children of their hard earned nickels and dimes" – and thus the game was banned in New York from the 1940s until 1976.
Whichever way you look at it, Pinball was the true precursor to what is now known as the golden age of arcade gaming, which in turn sparked the beginning of online slots gambling era!
From Local Corner Shops to Massive Game Arcades
Spacewar! was one of the earliest video games, released in 1962 and invented by American computer scientist Steve Russell.  Yet in 1978, Space Invaders, developed by Taito, became the first blockbuster video game - and this marked the start of the golden age.  There is some discrepancy surrounding how long the era lasted, but most agree that it was until 1986. 
With online slots a future concept that no one could have ever dreamed of at the time, new arcade games were rolled out and turned into smash hits over the coming years.  After Space Invaders, 1979 added Galaxian and Asteroids to the arcade game collection, with the industry booming even further in 1980 with Pac-Man, Missile Command, Berzerk, Defender and more.
Initially only available at local café's and diners, massive game arcades went on to be established on every continent and in every city - and it became choice entertainment for millions of adults and children alike.  You would either need real money coins to operate the games, or the gaming arcade would issue you with special coins that you purchase. 
Prizes varied and often came in the form of tickets that you could exchange for a novelty items or toys, or you would simply play to see your name at the top of the leader board – something that online slots and places like Springbok Casino still offer today!
The Cross-Over to Internet Gaming
Yes, we know we missed a step – as console gaming was (and still is) a thing too…  In fact, the Magnavox Odyssey was released in 1972 as the first commercial home video game console.  Even online games date back to the 1970s – but they were confined to internal networks before being connected to the first wide-area packet-switching network, known as the ARPANet (Advanced Research Projects Agency Network) in 1980.
The ARPANet was originally funded by the U.S. Department of Defence in the late 1960s and was the first workable internet prototype that allowed multiple computers to link on a single network.  It wasn't until April 1993 that the World Wide Web was made available to the general public – and the internet, and online slots gaming as we know it today, became possible.
From basic discrete circuitry games like Pong (1972) developed by Atari, to the central processing units that powered more complex games like Space Invaders, the 1990s and 2000s birthed technology that has taken interactive gaming to another level.
Online Slots with 3D Graphics, Interactive Storylines, Bonus Rounds & More 
Technology has progressed more over the past decade or two than it has over the past century and resultantly, online slots too have evolved dramatically over a relatively short period of time.  If you head over to Springbok Casino and take a peek at our slots menu, you'll know exactly what we mean.
What will you find once you sign up and log into your Springbok Casino account?  Well, along with table games, video poker, specialty games like keno and bingo, scratch cards, board games and roulette – you'll find a feast of online slots to behold.  Games are designed to perfection with high definition 3D graphics, spectacular sound effects and interactive and engaging storylines.
There are 3 reel, 5 reel and 6 reel slots with single and multiple payline and payout permutations.  You'll find slots with bonus rounds, floating symbols – and progressive jackpots that could turn your fortunes instantly.  What you'll also find at Springbok Casino is a range of bonuses and promotions that are aimed directly at slots players… and they mostly come in the form of free spins.
Just as technology is ever-evolving, so are we, and in addition to our existing game portfolio you'll find brand new slot releases every month.  Keeping abreast technological advances, our RealTime Gaming developed online slots keep getting better...  Don't miss out!  Sign up now and play the latest RTG online slots at Springbok Casino.