Can Video Games Become the New Casino Games?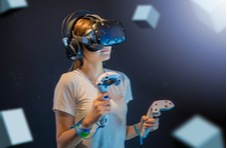 Loot boxes, rewards systems and unlocking mechanisms are already adding an element of gambling to video games.  Now with an entire generation of players who are more familiar with Candy Crush than blackjack or roulette, are video games the new casino games… and what will the games of the future look like at Springbok Casino?
Too One-Dimensional and Retro? 
Millennials who have cut their teeth on epics like World of Warcraft, Halo and Angry Birds obviously have heightened expectations when it comes to gaming online.  Good old-fashioned arcade games and classic slots have lost their allure with the younger set, primarily because of the one-dimensional game play and retro design.  
Newer, latest edition video slots - like the ones you can play right now at Springbok Casino - have attempted to breach the divide by delivering a more interactive gambling experience… and that is where the game developers will have to up their game.
The question is, will casino games develop to a point where they deliver a sophisticated gaming experience featuring open worlds, avatars, tasks and multiple gaming levels?  Or will video games effectively morph into gambling games by creating a more monetised experience online?
The Case for Casino Games 
In the last few years, online casino games have become less utilitarian and more creative.  Slots in particular have taken on a distinct air of entertainment.  Characters are animated and integrated into game-play and interactive bonus games have added a second dimension to the action… but is it enough to challenge the cinematic quality of video games?  The short answer is no.  What is required is innovation and out of the box thinking.
Conjuring Next Gen Gambling Games  
We have already got awesome technologies like augmented reality (AR), facial recognition technology and deep fake, all of which can be re-imagined in the context of casino games.  How about Texas Holdem poker that features player avatars like Wild Bill Hickok, Doc Holliday, Wyatt Earp and Bat Masterson - seasoned gamblers and gunslingers one and all.  There could even be a gunfight or some other kind of Wild West themed activity staged between game rounds to maximise player engagement!
If poker isn't your game, maybe baccarat with Daniel Craig as James Bond and a notorious Bond villain - Blofeld, Scaramanga or the inimitable Major Dexter Smythe - as the Banker and Player respectively, will do the trick?  Video poker can become more thematic and include quests, tasks or goals for players to complete after each win, rather than the conventional gamble or double or nothing feature. 
Story-telling that ties into the avatars and gaming worlds featured in casino games can become integral to the entire real money gambling experience online… and with a bit of innovation, and the genius of our software developers, this might very well be on the cards for the future!
Check Out RTG's 'Single Shooter'!
As you can see, it doesn't take rocket science to conjure up something really special.  With a bit of creativity and imagination it is possible to transform the traditional gambling experience without losing the essence of the games themselves. 
If you want proof that ordinary casino games have the potential to be something really special, take a look at Fish Catch.  It is an interactive 'single-shooter' by Real Time Gaming (RTG) that is listed under the Speciality tab right here at Springbok Casino!
Multi-Levels and In-Game Rewards
That is the creative side of things - now to the in-game rewards…  Games supplied by online casinos can easily be re-designed to offer a range of game levels.  As with video games, levels can only be accessed by earning and accumulating points based on game results.  The further you progress through the levels, the higher the stakes and corresponding payout odds can become.  That way, casinos can incentivise players to gamble more frequently - but without losing the edge. 
Billion-Dollar Microtransactions Tailor-Made for Casinos
Rewards do not have to be limited to levels, odds and winnings.  There is nothing stopping developers from adding the likes of loot boxes or treasure chests into play.  Instead of players paying for the randomised items with in-game currency, casinos can cash-in on a second stream of revenue and reward players with branded items from sponsors in exchange for in-game ads. 
According to recent predictions, microtransactions involving loot boxes are tipped to reach around $50bn by 2022 - and who wouldn't want a chunk of that?
The Case for Video Games
Video games are highly sophisticated interactive gaming experiences.  They are markedly similar to premium quality TV series and feature films - but instead of chilling out and watching as the action unfolds, you are the action.  
As far as creativity, innovation and technique goes, video games are, at this point, mostly still yards ahead of present-day casino games.  That makes them a front runner in our debate, but with one major exception - there is no obvious correlation between video games and classic games like roulette, blackjack, poker or craps that offer a real money thrill.  
Real Money Changes Hands  
How can video games make the great leap to compete with gambling games that actually pay out winnings?  By charging real money for in-game resources - like the life counts in Super Mario Bros, or to access new levels, special worlds or mini-games. 
In return players can win real money by achieving goals, completing tasks and levelling up.  In other words, rewards systems make way for cash incentives that are offset by players making in-game purchases.  Will such an element ever be integrated into video gaming?  Only time will tell…
Conventional Gambling as Part of the Storyline
What about the casino game element?  Playing roulette, poker, blackjack or Jacks of Better can easily be integrated into the storyline of just about any video game - from Diablo II and Cyberpunk 2077 to Animal Crossing: New Horizons! 
With that in mind, what will casino games look like in the next five to ten years?  At Springbok Casino we are hedging our bets by predicting that the future casino games will have elements of both gaming genres - and when that happens, gambling itself will have the edge!