Starlink vs Project Kuiper - Vanity Projects or Super-Quick Internet Access for All?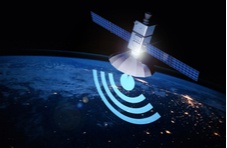 You have heard of the battle of the bands… but how about the battle of the mega-billionaires?  When it comes to outer space, there are only two contenders – Elon Musk and Jeff Bezos.  These super-wealthy visionaries are involved in close combat, but it's not rockets or lunar landings that are the prize…
So, what are they contending for?  That would be a slice of the multi-billion-dollar internet connectivity market!  If they get it right, you'll be able to play online casino games at the speed of light – and from literally anywhere.
Who is Rebuilding the Internet in Space?
Satellites may not be novel, or even that interesting, but when someone decides to rebuild the internet in space then that is pretty sensational – even when you are used to the high-tech online casino games at Springbok Casino!  
What Musk and his billionaire BFF Bezos are busy doing is creating space-bound internet connectivity with the hopes of ultimately delivering speeds at twice the speed of fibre to the masses, even if you reside in some desolate place. 
Starlink: Satellite Megaconstellations
Musk is busy deploying a megaconstellation of satellites into space.  At last count there were around 900 Starlink satellites whizzing around the globe like an iridescent string of pearls.  These spacecrafts are designed to orbit around the Earth, transmitting data to transceivers located right across the planet… even in hard to reach places that have never been connected before. 
Just think, in the not too distant future people in remote areas of southern Africa will be able to play real money online casino games at Springbok Casino – how awesome is that?
Heavy-Duty Hardware from SpaceX 
How does Musk get his fleet of satellites into space?  Each craft weighs between 227 kg and 260 kg and is roughly the size of a dining room table, which in satellite speak is large.  That is where the genius behind SpaceX is one step ahead of his closest rival. 
The boytjie from Pretoria uses his heavy-duty, heavy-lift SpaceX Falcon 9 Rocket as the lift-and-launch pad for multiple Starlink satellites at a time. 
Low Earth Orbit 
What is extraordinary is the fact that the satellites initially orbit at a much lower altitude of around 230 km above the Earth's surface.  They then use thruster firings to propel them to their optimum low Earth orbit (LEO) over a period of three to four months.
Once they have reached an altitude of 550 km, they are fully operational and capable of delivering an on-station internet service… like beaming Springbok online casino games to awe-struck Africans!
Zero Space Junk
What happens to the myriad components that make up the Starlink megaconstellation when they have reached their sell-by date?  Will they join the growing blight of space junk that is rapidly filling the space directly above Earth?  
That is yet another reason why a low Earth orbit was selected for the Starlink internet endeavour.  As the satellites are eventually decommissioned, the atmospheric drag at that altitude is powerful enough to pull the debris back down to Earth.  
With Musk in the driving seat, the spectacular constellation of Starlink satellites – which by the way is expected to contain as many as 32,000 individual craft – will never become space pollutants when they die!
When will we be able to play the best online casino games via the Starlink Network?  According to the latest reports, Starlink is already in beta for users in remote areas of Canada and the US.  Quite when the network coverage will extend to Africa and benefit those enjoying online casino games at Springbok Casino is anyone's guess!
Project Kuiper: Small in Scale 
How does the Jeff Bezos funded Project Kuiper stack up against Starlink?  In truth, it is still very much in the planning stage.  From a practical standpoint, the Bezos initiative is expected to consist of just 3,236 satellites – that is approximately one-tenth the size and scale of Starlink.  
The satellites will also be deployed at three different altitudes in the lower Earth orbit; 590 km, 609 km and 629 km.  What that theoretically means is as much as 95% of the world's population located between 56 degrees north to 56 degrees south will be covered.  
Bearing that in mind, what we can say for sure is Santa and his little helpers will have a hard time playing online casino games at Springbok Casino if they rely on Project Kuiper for connectivity!
Blue Horizon Heavy-Lift Rocket
How far advanced is the Bezos project?  Although there is a veil of secrecy around the entire endeavour, at this point it doesn't appear as though any satellites have actually been built.  
What we do know is Blue Horizon, the Jeff Bezos owned space company, is hard at work developing a heavy-lift rocket called the New Glenn.  Once that is operational, we may see the beginnings – or should we say the finishing touches – of the Amazon network. 
Envisaged to be Part of the Amazon Network 
Why do we say finishing touches?  Well, besides developing the Blue Horizon rocket and planning a fleet of satellites, Amazon has already built multiple Amazon Web Services (AWS) ground stations.  
What is the significance of the ground stations?  They are capable of connecting the satellites directly with the rest of the company's web service infrastructure – and that is where Bezos may just be able to pull off a last-minute coup!
Vanity Projects? Possibly!
All things considered; it may be a close call as to which billionaire will eventually corner the satellite internet service sector.  Having said that, is building satellite constellations a vanity project?  Satellite broadband may eventually be faster than fibre but it is really only for customers who have no other form of connectivity.  
The question is… will the $10 billion each of the contenders has invested in their respective projects pay off over the short-term?  The quick answer is no… so why do it in the first place?  Probably because they can – and there are plenty of previously disconnected people out there who are sure to be delighted with their efforts! 
Got Reliable Internet Connectivity? Sign Up at Springbok Casino NOW!
Thankfully, most South Africans don't have to worry about internet connectivity as our country is largely covered.  We also don't have to give too much thought as to how and where we play online casino games as Springbok Casino is rated one of the best online casinos – and it's the natural choice for South Africans! 
It's not only the vast selection of online casino games that has a firm fan base – it is the low playthrough bonuses that are legendary across the land!  Furthermore, Springbok Casino also welcomes players from across southern Africa.  If you've got reliable internet – via ADSL, fibre or mobile data – you've got instant access to the number one African online casino. 
If you happen to be somewhere out in the bush where regular internet is non-existent, who knows… the 'Better than Nothing Beta' Starlink network might connect you in the not too distant future – and playing online casino games at Springbok Casino may just be on the cards!