On a Wing and a Prayer - Awesome Migrations of Flight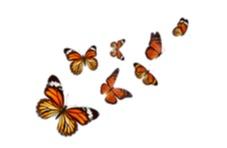 Would you travel 90 000 km for a bit of summer sunshine?  Maybe not, especially if you had to rely on your own two feet to get from A to B.  In the animal world, annual migrations are arduous journeys at the best of times.  When it comes to the real distance travellers, it's more a case of 'on a wing and a prayer' than reclining the seat and settling in with the mobile casino South Africa as company!
The Monarch Butterfly Migration… Oh My! 
What makes a butterfly with a 10 cm wingspan and a total body weight of 560 mg fly more than 4 800 km?  In the case of the Monarch Butterfly, it is the insulated shelter of the Mexican forests. 
Each year, millions of the little critters undertake what can only be called an incredible journey.  The butterflies' quest for a warmer wintering location starts in Canada and the northern USA and ends in the verdant highlands of central Mexico. 
What is even more remarkable is the obstacles they have to negotiate on route range from the Rocky Mountains and Great Lakes to the Gulf of Mexico.  Factor in an average flight speed of 9 km per hour and it is little wonder it takes five to six generations of Monarchs to complete the tri-country round trip. 
Navigation by the Sun
How do these tiny insects know where they are going?  The scientists tell us that they navigate according to their relative position to the sun.  They are also apparently adept at using the thermals and air currents to soar over obstacles and rest on the wing.
When the butterflies reach their wintering destination, they roost by the millions high up on the sacred oyamel firs, trees that have canopies that so large they create their own microclimates.  Twenty years ago, there were so many butterflies sandwiched into one small area of Mexico, the pods could be seen from outer space.  Today the numbers – along with the unique habitat – have dwindled and in the case of the butterflies, to just a few million.
Get an 'On the Wing' Mega-Win at Springbok Casino South Africa 
At Springbok Casino we don't have sacred trees or our own ecosystem but we do have a few butterflies that can boost your betting account sky high.  How's that?  When you load Enchanted Garden slot onto your tablet or phone, there is a gorgeous pastel butterfly as a standard gaming symbol. 
Hit a five-symbol butterfly combination with the wild in play and you can win 2,000 x the payline bet right now at our star rated mobile casino South Africa!
An Epic Cross-Continental Journey for the Painted Lady
That is the amazing annual migration of the Monarch Butterfly, now how about the painted lady?  This gorgeous butterfly undertakes an epic round trip of more than 14 500 km each year – that is the equivalent distance of South Africa to Siberia as the crow flies. 
Crossing the Dead Zone Without a Flap
Millions upon millions of the creatures fly at high altitude from their breeding grounds in southern Europe all the way to Africa.  As with the Monarch migration, the cross-continental journey takes several generations to complete.
Here's a mind bender.  These fragile orange and brown beauties have to cross the Sahara Desert to reach their summer destination – and that is not an easy feat for animals of any size or shape.  The 9.2 million square kilometre dead zone has mid-summer temperatures that can reach up to 47 degrees Celsius!
A High Variance Slot Featuring Critters Aplenty
Rather than battling high temperatures and desert-like conditions, you can play butterfly themed high variance slots at our mobile casino South Africa.  Tap the slots tab, scroll down to Small Fortune and you will find that the pretty purple butterfly pays up to 250 x the line bet. 
As with most RTG slots you can play right here at Springbok Casino, it is not only the standard payouts that can raise the body temperature to boiling point – it is the randomly activated progressive jackpots and free games features that really can count.
It's Our 'Tern' to Shine – The Incredible Journey of the Arctic Tern
When it comes to annual migrations, the Arctic Tern is the marathon runner.  This medium sized marine bird breeds in the Arctic and winters in the Antarctic!  That is a meandering annual journey of between 70 900 km and 90 000 km depending upon where they nest.
What is even more remarkable is the fact that Arctic Terns can live up to 30 years.  Tally up the total distance travelled over a life time and it is an incredible 2.4 million km – all on an average wingspan of 70 cm.  How far is 2.4 million km?  It is the equivalent of 60 circumnavigations of the world or three round trips to the Moon! 
How the Mobile Casino South Africa is a Migratory Tool
As humans, we don't have to migrate to breed, feed or find more temperate seasonal conditions.  What's more, we don't have to rely on our wings – or legs – to get from one destination to another.  We are smart enough to have developed planes, trains, hyperloops and self-driving electric vehicles. 
We have also created innovative tools to make our lives easier and more enjoyable – and our mobile casino South Africa achieves exactly that.  Why not sign at Springbok Casino and load our ever-ready mobile version onto your iOS, Android, Blackberry or Windows device?  It's got all the cool features of the instant play casino but is intentionally geared up for great gambling on the move! 
If you're off on your annual migration to the beach, bush or international ski resort, you will find your device, well-stocked with data and the best mobile casino South Africa, is all you will ever need as company… and there is always the chance of hitting a big paying progressive jackpot en route at Springbok Casino!