Online Casino Games are High-Tech – But Have you Heard About the Sky Hotel?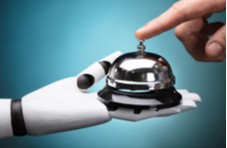 Situated at 150 West Street in the heart of Sandton, Johannesburg, lies the Sky Hotel.  They might not offer online casino games, but they do employ the only Michelin Star chef in the country, Executive Chef, Tony Kocke.  That's impressive in its own right – but it is their non-human staff that is making international headlines!
Meet the Sky Hotel Robo-Concierge
The three AI employees, Micah, Lexi and Ariel, are there to assist with a range of duties, starting off with welcoming guests to the hotel and telling guests that they are there to answer questions.  They furthermore assist with room service and will promptly deliver your order, to your door!
If you've had your share of playing online casino games at Springbok Casino, no problem, as Micah, Lexi and Ariel are also there for your entertainment.  From flexing their robo-muscles to posing for selfies with guests, there are endless ways to engage these AI employees for fun.
If you need general information, such as the location of the swimming pool, guess who has all the answers – Micah, Lexi and Ariel do!
Paul Kelly, the Managing Director of the Sky Hotel told MultiMedia Live that he's "always wanted to test the boundaries in the hotel industry and suddenly this thing became even bigger than I thought it was."
A Mobile Interactive Experience, Starting at Check-In
Springbok Casino offers world class entertainment with hundreds of online casino games on your mobile phone or tablet.  Our human support staff are available to assist 24/7 – but other than that, it's man against machine.  In the same way, Sky Hotel allows guests to check-in through the Sky Hotel mobile app, with the assistance of the robots – and no human interaction is required.
Your mobile device will also be activated to be used as your key card, replacing the need for any additional means to gain access to your hotel room or suite.  Simply scan your phone on the smart keypads on the doors – and voila! 
The Sky Hotel mobile app additionally replaces traditional telephones usually found in hotels, allowing guests to make phone calls on their mobile phones via the app to reception, housekeeping, maintenance etc.  If you want to play online casino games and your Wi-Fi isn't working, no problem, use the in-app phone and dial down to reception!
Automatic Docking to Recharge 
Micah, Lexi and Ariel are battery powered – which is great for a country that experiences intermittent power interruptions.  Their batteries last for 6 hours, which means that the AI staff work on a rotation schedule, allowing them time to recharge – yes, even robots need some time off!
As an example, Micah would start her shift at 6am and end her shift at 10am – at which time she'll take herself to the docking station to recharge while Lexi and Ariel hold the fort.  As and when needed, they each automatically take a turn to recharge.
Don't Worry, Humans are Still Around!
Even though you play online casino games at Springbok Casino with no human interaction, you know that our earthling staff are always around to assist with any query.  In the same way, Sky Hotel still employs human staff that are available to assist around the clock.
"It is important to know that these robots can never ever replace the mine host mentality of the hospitality industry," says Paul Kelly.  So, if the idea of only having robots tending to your every beck and call freaks you out, don't despair.  Some good old human interaction is always available!
Can AI Robots Ultimately Replace People?
We've seen the futuristic sci-fi flicks with flying cars and robots serving as police and military – but how realistic is this idea?  We bet 'highly improbable'.  As high-tech and AI-powered as things can get, humans will always be needed as the driving force behind the technology.
Along with that, there is something that humans can offer that AI cannot (yet?) fully express – and that is human emotion.  This element will always set us apart from Artificial Intelligence, no matter how close they get to perfecting imitating emotional response.
For now, there are major limitations on what AI can be used for.  Yes, AI in online casino games can be a game changer and, in some instances, certain consumer services can run more efficiently if robots were at your service… but for the most part, humans would always be needed to oversee smooth operations.
Play Online Casino Games & Chat to Our Human Support Team, 24/7!
Many companies have intuitive chat support that utilises AI to answer FAQs – but more often than not it gets to a point where you need to speak to an actual person.  At Springbok Casino, our customer support team is available 24/7, 365 to assist with any query, be it to banking, bonuses or deposit related.
Sign up at Springbok Casino, claim your welcome bonus and enjoy access to hundreds of RealTime Gaming powered online casino games.  If high-tech gaming is your thing, you'll be suitably satisfied as we offer everything from multi-hand blackjack and video poker to online slots with interactive bonus rounds that can give AI a run for its money!