4 Best Remote Travel Destinations for the Adventurous Type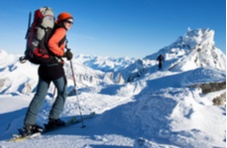 Are you more of an adventurer than a tourist?  Are secluded destinations your thing?  If you have answered yes on both accounts, here are three far flung travel destinations to put on your bucket list.  Thanks to data and Wi-Fi, you can continue playing online slots at Springbok Casino en route to paradise!
Why Isolated Destinations are Harder to Find
Isolated and remote travel destinations are becoming harder to find.  Trains, boats and aeroplanes have taken the slog out of travelling.  Urban creep has destroyed once pristine wilderness areas at an alarming rate.  Rituals, traditions and culture are under the cosh of the social media revolution.
Hiking through the jungle to Machu Pichu, sailing down the Nile on a dhow or clambering to the top of Mount Everest is no longer the privilege of a few.  These days, there are commercial operators who are prepared to take you anywhere, from Antarctic to the moon!
Technology has Scuppered the Concept of a Real Break
The era of no-news holidays is long past.  Airmail letters and reverse charge telephone calls – in places that did have public phones – have been replaced by free WhatsApp calls and chats on devices that can be slipped into your pocket.
Technology has made us all instantly contactable, wherever we happen to be in the world.  Now, with a connected device and a dash of data it is possible to buy shares, change airline tickets and even cash out your winnings from your latest online slots session in the middle of the Gobi Desert or Tyrrhenian Sea.  To the solitary adventurers out there, more's the pity!
Top Holiday Destinations off the Beaten Track
Having said all that, there are still some remote and beautiful places located far off the beaten track.  If you have an adventurous spirit and a bank account loaded with cash, here is our selection of post-pandemic holiday destinations where social distancing is built-in:
1.  Mnemba Island in the Zanzibar Archipelago
With a total circumference of just 1.5 km, Mnemba Island is one of the smallest islands in the Zanzibar Archipelago.  It is a privately owned Indian Ocean holiday destination that caters for a maximum of 24 guests. Rustic beach bungalows are located some way apart to ensure guests have exclusive use of a stretch of soft sandy beach.
Mnemba Island may be all luxury but it is a hauntingly beautiful place too.  The coastline is fringed by coral reefs that are heaven to snorkellers and divers alike.  Al fresco dining on the beach consists of fresh lobster, prawns, crab and fruit brought in daily by local outriggers.
It is the kind of place that screams castaway… but has all the creature comforts available on request!  After a day of diving the reef and sunbathing on your very own piece of beach, you can open Springbok Casino in your mobile browser and chill out with an ice cold caipirinha – and the best RTG online slots!
2.  Gates of the Arctic National Park in Northern Alaska
If you are looking for remote, the Gates of the Arctic National Park in northern Alaska is about as remote as you can get.  It is a vast wilderness area, equivalent in size to Switzerland, that is located entirely above the Arctic Circle.
Besides grizzly bears, polar bears, grey wolves, caribou, moose and wolverine, there is nothing much in terms of habitation apart from a handful of residents who live in the only village located within the park.
What makes this place so isolated is the fact that the only way in is on foot or by charter plane.  The park has no facilities whatsoever, not even camping sites.  When you visit the Gates of the Arctic, you must have the experience and wherewithal to fend for yourself.
What the park does have in abundance is spectacular scenery!  From the Brooks mountain range to the boreal forests, glaciated valleys and the coursing rivers fed by melting snow.  Gates of the Arctic is a prime destination for skiing, mushing, river rafting and hiking but the only trails are those made by the migrating Caribou!
The sparsely populated wilderness zone is just the place to get lost in… but don't expect to find the internet connectivity required to fire up the Springbok Casino online slots on your phone.  It's a total dead zone.
3.  Filicudi Island Near Sicily
Filicudi is an isolated volcanic island on the Aeolian island chain.  It has three quaint fishing villages that are linked by the only paved round on the island.  Despite a total land area of just 9.5 square kilometres, much of the island has been proclaimed a natural reserve that is dominated by seven extinct volcanos.
Besides the incredible sea views and warm aquamarine waters, you can wander along the mule tracks in search of trattoria serving locally produced food and wine – capers, figs, olives, vegetables, sea food and the finest Aeolian wine!
Explore the island and you will discover enchanting coves, soaring cliffs that tumble into the Tyrrhenian sea, and secluded pebble stone beaches that you don't have to share with anything more than a clutch of sea turtles – or a pod of inquisitive dolphins.  It really is a slice of paradise!
The only way to reach the island is by ferry or hydrofoil from Palermo, Naples or Milazzo.  With just 300 permanent residents and a handful of tourists, Filicudi is a magical getaway and one of the best kept secrets of southern Italy.
What's more, Wi-Fi access is ubiquitous across the entire island, so you can settle in for extra-long online slots sessions at Springbok Casino as the sun kisses the sea!
4.  Springbok Casino in Cyberspace
Our last remote destination is a designed for the armchair adventurer.  It doesn't require any travel – but is packed with multi-layered action and excitement!  We are of course referring to Springbok Casino, the number one online casino in cyberspace.
Exploring the gaming landscape is really easy.  All you have to do is register an account, claim the first of three welcome bonuses and hit the online slots tab… and you'll have a world of fun available at your fingertips!