How to Manage Your Digital Footprint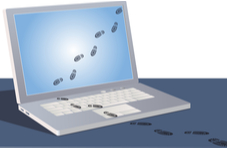 Any online activity, from claiming Springbok Casino no deposit codes to transferring funds on a mobile banking app, leaves a digital impression.  When coupled together, they form a digital footprint… which can be far more revealing than you would like.
How do you protect your digital footprint?  By adopting a careful approach to how you use the internet and which apps you install on your tablet or phone.  It is being cautious about what you share on social media and who you share it with.
What is a digital footprint?
You can't manage your online security optimally without having a clear understanding of what a digital footprint is.  In the simplest terms, a digital footprint is a tranche of information you leave online – either knowingly or unknowingly.  It is a data trail informing where you have been in the digital environment… and where you are heading.
When you shop online, post on social media, open a credit card account or subscribe to an online news service or app, you effectively enlarge your digital footprint.  Similarly, every site you visit uses cookies – with or without your permission.
What are Cookies?
Cookies are text files designed to identify your PC or phone.  They are a type of tracking software virtually all websites and apps installed on your device, usually with your permission.  In some instances, you can only explore the contents of the site if you agree to the use of the cookies.
The files track how often you access the site and which pages you visit.  This information is then used to compile a profile of every person who visits the site.  It is also used to direct targeted advertising and marketing to your device – whether you like it or not!
Some sites allow you to agree to select/deselect the cookies you are prepared to agree to – but you'll still find that there are certain cookies that are standard and you have to agree to them to view the content.  Whether you like it or not.
Site Security is Key to Enhanced Digital Footprint Management
What you have to bear in mind is not all websites or apps have your best interests in mind.  Some are designed to gather as much sensitive information as possible – personal details, banking information, location and so on. The accumulated data is then sold to outside parties and used for a wide range of purposes – some legal, others not so much.
In a perfect world, all websites and apps would be secure, reputable and protective of our privacy – as is the case with our online casino and our Springbok Casino no deposit codes.  Yet, as you are no doubt aware, we do not live in a perfect world.  Far from it.  The obvious question is – how do you know which sites are A-OK, and which are best avoided?
How to Identify Secure Websites
The biggest clue can be found in the web address.  Looking to cash in on Springbok Casino no deposit bonus codes?  Well, let's take Springbok Casino as an example.  Take a look at the URL displayed at the top of this page.  There is an icon of a closed padlock, followed by HTTPS.  The padlock is self-explanatory and, in this scenario, the 'S' denotes security.
What that of course means is any information entered on our site is secure and protected.  As a consequence, you can sign up, claim our legendary Springbok Casino no deposit codes and deposit funds in your account in the knowledge your digital footprint cannot be breached or compromised in any way.
Clear Cookies and Browsing History… Frequently
If you are serious about reducing your digital footprint, we recommend clearing your cookies at least once a week, including your browser history.  That, together with only using the sites you know are secure, is a good start.  Here are a few other tips to enable optimal digital footprint management…
Limit Social Media Shares
Social media can be a convenient way of connecting with family and friends but is also fraught with danger of digital exploitation.  If you do post regularly, ensure you are not sharing on a public platform.  Avoid posting sensitive information about your location – and never ever share future holiday plans online!
Ideally you want to limit activity on social media platforms, and avoid logging into online sites like Twitter, Instagram or Facebook via mobile apps.  Social media sites may profess to be super-secure and concerned with privacy issues… but in reality, they are not.
Delete Unused Accounts and Apps
Previous studies have shown how we are all online account and app hoarders.  The statistics of how many sites people register to – providing personal particulars and passwords – is shocking.  It has become so routine that we don't hesitate to complete a quick online registration to make a once off purchase or download an app.
Make a point of deleting online accounts you are no longer using.  Many of us sign up for newsletters, ecommerce accounts, share trading platforms, fitness tracking apps and dating sites, use them once and never again.  Be sure to uninstall obsolete or unused apps too or you may find your digital assets – passwords, log-in details, banking information – could be compromised.
Don't Submit Data Online Unnecessarily
It is worth emphasising everything you do online expands your digital footprint – and that includes reviewing products and services, posting comments on news sites, posting to a public Facebook group and trading forex, shares or cryptocurrencies on a mobile app or online trading platform
You may not be able to avoid creating a digital footprint – but you can be more cognisant of the information you put out there.  In short, if you do not need to open an account or subscribe to something… don't.
Unsubscribe to Newsletters and OPT OUT Whenever You Can
Our newsletters will often share special Springbok Casino no deposit bonus codes and other information that will be beneficial to your casino account balance.  Yet, as with us, all newsletters you receive will have an "unsubscribe" button – usually in small text on the email footer.
If you're finding your inbox flooded with unwanted newsletters and other marketing material though, unsubscribe – and be sure you select the 'opt out of future emails' option.  This will also give you a clue that you might have an online account with the company, and you can either delete your account – or contact them to have it removed.
At the same token, you might receive marketing SMSs.  There too you are always given the option to OPT OUT by following their instructions.  Contact the company and request to be removed from their database.  In South Africa, they have to adhere, particularly with the POPI Act (POPIA) that is now in full swing.
How Does Springbok Casino Protect Your Digital Footprint?
Our online casino is renowned for many things, not least of which are our Real Time Gaming (RTG) developed online casino games, 24/7 customer support services, secure banking methods and online casino bonuses, billed by the Springbok Casino no deposit bonus codes.
What might be slightly less well known – well, only if you haven't had dealings with us yet – is our commitment to player privacy.  We make every effort to secure and protect your digital assets and keep your personal information under wraps.
We can assure you none of your personal information is shared with any other organisations or third parties.  You are, as it were, an undercover real money gamer enjoying free Springbok Casino no deposit bonus codes, operating in a secure space… digital footprint and all!