4 High Elevation Viewing Platforms for the Fearless Traveller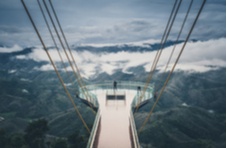 What do online casino games and high elevation viewing platforms have in common?  Besides sharing adrenalin-inducing properties, not much.  If you are not afraid of great heights, join us as we explore incredible tourist-oriented engineering feats, one of which is located in South Africa…
Do You Want an Elevated Gaming UX? Login and Play Springbok Casino Games!
Now, we all know that Springbok Casino is highly rated.  We are also well aware that our Real Time Gaming (RTG) developed online casino games provide an elevated gaming experience.  When it comes to height in metres, height above sea level, and the estimated height of a sheer drop… we really can't compete at all.
The point is, these are the very yardsticks used to define the highest ever skywalk, suspension bridge or vertical lift.  It is the jaw dropping elevation above the ground which strikes fear in our hearts.  Add a few random elements like speed, visual transparency and suspension into thin air and fear quickly turns to terror, panic and 'OMG what now'!
Let us step out into the void on the first of our high elevation viewing platforms, the infinitely scary…
Coiling Dragon Cliff Skywalk in Zhangjiajie South China
Perched 1,403 metres above the ground and coiling around a sheer cliff face, is the now fabled glass skywalk in China's Zhangjiajie Forest National Park.  The walkway, which is 100 metres long, has a glass bottom and glass sides – and is so not for the faint-hearted.
To put things in perspective, the highest point on Table Mountain is 1,086 metres – and that, my friends, is a significant drop.  What is more, the skywalk is one of a series of death-defying tourist attractions constructed in the park.
Once you have tip-toed ever so slowly along the back of the glass dragon, snapping selfies to keep the vertigo in check, you can head for the next big adventure.  This comprises a 430-metre-long glass suspension bridge swaying 180 metres up, which is the equivalent height of the 47-floor Grand Tower in Frankfurt!
We do not have a glass skywalk or a suspension bridge at Springbok Casino.  What we do have is real money online casino games featuring dragons.  Why not play Dragon Orb, Vucanglong, Fire Dragon and Three Kingdom Wars online slots instead of risking life and limb?  That way, you can conserve your fear for the horror flicks!
Mirador de Abronte on the Island of La Gomera in Spain
The glass viewing deck at Abronte on the Spanish island of La Gomera is suspended over a 200-metre vertical drop.  It is an iconic tourist landmark featuring awesome views of the village of Agulo tucked away down below, with the island of Tenerife visible in the far distance.
The overhang is supported by a 60 cm thick slab of concrete.  The sides consist of panels of 12 mm thick tempered glass, laminated with a solar control coating to regulate the temperature and limit the transmission of sunlight to a not-so-blinding 42%.
The solid glass floor is constructed from four layered components of 10 mm thick thermostat glass, weighing a hefty 100 kg per square metre – all of which is suspended in thin air!
If it is suspense that you're after, why not login to Springbok Casino and load our progressive jackpot slots onto your PC or phone?  Who knows…  You could be the next beneficiary of a sweet, network funded cash prize!
Graskop Gorge Lift in Mpumalanga South Africa
A stomach-churning drop of 51 metres may not seem much of a challenge, but when you are travelling at one metre per second, it sure is.  That is the kind of adventure awaiting intrepid travellers at the Graskop Gorge, where the Otis-manufactured viewing lift is the easy way up and down.
Apart from the rush of plummeting at speed to the forest floor below, the Graskop Gorge life offers unparalleled views of the Motisi Falls and the surrounding Afromontane Forest.
Around 240 tons of concrete was poured into the foundations and 88 tons of steel used in the construction of the lift shaft.  The lift and viewing area are linked to a 52-metre-long suspension bridge, spanning the north and south sides of the gorge, and elevated a heady 70 metres above the ground.
Rumour has it a cantilevered glass skywalk, which juts 12 metres off the cliff into fresh air, is planned for the Blyde River Canyon.  Now that is a big thumbs up to local engineering!  It is not only Springbok Casino and our HTML5 casino games turning heads.  It is our ability to keep abreast with the rest of the world as far as technology and innovation goes.
The Stairway to Nothingness at the Dachstein Glacier in Austria
Extending out from a viewing site, 250 metres above the Dachstein Glacier, are 14 suspended stairs ending in a glass platform.  What is remarkable about the structure is it rests solely on steel cantilevers, attached to a sheer cliff.
This is the now legendary Stairway to Nothingness, an incredible aerial attraction providing sweeping views of the Alps and the glacier – and UNESCO World Heritage Site far below.  The suspended structure is connected to a 100-metre-long sky bridge with a 396-metre unimpeded drop to the bottom – and that is more than the height of the Empire State Building in New York!
Do you prefer listening to Led Zeppelin's 'Stairway to Heaven' while playing Springbok casino games, or does a stroll on the Stairway to Nothingness pique your interest more?  How about doing both, simultaneously!
The Springbok Brand & Our Mobile Casino Games
Our online casino is highly rated and the 350 plus casino games are renowned for providing intensified gaming sessions on demand.  That is a given... but did you know our super-responsive gaming site is perfectly paired with mobile devices?
In reality, you can take Springbok Casino along with you as you forge the highest elevation skywalks and suspension bridges in the world.  By our estimation, that means we tower above all the rest of the web- and app-based casino sites – literally and figuratively!