Uninterrupted Online Gambling with High-Tech Gadgets for Pets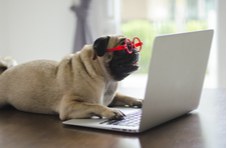 Are your online gambling sessions at Springbok Casino constantly interrupted by your fur baby?  Perhaps your zoom meetings with your boss gets interrupted by howls, yowls and meows?  If so, here's a tip.  There is a wide selection of clever little gadgets – and they are intentionally designed for demanding dogs and cats!
The Cheerble Ball for Overactive Kitty Cats
Bored kitty cats can quickly morph into dangerous destroyers.  They rip the curtains, shred the upholstery and generally wreak havoc.  When closely questioned, they blame it on the hunters' instinct.  We, of course, know better.
Cats are essentially drama queens and they thrive on being the centre of attention, with you being the key admirer – on demand, of course.   When your attention wanders, as it is bound to do when gaming online is on the cards, you'll be reminded of your inattention.
There's a chance that your cute and cuddly Fluffy might temporarily mutate into something horrific with bare fangs and extended claws – and you are the chosen victim.  The only way to end the carnage is to stop the online gambling session and close the real money gaming device.  Then, it's playtime in the hopes your little furball will soon curl up exhausted.
Not so fast.  It is usually you who collapses into a heap… scratched, gnawed and bloodied.  Thanks to Fluffy, online gambling is relegated for the day.  Finally, Fluffy settles in for a nap and it is job done… That is until the next time you attempt to open the laptop and load Springbok Casino in the browser!
Smart and Chargeable
Enter the Cheerble, a smart ball for calamitous cats.  It is a feature-rich, chargeable toy designed to keep kitty on its toes.  Three progressively more energetic modes ensure Fluffy has more than met his or her match.  The Cheerble can move, shake and leap around for a full 10 minutes, at which point a 30-minute rest mode automatically kicks in.
Besides the unpredictable bouncing ball and USB charging cable, the Cheerble has a few optional accessories.  If your cat is easily bored or particularly laid back, there is a selection of attachable lures designed with tiny predators in mind.
When in sleep mode, the Cheerble can be activated with a quick tap or shake.  It is even fitted with 'avoidance' sensors to detect obstacles.  When that happens, the ball stops, reverses and continues on its haphazardly intoxicating way… with an intently focused Fluffy not far behind!
An Intelligent Pet Portal for In and Out Dogs
You have settled in for an extended real money gaming session at Springbok Casino.  The cards are finally coming your way.  Just as you are about to draw one card to a straight flush, Fido scratches and whines to go out.  More often than not, Fido really just wants to go and have a gallop around the garden.
You have two options.  You can ignore the plea and potentially end up with a spade and a mop.  The alternative is to put a spoke in your online gambling mojo and open the door for pooch.  So, you keep opening and closing the door over and over, as 'what if Fido does need a tinkle?'
Anyone who plays Aces and Eights, Jacks or Better or Bonus Poker knows strategy counts.  It is a learnable key that unlocks a higher hit frequency and win rate at Springbok Casino.  When you are constantly interrupted by an indecisive pet, strategy goes right out of the window.
Elevator Functionality Paired with a Mobile App
Could there be a solution to being Fido's personal doorman, 24/7?  Well, an American start-up has come up with the answer – a smart pet portal.  It is essentially a disguised door-within-a-door and has elevator-like functionality.  It works in tandem with a Bluetooth sensor attached to Fido's collar.
When Fido is within close proximity to the portal it can open in one of two ways.  The system is either programmed to open the portal automatically or send an alert to your smartphone.  You can then use the paired app to open or close the door.  The end result?  Fido gets relief or entertainment, and the latest round of online gambling continues unabated.
The smart pet portal is even equipped with a camera and mic to enable remote monitoring and communications.  We all know what that means… online gambling on the go, paired with a contented pet!
The Zen Crate for High-Strung Hounds
Hyper-excitable hounds are typically more demanding.  Think along the lines of Yorkshire Terriers!  They require extra attention and care.  Rather than giving up online gambling, there is a better, smarter way of giving pooch plenty of love and cosseting.
The Zen crate is a plug-and-play dog kennel with all sorts of calming features.  It is the perfect foil to panic-inducing thunderstorms, firework displays and extraneous loud noises.  No more stressed out pooch on Guy Fawkes Night or New Years!
There is an automatically activated fan to keep pooch cool and comfortable.  A playlist of soothing music blocks out nasty ambient sounds.  Both these features react to sensors on the hound's collar and turn on and off in synch with its entrance and exit.
Suitable for Dogs Up to 40 kg
The light inside the kennel is low and diffused to encourage a fair bit of snoring.  There is even vibration damping technology in-play to banish white noise.  The calming hardwood kennel is tailor made for hounds weighing up to 40 kg.  If you scrunch yourself up into a ball, you too can curl up in a comfortable, stress-free environment with a strong odour of… dog!
The Zen crate may not be built for online gambling gurus like you.  That said, it is a great way to keep your bestie chilled out and composed… notwithstanding the ambient conditions!
Sign Up for Pet-Themed On-Demand Online Gambling NOW
At Springbok Online Casino, we support the welfare of all animals – wild and domestic.  Keep an eye on our promotional offers that are often geared towards conservation!  We also feature Purrfect Pets, a Real Time Gaming developed online slot with a progressive jackpot as the main prize.
Now that you know precisely how to keep your furry companions relaxed and content whilst mommy or daddy enjoys an online gambling session, login to Springbok Casino!  Your pets' needs will be well taken care of so you can enjoy guilt-free gaming and win some money as a well-deserved human treat!