vUse Our Springbok Casino Coupons & Play Festive Season Slots Free!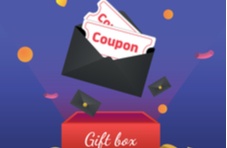 Did you know you can use Springbok Casino coupons to unlock festive season slots for free?  It is, after all, the season of giving.  At Springbok online casino, we take gifting seriously – and we give generously!  Here are two rewarding seasonal slots that will get you into Xmas mode.
What are Springbok Casino Coupons?
Before we feature our highly entertaining seasonal slots, let us take a look at our Springbok Casino coupons.  For those of you who don't already know, coupons are virtual vouchers.  They entitle you to one of our big paying bonuses.
At Springbok Casino, we offer all our players a wide variety of perks and incentives.  They vary from free cash bonuses and deposit offers – to cashback on bust bankrolls.  Bonuses are linked to Springbok Casino coupons, identifiable by unique codes.
These coupon codes in turn unlock access to free gameplay, in whatever form the bonus offer is presented.  To redeem your Springbok Casino coupons, simply head over to the 'redeem coupon' section at the cashier.  Provided the correct codes are submitted, the freebies associated with one or more coupons will be allocated to your account.
Springbok Casino coupons are essentially free gifts from us to you. The good news is that we don't wait for Eid, Hanukkah or Christmas to give you a little something extra… we do it all year round!  Login to Springbok online casino any day or night, and you're guaranteed a freebie in some form.
What all our gratuities have in common is 'free play'.  They provide you with the opportunity to play the best Springbok Casino games with a slice of our money.  With that in mind, let's deep dive into two Real Time Gaming (RTG) developed online slots that have Xmas as the core theme.
Santastic Slot – Small Reel Sets, B-I-G Wins
Santastic slot is a 3-reel slot that punches well above its weight.  It has a generous paytable, gameplay is unique – and there is a progressive jackpot as the main prize.  When you use one of Springbok Casino coupons to release free funds, we advise you to give Santastic slot a go.
Why are we so impressed with the five payline game?  How about two wilds in the form of the Double and Triple?  When one or both of these icons land on the gaming interface, you are in the money.  Provided the wild or wilds complete a payout permutation, prizes are instantly multiplied by up to 6 x!
The Jackpot symbol is, as you have probably guessed, the conduit to the progressive jackpot.  Hit three Jackpots on a payline and the cash prize displayed at the top of the game board is all yours.  When the Jackpot icons appear in the centre position on the second reel, you are awarded a Jackpot Spin.
What is a Jackpot Spin?  It is a free spin with only the Jackpot symbol highlighted in colour.  The rest of the game symbols are faded out.  If you are lucky, you will hit the progressive jackpot or get paid out the winnings associated with the symbol.
Bonus Meters Linked to Major Prizes
When you open the game in your browser, the first thing you will notice are the bonus meters located on either side of the reels.  These meters are linked to the Festive Feast bonus feature, which is activated whenever you achieve three of a kind.
Here is how the meters operate.  Each spot on the meters is illuminated in consecutive order for the briefest of moments.  When the light randomly comes to a stop, you are awarded the prize displayed on that particular spot.
What is up for grabs in the Festive Feast feature?  The prizes may not be as profitable as the free gameplay associated with our Springbok Casino coupons but they are attractive, nonetheless.  Here is what you can win for three of a kind while playing our Santastic Slot, over and above the standard payout:
2,500 x the payline bet
1 or 3 Jackpot Spins
3, 10 or 25 free games with 3 x prize multipliers
No bonus
When you consider Santa provides a top payout of 100 x the line bet, and the bets range from R0.80 to R40 a spin, there is plenty to play for in Santastic slot.  In fact, you can win up to R800 on a maximum wager.  Add the 6 x wild multiplier into the mix and the top prize surges to R4,800.
With those facts and figures, redeem our Springbok Casino coupon codes now and give Santastic Slot a spin!  With a fantastic Festive feature, you might very well be in for the big prize.
Snowmania Slot – Infinity Wins and Increasing Multipliers
If you are looking for a delightfully designed Springbok online casino slot, Snowmania more than meets expectations.  It is a 5 reel and 15 fixed payline game with exquisite graphics and bonus features that can deliver a bountiful in Rands.
Standout elements include game symbols trapped in ice cubes, and the slush and shatter sounds synched with the gameplay.  That said, even those wonderfully creative touches are overshadowed by the paytable!  Use the Springbok Casino coupons to bankroll the action and you can win up to 2,500 x the line bet… on the house.
When it comes to features, the exploding matching symbol sets are real potential money spinners.  Whenever there is a payline win on the reels, the symbols disappear and new symbols automatically drop into place.  Provided the wins keep on rolling in, symbol cascades continue – and that means lots of cash prizes for just one paid spin!
There's more!  That is not the best of the infinity reels.  For each successive win, the prize multiplier value increases by one, up to a maximum of 5 x!  In the scatter activated free games – 10 gratis spins in all – the consecutive prize multipliers start at 3 x and max out at 15 x.
Login to Springbok Casino for the Best 2021 Festive Season
Santastic and Snowmania are by no means the only festive season themed slots featured at Springbok online casino.  There are loads more, all of which are free to play with real money wins when you use our Springbok Casino coupons.
Why not register an account and redeem the Springbok Casino coupons linked to our three-part Welcome Bonus?  When the additional funds are credited to your account, you can start playing our financially lucrative festive season slots… right away!