What Do You Do When You Bag Big Online Casino Winnings?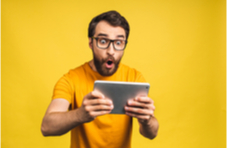 We should all aim to create a little nest egg for a rainy day, and if we're lucky, we get to put a few rands away each month with this idea in mind.  Yet what do you do when you land a massive win at Springbok online casino – what is the best way to get the most out of your winnings?
Possible Prize Pots in Progressive Jackpots
The progressive jackpots available at our online casino are network-linked to other casinos in the RealTime Gaming (RTG) network.  What does this mean for the prize pot?  Firstly, the growth rate is exponential!  In addition to the legions of players at Springbok Casino, you have players from all the other casinos contributing to the pot, in real time.
As for the possible amounts that are up for grabs – they vary, and they vary a lot!  These are our main progressive jackpots, along with the current prize pot for each game at the time of writing:
Caribbean Hold'Em – R203,469.68
Caribbean Draw Poker – R203,469.68
Caribbean Stud Poker – R203,469.68
Spirit of the Inca Slot – R2,056,802.11
Jackpot Cleopatra's Gold Slot – R2,225,921.89
Jackpot Cleopatra's Deluxe Slot – R2,225,921.89
Jackpot Pinatas Slot – R7,450,692.67
Megasaur Slot – R12,254,018.77
Aztec's Millions – R15,560,453.10
We mention 'at the time of writing' as these amounts are literally ticking upwards with every passing second.  That is… until someone strikes it lucky!  What happens then?  The prize pot resets to its base amount across all RTG online casinos, including Springbok online casino.
Say you were to bag one of these beauts…  Do you leave a 6, 7 or 8-figure sum in your regular bank account?  Those with a bit of financial savvy would most likely advise against it.  Reason being – a regular bank account generally offers low interest rates.  Now, we don't profess to be financial advisors, but think of your money like a fine red wine.  It gets better with age, right?
In other words, you need to find the perfect place to further capitalise on your winnings and to get the most out of it long-term.  This begs the question – what do you do with big wins bagged at our online casino?
You've Won Big – Now Splurge!
Of course, being the lucky recipient of a massive progressive jackpot is a dream come true – and can make many of your dreams come true.  Whether you've dreamed about buying a house, upgrading your ride or acquiring a yacht, 15 large ones can give you that, and perhaps more.
There is no shame in treating yourself to some of the luxuries that a big win such a progressive jackpot can afford!  Spoil yourself, remodel your home, give yourself a dream make-over – but remember, nothing lasts forever…  So, should you spend it all?
Suggestions on How to Make Your Online Casino Wins Last
To really get the most out of your money, you need to look ahead into the future… and for this, it is probably safest to seek advice from a trusted financial expert with a long-standing reputation.  Whether you invest in stocks, a start-up company, property, or simply save a portion of your online casino wins in a high interest account, there are many ways to ensure that you see dividends for years to come.
Now, an 8-figure jackpot in crisp hard ZAR isn't going to put you in the pound seats compared to the likes of Forbes billionaires, but it can make your life pretty cushy, nonetheless.  So, by all means, treat yourself and enjoy the spoils of your riches – but think about future gains.  If you invest wisely, you could play at our online casino with nothing more than the returns on your investments!
What are the Odds of Winning an Online Progressive Jackpot?
At Springbok Casino, our progressive jackpots can trigger at any moment.  As all of our games deliver results produced solely by a Random Number Generator (RNG), no one can say – with absolute certainty – when the next big pot will pay out.
For this reason, establishing the true odds of winning a progressive jackpot at Springbok Casino, or any other online casino for that matter, is near impossible.  If you were to look for the answers on the web, you might see stats of odds claiming 50 million to 1, or once in so-many spins.  Truth is, these are guestimates – and ultimately, luck can strike at any time!
Progressive Jackpots Aside – There is

 

Much

 

More to Win at Springbok Casino
Springbok Casino has a vast game portfolio that includes high-hit rate titles across all genres.  Many of these games can deliver seriously lucrative payouts during regular gameplay.  You don't have to win a progressive jackpot to clear a tidy sum.  Not at all!
If you're choose to play slots at Springbok Casino, you can access games with multipliers of 10,000 x, such as our Fu Chi slot – and that is in the base game alone!  If you opt to play more strategic games like poker, blackjack or video poker, you can further tip the scale in your favour and build a lucrative bankroll with brainpower and patience.
Even these types of winnings are worth a careful thought or two…  We're all for splurging and revelling in your online casino successes.  That said, setting aside a tiny portion of your winnings could not only give you a bit of future security, but possibly fund your Springbok Casino sessions for years to come.
We Might Not Be Financial Experts… but We're an Expert Online Casino!
Springbok Casino, as with the best financial planning companies, has been around for long enough to offer a platform that is both safe, and trustworthy.  Our stellar reputation, which has earned us many awards, including "Best High Roller Casino", comes with time and experience.
Betting your hard earned rands with us is like making a good investment – or allowing that good vintage some time to mature.  Either way, you'll get a rewarding experience in the end!  That said, what sets us apart?  When playing at Springbok Casino, you'll have all the fun along with the perks in one go!