Reviews of 3 Popular Board Games at Springbok Online Casino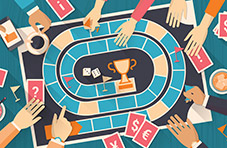 How do you fill rainy days and long winter nights? You load Springbok online casino onto your phone, cuddle up with your significant other or play board games. Here is how you can get through the inclement weather unscathed… and perhaps a little better off!
How Board Games Differ from Online Casino Games
Technology has given us apps, smartphones, virtual assistants and digital online casino games. Bots, drones and electric vehicles are commonplace. Zoom meetings are the new-age boardrooms where meetings are conducted, often separated by continents.
'The cloud' is not only a weather phenomenon and dealers at the online casino are not dealers at all. In fact, it's not homo sapiens or robots – it's all fancy code! Despite the rapid advances in how we do just about everything, board games have essentially remained the same.
Unlike online casino games, which don't take any physical form at all, board games are played on pieces of laminated cardboard. The tokens, cards and die are tangible. The action unfolds in a real physical space, with real players present, in real time.
The Unexpected Board Game Revival
In the 21st century, board games are an unexpected anomaly. Rather than dying out, along with polaroid cameras, phone boxes, bank tellers and mom-and-pop stores, board games are experiencing a massive revival. You too can join the throngs of players in lockdown lock step by playing one of our recommended board games.
It is important to clear something up right from the get-go. Board games are nothing remotely like the RTG online casino games featured at Springbok Casino. The gameplay may be unique – but prizes are points, and the winner takes nothing of value, at all!
That said, our three featured board games are worthy of your consideration. What we can say, without reservation, is they will most definitely kill a few hours when it is cold, grey and drizzly outside. These are also the perfect companions during loadshedding – as the bit of light afforded by some candles is all you'd need!
7 Summits – For Budding Gaming Alpinists
The 7 Summits board game is designed for adrenalin junkies who can't quite get it together to leave home. It is a multi-player climbing contest featuring the world's tallest mountain summits. The player with the most points at the end of the game, wins.
You will be expected to traverse across treacherous territory with nothing more than the boots on your feet. What is gratifying to know, is you can collect skills and climbing equipment along the way. The aim of the game is to reach all 7 summits before anyone else.
What are the holy grails of alpinists like Marc-Andre Le Clerc? How about:
Mount Everest, the 8,848 highest peak in the Himalayas
Aconcagua in the Argentine Andes
Mount Elbrus, the most unforgiving climb in the Russian Caucasus
Then there is Mount Kilimanjaro, a 5,895 dormant volcano in Tanzania, Mount McKinley in Alaska – and the icy Vinson Massif in Antarctica. To summit all these peaks successfully, you need suitable gear.
That is why accumulating oxygen tanks, crampons, ice picks, ropes and first aid kits is key. Make the wrong move and you could find yourself plummeting all the way back to the start!
We may not feature insurmountable summits at Springbok Casino – but we do tip our hats at adventure. In fact, you can find plenty of online casino games capable of getting the pulses racing. IC Wins and Storm Lords online slots spring to mind!
Betrayal at the House on the Hill – Not for the Faint Hearted
Now into its third edition, Betrayal of the House of the Hill is a seriously scary board game. You will be in control of one of the characters who has to negotiate his or her way around a haunted mansion.
The character, represented by a miniature game piece, wanders from room to room, not knowing what horror lies in wait behind the next door. What is arguably even more terrifying is one of the characters could be a traitor who betrays you all.
Gameplay includes drawing cards and rolling the dice in an effort to escape the worst of your deep-seated fears. Betrayal at the House of the Hill is a multiplayer game for adults. You will find it is a suitable way to spend a gloomy night with friends!
If you would rather keep your blood pressure in check, why not login to Springbok Casino and play one of our 'scary' online casino games instead? We can recommend Eternal Love, T-Rex II, I, Zombie and Witch's Brew RTG online slots. Here's a thought. With our online casino games, there is always the chance of banking a few rand on the side!
Jaipur – A Trading Game Located in the Pink City
Jaipur is the ideal board game for folk who like to trade. In this commerce-themed game, you play the part of one of two traders. A market, similar to the legendary Tripolia, Chandpol or Johari Bazaar, is laid out on the game board. The goods are at your disposal.
The aim of the game is to get the nod to the Maharajah's palace. Only the most successful business person receives an invite. How you choose to build your reputation – and the points on the board – is entirely up to you.
Know this – the element of supply and demand is as relevant in Jaipur as it is in modern-day South Africa. What you have to figure out is whether buying and selling cheap items is smart… or should your game strategy be based on accumulating expensive stuff in the hopes of getting a much higher turnover?
Other Classic Board Games Worth a Mention
Apart from Monopoly, Charades, 30 Seconds and the like, there is a classic South African board game that is in the recollection of just about every Saffer 35 and over! We are referring to Fingerboard! Although the Fingerboard games of back in the day were much sturdier in design with heavier discs – yes, we remember the pain too – you can now find Fingerboard at just about every big retailer in South Africa.
The surprising revival of this game has even prompted woodworkers and DYI hobbyists to start building replicas of the game according to the original specs, which includes a larger surface area, and, of course, heavier discs. Hop onto Gumtree or check on Facebook Marketplace and you'll surely find a local who makes Fingerboard games in their spare time!
How do you play Fingerboard? It is essentially a square surface with each corner featuring a 'pocket'. You place the discs in a circle in the centre and use a puck to 'break' the circle. It is similar to a game of pool in that way, although there is no que involved – your fingers do the flicking!
Once you've sunk a specific colour, you need to clear all pieces in the same colour until you finally sink the goon. Fingerboard is as proudly South African – and fun – as Springbok online casino is!
Join Us at Our Proudly South African Online Casino
Once you have had your fill of board games, we strongly suggest you swop your allegiance to Springbok Casino. You will find our best online casino games have generous paytables and plenty of bonus features. We even offer a free cash no deposit bonus that you can use to check out our gaming platform – curtesy of the house!