Why is it Important to Read Online Casino Reviews?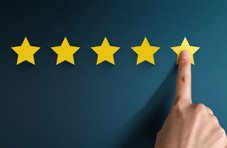 We at Springbok Casino like to think outside the box.  It helps all of you as we can offer different promotions and games and it helps us to keep our gamers happy that they have chosen to play at Springbok.  One out of the box idea that we'll present here is that it's a very good idea to read online casino reviews.
Sounds Absurd
It sounds crazy that an online casino would suggest that you read online casino reviews.  First, we would like you to read reviews of Springbok Casino.  After you've read a few of the reviews of our casino, we're confident that you'll be ready to give us a trial.  Get the welcome bonus and you're off!
Value of Casino Reviews
An online casino cannot report everything about itself to you.  There are many sites that do this as their business.  In a casino review, you'll learn about the casino's games, certification, safety, promotions, banking, customer service and more.
At the end of many reviews are comments from casino gamers.  We're proud that most of the comments about Springbok casino are very positive.
Springbok Casino
So, here we'll present our own hypothetical review of ourselves.
Certification and Regulation
Springbok Casino is licensed and regulated in Curacao.  Many online casinos are also licensed and regulated there.  The regulatory board in Curacao has been recognized as one of the most open and transparent regulatory boards around.
Springbok was founded in 2012.  As such, the management team has learned from all the highs and lows in online casino gaming in the fifteen or so years from the first online casino until Springbok came online.
Customer Service
The casino has three options for players or potential players to contact them.  We have a live chat line, an email address, and a toll free number for South African players (16783490095).
The management team at Springbok actually encourages all players to contact the casino from time to time.  Everyone has a question once in a while and the customer service team is always ready to answer any question you might have.
Games
The games provider at Springbok is Real Time Gaming which is one of the most respected game developers in the industry.  There are over 150 game developers so Springbok took their time doing the best due diligence they could before they chose Real Time Gaming as their game provider.
The casino offers all of the best table games such as poker, blackjack, craps, and roulette.  Many players love to play video poker as it has the highest return to player rate.  The casino has quite a few video poker variations so every player can play different games and the excitement will continue.
Of course, Springbok also has a large library of slots.  Players love the graphics and storytelling imagination that goes into each slots game.  Slots are the casino game that best shows off the creative skill of the provider and the slots from Real Time Gaming are at the top of the online casino list.
Slots have unique graphics.  Each game is an adventure in its own right.
Promotions
Springbok, like all online casinos, offers a large new player bonus.  The big difference between Springbok and other online casinos is that the play through requirement at Springbok is only 30x of the bonus and deposit together.  Some casinos have a play through requirement that is much, much higher.
Springbok also offers many other promotions including regular cash bonuses, cash back, and loyalty points.  Every gamer at Springbok gets a lot of extra play after they redeem their loyalty points for casino credits.
Safety and Privacy
Every time you deposit or withdraw money from the casino, your transaction is protected by the strongest encryption software available.  Your money also stays safe whilst it's on account at Springbok through the strength of the same encryption software.
Encrypting any online business is possibly the most important thing an online business operator can do because only absolute safety can give customers the confidence that their money is safe.  We have seen that even big companies can be hacked so the safety everyone feels at Springbok is a very big plus for players.
In addition, the casino promises to honor the privacy of all the information you give them when you sign up to play and when you withdraw money.  The casino goes an extra step when you ask to withdraw funds by asking for some proof that you are who you say you are.  In this way, the casino is extra careful on all withdrawals.
Banking
The casino offers several standard banking options including credit cards, ewallets, direct transfers and wire transfers.  Withdrawals generally go through in 3-4 business days.
Mobile
In these mobile friendly days, every online casino needs a powerful mobile casino.  Springbok is no different.  Most online gaming is now done on mobile so the mobile casino is constantly being reviewed for its ease of use, clarity, comfort, and convenience.
Instant Play
The casino also offers state of the art graphics in its instant play platform so you can play right there on your internet server without the need to invest a lot of hard drive space for the casino.
Tips and Articles
At the bottom of the home page you'll find a link to tips and another to articles.  The casino adds to these blog entries every week.  They are a great way to improve the way you look at online casinos and how you play the games.
All about South Africa
As a South Africa centered online casino, Springbok is happy to be able to bring South Africa alive to the thousands of gamers who come from all over the rest of the world.  The South Africa entries show clearly that South Africa is a great place to see wondrous things in addition to being a great place to play online casino games.