Slots Tournaments Keep the Fun Coming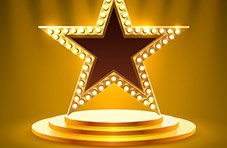 Here is another article on the great fun so many of the gamers here at Springbok Casino have playing in slots tournaments.  We always have a large number of slots tournaments going at the same time.  As we list them all and explain how they work, please keep in mind that slots tournaments are a side entertainment of many online casinos.  There is simply so much to do at an online casino like Springbok, that we can offer a large number of slots tournaments as a kind of supplement to the regular list of great games on offer.
Three Types of Tournaments
 Here at Springbok Casino, we run three types of slots tournaments: daily, weekly, and weekend.
Daily Tournaments.
We begin a daily slots tournament almost every day.  Since they are daily tournaments, they last a full day and always end on the next day.  Some have no entry free; these are called free roll tournaments.  Choosing a tournament and entering are very simple.
Most tournaments are for a single game.  In slots tournaments you play one slot in "competition" with all the other entrants.  The prize money is extremely modest as well.  Most of the time, the prizes are less than R100, a small return indeed.  We compare the small return with the massive amount of fun players all have.
Why Play in a Slots Tournament
We run all these tournaments for two reasons.  One, we want to emphasize that playing slots and all our online casino games should be entertaining before all else.  Rather than asking players to play for hours in order to share in a massive prize money pool, we ask players to play as long as they want and have a great time doing so.
We feel that by playing, you, our esteemed customers, will come to better appreciate the intrinsic entertainment value of playing online casino games at Springbok.
The second reason we run so many slots tournaments is because many players like them so much they are happy to buy more credits in order to continue playing even when their initial credits have run out.  The buy in for new credits is also small.  By offering new credits at a modest cost, we encourage players to stay on Springbok and enjoy all the other games and attractions we have.
Learning New Games
By playing in these tournaments, players get a chance to play many different slots games.  Aside from playing in our free play gaming mode, this is the easiest way to get to know a lot of different slots.
Seeing Your Name in Lights
Every gamer likes the chance to see his or her name put up on the leaderboard.  At the end of each tournament, the winner or winners are feted by having their names put on the winners' list.  Winners get to see their names permanently inscribed in the tournament Hall of Fame.
This is a very small ego soothing experience but we have yet to find a slots tournament winner who didn't say that they were thrilled to become "famous" even for a short time.
Weekly and Weekend Tournaments
Weekly tournaments run for seven days.  They cost very little to enter and the prize money is usually a few hundred Rand.  This is the perfect vehicle for playing when you have a lot of extra time on your hands.
The weekend tournaments last for three days.  The payouts are similar to the payouts for the daily tournaments.
No Monthly Tournaments
Rather than run lengthy tournaments for two weeks to a month, we found that players would rather enter relatively short term tournaments.  It's always the fun that counts the most and the fun stays high in the short term tournaments.
Putting the Focus on Slots
One of the big values of running slots tournaments is that it focusses our attention directly on slots.  Blackjack players are dedicated to that game above all others; poker players are dedicated to that game above all others; roulette and craps and bingo also have their dedicated followers.
Slots also have their big fans but because there are so many different slots games on offer, some tend to see slots players as people who can't decide what they like.  The truth is exactly the opposite; slots players know exactly what they like: the amazing variety of slots!
Slots feature a vast array of themes, story lines, characters, graphics, music and background sound and much more.  There are wild and scatter symbols, free spins, multipliers, and many other ways to score a big win.
By attracting blackjack players, poker players, roulette, craps, and bingo players to our slots tournaments, we are able to show all those players just how much fun slots are.
Welcome to another Tournament
We run so many tournaments because we want all players to feel that they can join another tournament as soon as the next day if they missed today's tournament.  Everyone has many things to do.  In addition to family and work, we have many other commitments from charitable volunteering to helping our neighbors in a pinch.
After a long day with all its responsibilities, playing in a slots tournament is many gamers' favourite form of unwinding and relaxation.