What are the Top Promotions at Springbok Online Casino?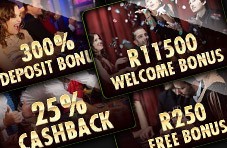 At Springbok, we know that a great casino is a lot more than just some excellent online casino games.  We try hard to make our casino a lot more than games for you.  That's one of the reasons we write so many articles that touch on subjects other than the games.
In this article we'll explain our promotions and we'll tell you how to use them to your advantage.
Welcome Package
We know how much we have to work to add even one new player so we say "welcome" in a very special way.  We offer three different welcome bonuses that total up to R11,500.
For your first deposit, you can get a 100% bonus up to R1500.
For both your second and third deposits, you can get a 50% bonus up to R5000 each.
Before you make any deposits at all, you can check us out by taking our R250 no deposit bonus.
Now, please let us explain these bonuses.
The no deposit bonus gives you a chance to prance about the casino and see for yourself how much we would like you to play our games.  Just like you, we also live on a budget so we have a limit as to how much you can win.  Still, we give you the chance to sample a lot of games at Springbok.
A no deposit bonus is almost the same as playing in free play mode which you can do as much as you wish at Springbok.  The big difference is that with a no deposit bonus, you can win some money which you can't win when you play for free.
Cashback
We run a cashback promotion in which you can get up to 25% of a deposit back after you have completed the play through requirement which is 10% for games like slots, keno, bongo, and others.  The purpose of this promotion is to encourage you to continue playing after you have played through your Welcome Package bonuses.
The cashback programme applies to all deposits that you did not get a bonus for.  This happens quite often at Springbok as most players return time and time again to play our great Real Time Gaming repertoire of games.
A lot of our promotions are for deposit bonuses.  The cashback programme is for deposits that didn't have a bonus connected them.
300% Bonus
We offer a great deposit bonus on any deposit that doesn't have another promotion connected to it like the Welcome Package of bonuses.  In the 300% bonus offer, we will add 300% to any deposit up to a deposit of R200.  So you can deposit R200 and get a bonus of R600.
This is an ongoing promotion.  The reason we continue with it is because so many of our players take advantage of it to get a lot of extra gaming money.  Then, with good budget management, most of our players can play for long, happy hours and win a little or lose a little.
Lucky 7 Promotion
The 7's are flying in this monthly promotion.  First, it return every month on the 7th of the month.  Then the first 77 gamers to take this 100% deposit bonus can get up to R777.
If you miss out one month, you still will have as good a chance as anyone to win the R777 100% bonus next month.
Comp Points
Some promotions work as separate units and can't be attached to other promotions.  For instance, the Welcome Package does not apply to the cashback promotion.  The comp points promotion works at all time and it is independent of all other promotions.  You get comp points every time you bet!
After you have accumulated 100 comp points, you can cash them in for casino credits.  This is another way we keep our customers as satisfied as we know how.  Some casinos have comp points for high rollers only.  We enroll every player in this programme so everyone can benefit from it.
Slots Tournaments
We run many different slots tournaments all the time.  Some are daily tournaments; some run a week; some run over the weekend; and some last a month.  There may be a very small buy in fee and some are called free roll tournaments because you don't have to pay to play.
Whether you join a free roll or a buy in tournament, the winnings are usually quite modest.  The reason we run so many tournaments with so little money involved is obvious: our gamers love them!  Many players join a number of tournaments and simply love playing in them, win or lose.
The slots tournaments we run are the purest form of gaming entertainment we offer and many of our gamers take part in many tournaments every month.
Promotions Make the World Go Round
Springbok offers amenities that are not exactly promotions but do make gaming a lot more fun and a lot easier.  One is free play.  As we said above, you can play for free for as long as you wish.  Free play gives you the chance to get to know all of our games at no cost.  Many gamers find their favourite game in just this way.
Instant play is another benefit of gaming at Springbok.  The instant play platform is so good that many players use it to play on their internet browser.  This saves their computer the burden of holding the download version of the casino.  It also frees gamers to roam around the internet in search of other exciting casinos.
We welcome the friendly competition.  We know that most of the people who play on our instant play platform come back to us very often.  What adventures you might have elsewhere in cyberspace are fine by us.
Mobile is the last item on our list for this article.  Our mobile app is very strong and has tremendous graphics.  So many gamers have already added our mobile app that we can say that mobile is the most popular platform we have for online casino gaming.
We hope that you have seen that we try to give you the best in the world of online casino gaming.  We'll continue to offer great promotions daily, weekly, monthly, and forever.