Springbok Casino Introduces a Board Game for All Ages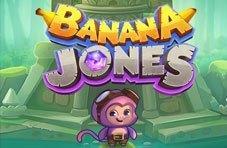 At Springbok Casino, the fun comes in many shapes and sizes.  All of our gamers enjoy the hundreds of games we have on offer.   You are all familiar with the main game categories: slots, table games, video poker, and progressive games.  In this article we would like to talk at length about one of the best casino games that defies categorization.  It is called Banana Jones and you can find it under the Specialty Game heading and then under board game.
So, Banana Jones is something of an online casino board game!  Let's look at it and see just why we urge you to play Banana Jones
Intro
In every game with an intro, gamers are offered the chance to skip the intro.  In Banana Jones we say that you should watch the intro every time you open the game up.  It features a wonderful caricature of Banana Jones flying a double wing prop plane.  Even before you start playing, Banana Jones will put a broad smile on your face.
Choose Your Bet
For the sake of this article we'll choose R1 but you can go as high as R5 and as low as R0.2.  The amount you bet in Banana Jones is truly insignificant.  Banana Jones will do everything he can to make you happy no matter what!
Choose your bet, click play, and then click on the dice icon to "roll the dice".  We got an 11 and skipped along the path eleven spaces and landed on the top of one of the seven Treasure Wheels.  The wheel that comes up whenever you land on this symbol will multiply your bet.  
Before you spin the wheel, Banana Jones will ooh and ahh in anticipation.  Spin the wheel and let's see what happens.  Whether you get a fraction of a percent of your bet or 50 times your bet, Banana Jones is equally excited.  He does a little dance and sings out "woo hoo" four times!  And the Treasure Wheel sends out a cascade of gold coins!
Snakes and Vines
Looking ahead we see that there are five snakes and three vines.  If we land on the head of a snake slide all the way down and if we land at the bottom of a vine, we climb up.  The snakes don't bite, by the way!
Roll the Dice Again
We rolled the dice and got a 7.  The space we landed on had no specific roll to play so we'll roll the dice again.  Look closely at the "pond" and you'll see that we have already passed four blue diamonds.  It's always good to get blue diamonds.  You'll get an extra prize if you get enough blue diamonds.
Five Rolls
In each game, we get five rolls of the dice.  Hopefully, we'll get to the end of the pond where we'll have the chance to win even more in the Chamber of Chests.  Sometimes we get to the chamber and sometimes we don't.  In either case, Banana Jones knows how to make us happy.  On our first game, we didn't reach the end of the pond so we went back to the start of the path and got five more rolls.
On our second game, we landed on one snake and we had the good luck of landing on two vines and we won our Rand back.
Dice Icons
You can get an extra roll of the dice by landing on one of the dies.  We landed on the first die and got all the way to the Chamber of Chests.  In the Chamber of Chests, you open chests.  There are fourteen chests, each with a different fruit.  You continue to open chests until you get three of the same fruit and then you win.  Banana Jones goes bananas for you and the fruits do a dance of their own to help you celebrate winning your Rand back or maybe more!  You keep opening chest until you complete  either the banana set, the purple plum set, or the green grape set.
A Perfect Game for the Whole Family
You might be wondering why we have spent so much time talking about this silly little game.  Of all the games at Springbok, this game is perfect for everyone to play together.  Banana Jones is so much fun, with funny animation, great graphics, a happy hero, and it costs next to nothing to play.  It's the perfect game to play with your kids.  If you have a big screen, you can connect to it and have a great time.  The kids will go woo hoo with Banana Jones every time you win from the Treasure Wheels.
They will hiss when you land on a snake and will cheer when you land on a vine.  Landing on vines is the grand "strategy" in Banana Jones.  Of course, it's all luck!   Let the kids choose the chests to open in the Chamber of Chests.  We said at the start of this article that we urge everyone to watch the intro every time you play.  Now you understand why.  If you play with your kids or with your significant other, the intro will set the happy, playful mood that leads to bliss.